Urban fibre outfitter backed by BT stakeholder Deutsche Telekom accelerates growth, as challenge to Openreach builds.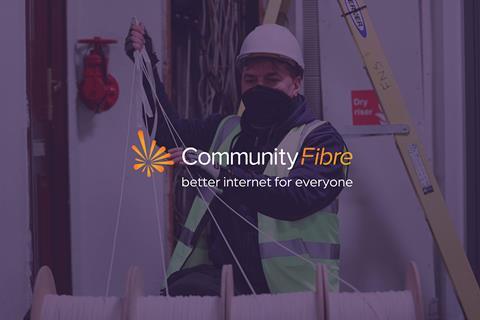 Community Fibre, the London-focused fibre altnet oddly backed by major BT shareholder Deutsche Telekom (DT), released its results for the year to 31 December 2020, highlighting a doubling in its unquantified customer base as its fibre footprint expanded 86%, from 100,000 homes to 186,000, in a pandemic-restrained year.
The altnet is continuing to pick up the pace as support committed in summer 2020 by private equity firm Warburg Pincus and DT's investment arm Deutsche Telekom Capital Partners (DTCP) is drawn down.
Community Fibre is aiming to reach one million homes in Greater London by 2023 through its current rollout plans, suggesting a significant ramping of pace in the coming years, and an apparent elevation of its ambitions. While the business has previously highlighted a focus on providing connectivity in multi-dwelling units in underprivileged parts of the capital, it is now adding coverage for more individual houses within its declared remit.
In August 2020, DTCP and Warburg Pincus committed to "support" Community Fibre's £400m capital expenditure programme, with undefined funds to be drawn down as required. The business claims additional funding facilities totalling more than £300m, while £50m in earlier debt due to former majority stakeholders was converted to a minority stake in the company.
By the time Community Fibre released its results in April 2021, it had drawn down £66m, of which £47.5m was tapped in the first three months of 2021, implying an annualised burn rate in the region of £200m a year.
Warburg Pincus appears to control Community Fibre, at both equity and voting levels, via its New York-based Chief Executive (CEO) Chip Kaye.
Crudely guesstimating, based on its revenue and reach, Community Fibre may have in the region of 20,000 customers and be lighting up around 10% of premises passed. This would compare poorly with Openreach, which boasts a conversion rate about double this level. While understandably coy on key performance indicators, Community Fibre is clearly frontrunning on quality, crediting itself as "one of the highest regarded ISPs [internet service providers] on TrustPilot with scores regularly exceeding 4.9/5".
Revenue for the altnet nearly doubled in 2020, reaching £3.8m from £1.9m a year earlier, all classed as 'internet provision', with its gross margin rising to 87% (from 84% in the previous year), apparently benefiting from using its own infrastructure rather than third-party assets.
Losses continue to stack up, as investment is ploughed in to the Community Fibre infrastructure, with a -£20.2m deficit recorded (-£8m in 2019), but with the value of fixed assets increasing by £52.4m (+£24.1m in 2019). The value of its tangible network assets was reported at more than £81m, compared with £35m a year earlier. The altnet now has £50m of losses that can be carried forward against future profits.
Spending money to make money…
Community Fibre continues to aim for a 3.5 million premises footprint "in the coming years", serving commercial and residential customers in London, but it will need to build momentum on customer acquisition to ensure sufficient returns.
The need to ramp up was reflected in employee numbers, with the number of staff increasing to 243, from 142 during 2020, spread reasonably proportionately across various functions. Supporting a rising rollout run-rate, the average number of engineers employed rose from 50 in 2019 to 85 in 2020, while commercial teams grew by more than 50% in the year to 83. The company received about £67,000 in public funds for field sales staff that were furloughed during the year, although online and telesales had continued.
The arrival of four new directors in August 2020, linked to the DTCP and Warburg Pincus investment, may have fuelled the hefty jump in directors' remittance, which more than doubled compared with a year earlier, to reach £1.2m from £560,000. The board changed massively in 2020, with another three directors joining earlier in the year (and three departing). The highest paid director received £584,000 in 2020, compared with £141,000 in 2019. The total wage bill across the business reached £7.1m from £4.1m a year earlier.
Most notable among Community Fibre's current directors and the newest intake is UK and international industry heavyweight (and, in recent years, DT point-person) Olaf Swantee, who may now swiftly move on having again switched allegiances (he was previously Orange-aligned) to become a Vodafone director-designate (Vodafonewatch, #194).

Neal Doran is a Senior Analyst for TelcoTitans. Neal's industry knowledge and experience as a telecoms analyst and writer spans three decades, and he has been a key part of TelcoTitan's Editorial team since 2001.