Incomers Harmeen Mehta and Rob Shuter are tag-teaming to bring their external perspectives to BT's digital transformation plans.
Enterprise unit set to become a route to market for emerging services, with a "fail fast" mindset.
BT described as receptive to need for change, but Mehta calling for people to get on board and pick up the pace.
Shuter looking for a reset of vendor relationships, with collaboration at the core.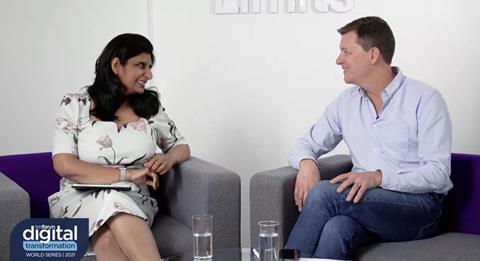 Harmeen Mehta, BT's Chief Digital and Innovation Officer, and Rob Shuter, CEO of BT Enterprise, jointly headlined a session at the TM Forum Digital Transformation World Series in September 2021.
The two executives, outsiders who joined the Group at around the same time earlier this year, presented a united front extolling the need for cultural change within BT, as they plan for future digital products and services to be developed by "dreamers" and "crazy people".
The near‑future is not being disregarded by the two executives, either, with Mehta recognising the importance of network foundations, and Shuter appearing determined to make his Enterprise business more competitive and outward‑looking when setting shorter‑term goals.
The two execs appeared relaxed and comfortable with each other, with Shuter going as far as referring to Mehta as "my sister", and they are evidently enjoying shaking up the UK incumbent. Mehta described the pair as "change catalysts" within BT — and both were frank on the challenges and frustrations they had experienced in the six months or so since their arrival.
" Sometimes [making changes is] just easier when you're coming from outside and, I can tell you, you get away with a little bit more as well… and both of us intend to take full advantage of that. "

— Mehta.
From behind the curve… to seeking new horizons
Both Mehta and Shuter broke BT's business down into three elements as they envisaged a way forward for the operator. Shuter spoke of "product curves", while Mehta referenced "different horizons", but the vision was the same. The first 'curve' or 'horizon' is legacy products and networks that are essentially being phased out; the second is next‑generation network-enabled offerings that effectively replace or enhance existing services, while the third is the new and adjacent services.
The current challenge, the duo suggest, is managing the transition to the second wave of services, while ensuring that day‑to‑day operations are not disrupted and sufficient thought is given to the next generation coming with the third horizon.
" You need very strong operational leaders for horizon one. You need people who are close to the core part of the business, but have a lot of edge and innovative thinking for horizon two. But you need some crazy people to come and do horizon three for you. "

— Mehta.
Both executives were willing to acknowledge frustrations with the current state of play within BT, with Mehta noting the level of bureaucracy as an obstacle.
Shuter, "if I would be slightly critical", suggested that BT had been slow to invest in the transition from legacy to next‑generation services, "so we're playing a little bit of catch‑up". He also felt that "a lot of core functionalities were not well developed enough", which was described as a disappointment and leaving a lot of heavy lifting still to be done on digital transformation.
Enterprise to get more enterprising
Shuter said he is balancing the near‑term operational challenges that go with short‑term and quarterly reporting, along with longer‑term strategy for future wins. In the near term, he noted that within BT "there is still work to be done to get that focus on the commercial agenda [and] winning in the market".
The Enterprise CEO wants to see a "more externally orientated" company focused on "winning in the market". While Shuter was careful to emphasise that his unit is staffed with "great people, smart people, committed people … doing a proper day's work", he guided that BT needs to adapt to accommodate "thinkers, doers, and dreamers" who work on different projects and with varying priorities.
Enterprise also appears set to have a significant role in the faster testing and deployment of new digital products and services. It may be the nature of the double‑header presentation that upped the emphasis on the relationship between Digital and Enterprise, but the domestic B2B unit does appear to be taking a more prominent role in development than it has in the past.
Mehta's model is to deploy small teams focused on moving quickly, leveraging Enterprise's sales teams to swiftly take new offerings to market, and identify what has traction and what does not. She is attempting to move away from a large organisation mindset that might identify one or two ideas as 'the next big thing' and place the heft of the business behind them because "then it becomes 'these ideas can't fail' because we only have two ideas".
Turning to Enterprise as a quick route to market would be a marked change in approach at BT because, in recent years, the digital range of solutions at Enterprise has tended to trickle down from BT Global.
Global is also fundamental to Group CEO Philip Jansen's development of strategy on digital transformation, with his commitment to a greater focus on creating platforms (with digital partners drawn from early iterations introduced at Global ahead of his arrival).
Tide changes on BT culture: on board or out to sea
Mehta, acknowledging that she is a "very black or white person", appears up for the challenge of driving change at BT, including battling any inertia or intransigence, and calling on BT staff to make a commitment to the change she is advocating.
"Either you're in the boat or you're not", she said. While not specifying consequences for anyone who might be on the other side of the equation, she did say that, "[for] anybody who's in the boat, it's my job to make sure that I carry them to shore".
Mehta considers that there is appetite for change within BT, and suggests the company is coming on board, even though the pace of change may remain a pain point for her.
" I'd love the pace to be much faster because I come from a far more fast‑moving environment, and that's where I think I do my best as well. So it's just a little bit of that change of pace that I'm looking to drive more in the next coming months. "

— Mehta.
Shuter seeks partners, not salespeople; Mehta declares failure not an option
Shuter is looking for a commitment to change from vendors as well, and a move away from more transactional relationships to more collaborative ones.
"In all my years in the industry, what I don't like is people trying to sell me stuff", he said, citing what he viewed as an early hard‑sell on 5G when the potential of 4G was yet to have been fully explored.
" We are looking for partners that try and see the world from our eyes: 'OK, you want to be successful; you want to win; you want to be innovative; you want to give customers a great experience'. Walk into the relationship with that orientation rather than … 'what can we kind of push down these guys' throats?'. I think that's super important. "

— Shuter.
Mehta also touched on the need for collaboration, but from the angle of what BT needs to do to become a more effective collaborator with partners, particularly smaller, more innovative companies. BT, she believes, "[needs] to change to work better with the new‑age partners and the new‑age tech companies and the startups".
BT's work with startups will also be seeing the development of a new incubation unit — the recently (and quietly) unveiled BT Incubation. Mehta stressed that BT's focus will be on ensuring partners have the opportunity to secure growth, and it will be investing to help that happen, "and, if they don't, the penalty is on us".
The importance of fostering partner relationships appears paramount for the Digital chief. With potential for major upside, she also sees substantial risk to BT if the effort fails to ignite.
" Being the aggregator that brings all those goodies into every single home and every single office, I tell you it's an opportunity of a lifetime if we get it right. I can't even imagine what the upside would be, and we can't get it wrong because it is just too crucial for our customers and for ourselves. "

— Mehta.

Neal Doran is a Senior Analyst for TelcoTitans. Neal's industry knowledge and experience as a telecoms analyst and writer spans three decades, and he has been a key part of TelcoTitan's Editorial team since 2001.