BT and EE's 5G supplier ecosystem measured for February 2020.
Nokia maintains lead, but yet to capitalise on Huawei's wipeout.
Ericsson may be surprised to find itself fending-off the Telecom Infra Project and OpenRAN to maintain contention.
Peloton of vendors include ADVA, Mavenir, and Ciena, with Qualcomm holding firm.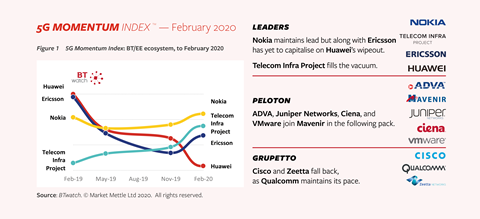 Covering a twelve‑month rolling period ahead of the latest announcement of a 5G network core deal with Ericsson (see separate report), the latest, exclusive BTwatch 5G Momentum Index (5GMI) for the year through February 2020 confirms the steady decline of Huawei in the last couple of years.
The Chinese network equipment provider was the dominant leader as recently as 2018, but BT's UK‑centric supply chain is increasingly being obliged to compartmentalise or ban "high risk vendors" (read: Chinese, and Huawei specifically), with blacklisting of sensitive or dominant deployments starting to be formalised. Ironically, it seems that BT may now be using the 2023 deadline guided by the government to ringfence HRVs to calibrate and downrate the pace of removal of Huawei gear.
In the rolling twelve‑months to February 2020, Europe's 'Big Two', Ericsson and Nokia, are both showing an uptick in the wake of the UK government action on infrastructure security (BTwatch, #309). While Nokia appeared to be cementing its lead, Ericsson may have been keeping its powder dry, and both give the impression of failing to capitalise on Huawei's implosion in any meaningful way. This is not unique to BT, but, with the UK formalising its HRV position, European operators' may after two years of appearing to sit on their hands finally be jettisoning the delusion that they can wait (and lobby) out the protests over Huawei as a US-led hissy fit.
The Facebook-evangelised Telecom Infra Project (TIP), with its OpenRAN and other disruptive projects and accompanying vendor‑cohort, is a notable and even surprising addition to the leading pack as an influential collective. This seems to reflect a wider trend for open and disaggregated challengers to exploit the gap in the market created by Huawei's ostracism, and cosy up to operators as they mature their nascent propositions. This fits perfectly with telcos' growing enthusiasm for partnership and collaborative efforts with a software bent, as most recently epitomised by BT hosting the third wave of startup initiations for the TIP Ecosystem Acceleration Centre (TEAC UK — BTwatch, #309).
ADVA, Ciena, Juniper Networks, and VMware join Mavenir in the pack behind, with each building on existing relationships with BT in meaningful ways over the twelve months to February 2020. Cisco Systems and Zeetta Networks have seen a slight dip, with Qualcomm maintaining its enabling pace in a third pack of vendors.
BT's ecosystem appears more streamlined than in previous 5GMI updates, with notable no‑shows including NetCracker and Tech Mahindra, which appear to have fallen behind in terms of momentum in BT's 5G supplier ecosystem.