Regional 5G consortium highlighted the urgency of 5G deployment in the UK's healthcare system for improved capacity and efficiency.
BT Enterprise CTIO Fotis Karonis redoubles support of 5G-enabled healthcare.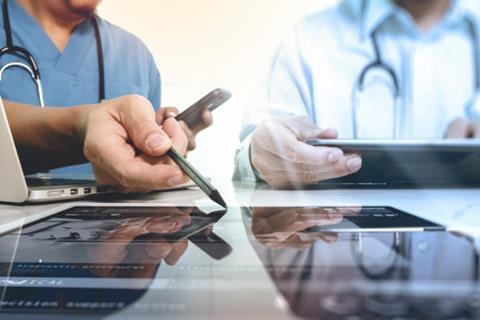 BT flagged it was continuing to work with West Midlands 5G (WM5G) and University Hospitals Birmingham NHS Foundation Trust (UHB) on testing of 5G-enabled healthcare and emergency response solutions. Fotis Karonis, Chief Technology & Information Officer at BT Enterprise, highlighted ongoing trials of augmented and virtual reality (AR/VR) technology to support remote diagnosis and treatment, building on an initial showcase in June 2019 (BTwatch, #305).
WM5G, an organisation founded to develop the UK's first region-wide 5G testbed in the West Midlands, is proposing 5G plays a "fundamental" role in public healthcare in the wake of the COVID-19 pandemic, given its purported low-latency and reliability. Karonis noted that recent testing served to "prove the benefits of 5G when applied to the healthcare sector".
WM5G is supported by the UK government's Department of Media, Culture and Sport's 5G Test Beds and Trials funding programme and has engaged with BT and rival Telefónica UK (O2 UK) on potential use-cases. June 2019 saw it partner with BT Enterprise and UHB to showcase remote-controlled ultrasound over public 5G (BTwatch, #305). More recently, in late-2019, BT Enterprise and UHB partnered again to enable AR/VR clinical appointments over a live commercial network, with clinicians able to access patient records for remote diagnosis (BTwatch, #308).
WM5G is one of a growing pot of test beds across the UK, taking advantage of DCMS funding to develop 5G-enabled tech. Though telcos BT, O2 UK, Three UK, and Vodafone UK are all participating to some extent, through partnerships or sponsorships of projects supported by government grants, it is universities and local councils that appear to be taking the lead in the regional projects. A rundown of recent grant-supported 5G projects — and the key partners backing the efforts — can be found here.
Post-pandemic benefits
Karonis claimed that remote diagnostics in particular should be a focus for 5G deployment, labelling connectivity "key" in realising the National Health Service's (NHS) Digital First strategy and bringing a "wealth of benefits to patients too by moving clinical expertise closer to them". "This can only be achieved using the ultrafast speeds and low latency characteristics of 5G", he added.
Pressures on the NHS have led some analysts to urge uptake of remote options that can tackle "avoidable conveyances to hospitals". WM5G claims that patients have become accustomed to virtual appointments during the pandemic, so deploying more remote healthcare solutions, and expanding on existing services like the NHS' 111 helpline, is a natural next step.
WM5G recently awarded a contract to 5PRING to build three 5G accelerators, naming healthcare solutions as one of its focuses as it provides 5G testbeds for enterprise use (Telefónicawatch, #142). The consortium behind 5PRING is headed by O2 UK and also includes consultancy Deloitte, UK government innovation agency Digital Catapult, and Telefónica's innovation arm Wayra UK. O2 UK plays a significant role in WM5G testing, and Mark Stansfeld, former Chairman of O2 UK's Giffgaff, was appointed Chairman of the WM5G board in late-April 2020.