IP altnet pokes incumbent over limited success in rooting out fraudulent use of caller ID.
BT focused on industry collaboration to address fraud challenge.
Migration to all-IP by 2025 portrayed as critical to effective remedies for the problem.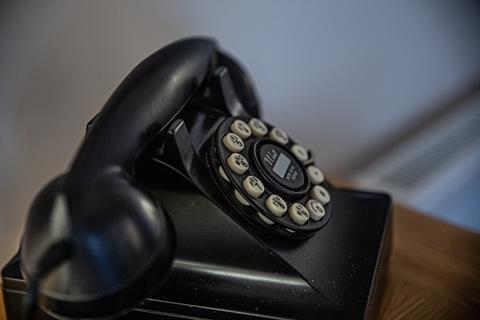 BT Group was criticised for its performance on preventing improper manipulation of caller line identification (CLI), while still earning revenue from potentially fraudulent calls originating overseas.
The claims were made by Simon Woodhead, founder and former CEO of wholesale carrier services provider Simwood during a Westminster eForum event on the future of wholesale fixed line voice services in the UK as the sector transitions towards all-IP and the closure of BT's PSTN in 2025. While much of the event was focused on the practicalities of ensuring a smooth transition, particularly for vulnerable consumer groups, and for specialist services currently dependent on the ageing technology, bubbles of frustration with the incumbent operator and regulator Ofcom did occasionally rise to the surface.
This was particularly true of the section chaired by Woodhead. Acting as host as well as a presenter, the outspoken industry veteran had considerable air time and regularly alluded to beefs with BT.
A particular grievance related to improper use of CLI by fraudsters, and perceived weakness of BT's response. Under General Condition C6 of Ofcom's performance requirements for licensed operators, service providers are expected to deliver CLI information. This identification, however, is being manipulated by fraudulent users to misrepresent the origin of calls and Woodhead cast doubt that BT was doing enough to address the issue.
The UK was portrayed by Woodhead as considerably behind the curve on the transition to an all-IP environment generally, and on the implementation of systems that are intended to minimise the abuse of line identification such as US standard STIR/SHAKEN, which provides authentication data for both IP and traditional network calls.
BT focused on collaboration over conflict
On behalf of BT, Jonny Bunt, Director of Regulatory Affairs at Consumer, downplayed the implementation of a STIR/SHAKEN system as a panacea for the problem of spoofing, highlighting the expense and opportunity cost, diverting funds from other areas of customer experience improvement where it might have more tangible benefit. Bunt also emphasised that fraudulent calling needs to be addressed by a collaborative effort across the industry saying that, without coordinated action, investment would be inefficient and result in more vulnerabilities through which bad actors can gain network access.
The BT executive also questioned the significance of the problem of CLI misappropriation as part of the bigger picture in the UK wholesale sector and dismissed the notion it has a meaningful impact on the Group's bottom line.
Calmly responding to Woodhead's dig that "you can't block calls with invalid CLI, but you can bill for them", Bunt said that it is "extremely tricky" to manage CLI at wholesale level, and that any revenue it brings in is not significant in terms of profitability.
Bunt further said that the move from the PSTN to an all-IP environment will make it easier for all service providers to deliver clearer, more trustworthy information on CLI, although he acknowledged that this changeover is not likely to be entirely completed before 2025.
He added that it is currently the responsibility of the call originator to ensure that the CLI is accurate. In response, Woodhead pointedly observed that he had never been asked about the extent to which calls originating with BT are identified as featuring risky or with malformed CLIs on his company's network. "The answer might be surprising", he said.
BT backing Stop Scams UK
Although CLI is only one enabler involved in the execution of scams and financial fraud, the cost of the crime in the UK is considerable and rising. It is estimated that the first six months of 2021 saw more than £750m stolen through communications-based fraud, up 30% on a year earlier.
To address this BT is among a group of service providers working with the financial services sector on the Stop Scams UK initiative. Founded in 2020, the not-for-profit company works to identify emerging fraud risks and facilitate collaboration between operators and financial service providers to implement preventative measures.

Neal Doran is a Senior Analyst for TelcoTitans. Neal's industry knowledge and experience as a telecoms analyst and writer spans three decades, and he has been a key part of TelcoTitan's Editorial team since 2001.