BT Group paid a little more to renew its exclusive rights to UEFA club football tournaments for 2021–24, seeing off a renewed ITV and Sky challenge in the process.
Exclusive content expected to help BT Sport stand on its own feet, and justify ongoing price hikes.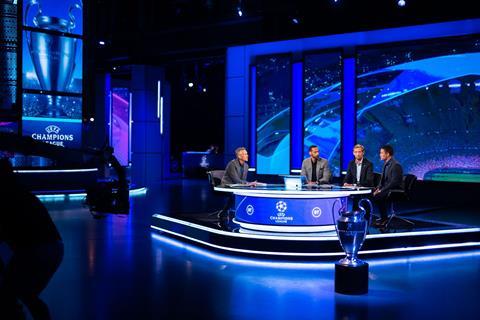 Following a brief auction process in November 2019, BT Group secured exclusive broadcasting rights for UEFA's European soccer competitions for the three seasons covering 2021–24, including rights to produce highlights and in‑match clips. BT is to pay £1.2bn to renew the deal, which now also includes the new UEFA Europa Conference League alongside the Champions League and Europa League tournaments.
The deal entails BT paying a little more per-year than when it secured rights in 2017, rising from £394m to £400m (BTwatch, #284). The fact that the telco was unable to reduce the cost of the deal, as hoped by some investors, was reportedly due to competitive bids from rivals ITV and Sky. Amazon, a recent entrant to the media rights market, apparently did not submit a bid. BT pointed out that, with the new Conference competition, it will be broadcasting 77 more games per season compared to the previous deal, airing 420 in total.
Marc Allera, Chief Executive of BT Consumer, expressed delight at securing the rights, and suggested the BT Sport unit is going from "strength to strength". Although Allera has previously made it clear he is not interested in bidding for sports rights at any price, soccer content clearly remains a flagship offering on BT Sport (BTwatch, #298).
BT paid a £80m deposit in November 2019 to secure the rights, and will pay £120m in August 2021, followed by payments of £200m in February and August every year, until February 2024.
The UEFA Conference League is effectively a second tier of the existing Europa League, and is likely to feature teams from leagues that are traditionally under-represented in the latter stages of the current Champions League and Europa League competitions. As such, teams from Scotland and Northern Ireland may feature in the group stages of the new competition, although the appeal of the competition appears debatable, with several commentators noting that its most likely impact will be in ensuring that the leading teams in Europe's bigger leagues continue to dominate the current preeminent competitions.
Hopes of a bargain squashed
Investors had reportedly been hoping that £50m–£100m would be shaved off the annual fee, particularly in view of the hiatus of hostilities with Sky in 2017 (BTwatch, #291). However, this is not the first time BT has taken a safety‑first approach. In the 2018 Premier League auction, Sky was able to reduce the cost per game it paid from £10.8m in 2015 to £9.3m, while rights secured by BT were at a higher cost (and arguably less appealing than its previous rights — BTwatch, #293).
Even more than the Premier League process, the UEFA auction was a 'must-win' for the operator's sport division, with the European content forming the highest profile differentiator for BT Sport coverage. As the only service offering live access to UEFA events, BT Consumer will be better placed to continue its development of BT Sport as a standalone service that can justify a substantial monthly subscription rate for non‑BT customers, and increase the premium it can attract as part of bundled BT products.
BT Sport to come of age
Backing up the prospect of BT Sport doing more to pay its way, Allera is already hinting that BT may increase its prices again following the UEFA deal.
According to the Telegraph, Allera said that the division has in recent months been able to ensure that BT Sport is priced "more appropriately", but that there now may be "more headroom" to raise prices. He emphasised that the telco's "strategy for sport has changed quite a lot from when it was launched as a free service subsidised by broadband fees".
The Group claimed that BT Sport saw a 26% increase in UEFA Champions League viewer hours last season, with 11.3 million people tuning in to watch the UEFA Champions League final between Liverpool and Tottenham Hotspur "across all platforms". However, BT remains coy on the financial contribution that the unit makes to the Group through subscriptions, commercial sales, and wholesale arrangements.
BT Sport Ultimate was also launched in 2019 to deliver live sports in ultra‑high definition (UHD), high dynamic range (HDR), and Dolby Atmos sound format (BTwatch, #306). Originally offered to BT TV and EE customers, the channel is now available to Sky customers and supports a wider range of devices, including Samsung smart TVs, Xbox One games consoles, and Chromecast Ultra streaming devices.