BT hosts TEAC UK competition, a TIP-backed accellerator.
Past, present, and future of TIP outlined.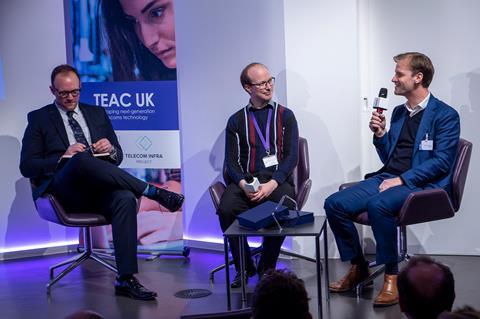 Attilio Zani, TIP Executive Director, delivered the final address at TEAC UK Wave 3. Perhaps underlining the distinction between the accelerator and the infrastructure innovation project, he focused on defining and promoting TIP itself, drawing attention away from BT and onto the community's broader vision.
While providing an outline of the work TEACs can theoretically undertake, Zani prioritised TIP as an "engineering‑led" community of industry players — including service providers, technology partners, system integrators, and connectivity stakeholders — that is aiming to evolve infrastructure with cost efficiencies, innovative technology, and new business approaches.
Ascendant in the project are the TIP Community Labs, of which there are now a dozen globally, following three additions, each playing a part in end‑to‑end integration efforts. Telefónica added one to the list, sponsoring TIP's first Continuous Integration and Continuous Deployment (CI/CD) centre in Madrid. The Labs are presented as state‑of‑the‑art facilities with specific focuses, aiming to bring together operators and suppliers. The other new Labs are both in the USA: Facebook's second in California, and local operator Sprint's in Kansas (OpenRAN focus). Sprint could soon be subsumed within T‑Mobile USA, bring its Lab into DT's fold.
November 2019's TIP Summit '19 saw the unveiling of TIP Exchange. Effectively a showcase of collaborative success, this will highlight solutions that have been developed under the aegis of TIP partnerships and Project groups. This coincided with the launch of PlugFest, a new Project framework intended to create space for TIP members to trial and validate technologies for inclusion on the TIP Exchange.
Two PlugFests are being organised for 2020, with no dates yet confirmed. The focus of the events will be rural site configuration and 5G RAN, and Wi-Fi mesh networks and disaggregated core, respectively.