On the Q1 FY19-20 call, BT management regularly reiterated its willingness to support apparent ambition within the new Johnson government for complete UK full-fibre coverage by 2025.
The open embrace did, though, have the feel of calling a bluff that almost, but never quite, tipped over into sarcasm.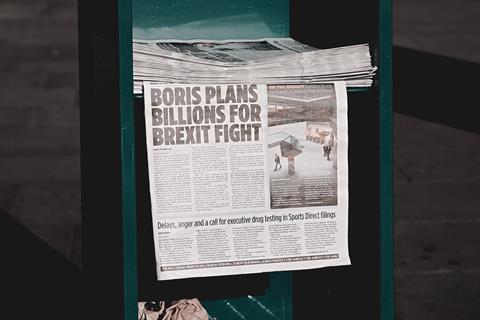 The practical, political and regulatory challenges in the way of such an ambitious programme are huge, and, just by listing them, BT executives underlined the slim prospects of success without veering from portraying a willingness to try.
Jansen and Openreach Chief Executive Clive Selley highlighted the need for recruiting something in the region of 35,000 engineers across the industry to make the plan viable in the proposed timeframe (a sevenfold increase in the number of Openreach engineers currently dedicated to fibre rollout). Selley has previously suggested that finding the number of engineers Openreach already needs to undertake its upgrade programme may be more challenging in a post-Brexit environment (BTwatch, #305).
Jansen also estimated that it would cost more than £30bn to cover the whole country with FTTP, and the final 10% of premises (over three million homes) would cost an average of £4,000.
Changes would be needed in rules on wayleaves to bring telecoms infrastructure provider rights in line with those currently enjoyed by energy and water utilities. BT is also known to be pushing for a business rates holiday on fibre infrastructure going out as far as twenty years as part of efforts to create a fair bet, and wants a change in the Cumulo Rates upon which its physical infrastructure assets are assessed for tax.
The need for a significant degree of industry-wide cooperation was also stressed, and Jansen said a government driven switchover campaign, akin to the programme to push through the digital switchover for television, would also be essential.
If the government can find a way to come through on this wishlist – and the BT board can be fully confident it is in shareholders' interests to proceed – BT and Openreach are ready to roll and reprioritise the business plan to address such a grand project. "I'm sure [Openreach CEO Clive Selley] will find a way of building out a rate which surprises everybody", said Jansen.
While the full coverage goal appears unrealistic, BT Group may, by showing willing and formulating plans that could deliver an accelerated degree of progress, be able to effectively loosen the regulatory restrictions that are intended to foster greater infrastructure competition and ensure it can establish dominance across the UK for fibre access, as rivals begin to intensify investment in alternative infrastructure (see separate report).
Mixed response to Johnson rallying cry
The call by Boris Johnson for full fibre connectivity by 2025 was given a cautious welcome by service providers beyond BT, and also featured caveats on the need for appropriate government support.
An open letter, signed by the heads of the Federation of Communications Services (FCS), the Independent Networks Co-operative Association (INCA), and the Internet Service Providers Association (ISPA – of which Openreach is a member), identified four key barriers to be resolved. These include calls for planning reform to make it easier, cheaper and quicker to build and upgrade infrastructure; the abolition of business rates on fibre; laws that require new-build homes to include provisions for full-fibre connectivity; and investment in the required digital and engineering skills.
CityFibre's response was along similar lines, saying it welcomed the government's recognition of the "vital importance" of full fibre but warning that the 2025 target is "an ambitious one, and some bold steps are needed to achieve it", including the removal of barriers that slow local deployment and access to the required skills and workforce.
Mike Fries, CEO of Virgin Media owner Liberty Global said the group "absolutely applaud[s] the government's ambitious broadband plans…On the flip side, we also agree with BT and others that this will be increasingly difficult and expensive for Openreach and undercapitalised fibre altnets to achieve at least without substantial regulatory relief".
Selley progressing on current real-world challenges
While BT needed to show willing on government ambitions as it made demands for more support to speed up the rollout progress, the Group was also at pains to emphasise the progress being made against current, recently elevated, targets for expanding the FTTP footprint to reach four million premises by end-March 2021.
The run rate for premises passed is now firmly established at 20,000 per-week, and by the end of the current financial year, Selley appears confident that a 30,000 per-week rate can be sustainably reached. This in itself has required significant recruitment from the access services division, with 6,000 new engineers added, and a dozen specialist training centres established across the county.
Selley was also bullish on the prospect of speeding up the pace of rollout further beyond 2021, with innovations in componentry and build processes expected to help pick up the pace.
It was also suggested that half of all UK premises could be reached within the £300-£400 per-premise envelope originally estimated by BT for the first three million sites – another development that may have contributed to the de-emphasising of G.fast in rollout plans (BTwatch, #305, passim).
Cost of fibre connectivity
While BT Group has consistently discussed the deployment cost of FTTP, and put forward a £300-£400 per-premise build cost estimate for the most readily accessible homes, Selley also discussed briefly the final costs of connectivity in the latest results presentation. These costs cover taking fibre from the distribution point (DP) into the customer home itself. Openreach's initial build cost estimates cover the process of bringing fibre from the core to the DP, and once this point is reached, all premises that are linked to the DP are considered part of the FTTP footprint. According to Selley, each DP (which may be on a pole or underground) is linked to between 20 and 25 homes, and the cost of provision to these homes entails connecting fibre cable from the DP through to the premises and the internal installation of a box to terminate the fibre connection in the home. Detail on the extent of this cost was not provided, but Selley noted that it is completed using connectors, rather than splicing, which is more efficient. Selley and Lowth also highlighted that, as demand for full fibre builds from current modest levels, provisioning will become less of a random on-demand practice for individual households, and will be optimised at a street-by-street level.