From March 2020, BT (and KCOM) will be obliged to provide a broadband link of at least 10Mbps to premises unable to connect via commercial operators.
Ofcom still to confirm how it intends to fund the obligation, with a consultation expected by the end of 2019.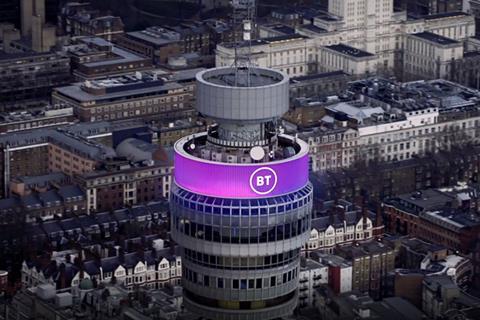 As expected, BT Group was named the UK's major Universal Service Obligation (USO) provider by regulator Ofcom, with Hull-based KCOM also being award USO responsibilities for its area. The regulator first mooted USO status for the two last December (BTwatch, #301), but the effort to introduce a USO scheme with a minimum download speed has been trundling on since 2016 (BTwatch, #275).
The USO is necessary because commercial and government-funded deployments of superfast (30Mbps or more) broadband mean that 95% of the UK population has access to full or part-fibre services, but more than 600,000 homes and businesses do not.
In December 2017, the government rejected BT's offer to connect 1.1 million rural homes to superfast broadband in favour of giving homeowners in remote areas the legal right to demand an upgrade, following objections from other communications providers that no formal enforceable obligations would be in place under the deal (BTwatch, #287, #289, #291).
While Openreach may undertake much of the work to deliver the USO, the agreement with Ofcom is with the Group, rather than just the access services division.
From March 2020, the broadband USO gives householders and businesses the legal right to request broadband with speeds up to 10Mbps download and 1Mbps upload, regardless of their location.
A USO connection would also need to be capable of supporting downloads equivalent to 100GB per month, have a contention ratio lower than 50:1, and record latency levels low enough to enable the connection to be used for digital voice services.
A household or business will be considered eligible if the following criteria are met:
No commercial products that offer "decent, affordable" broadband are available.
There are no public schemes expected to bring a suitable connection to the area within a year.
The cost of connecting the premise would be less than £3,400. For the minority of sites where it would entail costs above £3,400 for service installation, the prospective end-user would still be entitled to request a service, but would have to pay the excess cost.
Additionally, end-users that can only access a 10Mbps product on a package currently costing more than £45-per-month would be entitled to access a USO service.
As part of meeting the terms of the USO, BT has also committed to ensuring that prices for USO products are equivalent to commercial products, and meet the same standards of reliability. The telco additionally committed to providing "at least one" USO product that would cost less than the £45-per-month marker.
Ofcom stressed these parameters are not set in stone, and could change "as the amount of data people use changes".
It also remains to be seen how exactly the USO will be funded, with the regulator expected to issue a proposal on the mechanism to be put in place later in 2019. The core criteria are that the provision of the USO should be cost neutral for the providers, leaving them neither cost advantaged or disadvantaged by their commitment. Prior to proposals being issued, Ofcom is conducting a net cost calculation to determine if the confirmed plans are creating an unfair burden for the USO providers.
No universal quick fix
BT will have 30 days in which to decide whether customers meet USO criteria. The telco will provide a dedicated customer service team to explain eligibility and options to eligible customers, but fulfilment of recognised requests could be a lengthy process.
BT will be expected to complete all eligible orders "as quickly as possible", with 80% of requests required to be completed in under one year, 95% in under 18 months, and 99% in less than two years.
FWA at the heart of USO
The USO appears broadly technology agnostic, and BT has indicated it will take a holistic approach to satisfying its obligations. The operator is expected to use full fibre in some areas, but fixed-wireless access (FWA) using the EE 4G network appears to be the fastest and cheapest way to meet the requirements.
The use of an FWA service was previously proposed by BT as a suitable solution as part of its voluntary universal service offer, and over the past year Ofcom and the operator have completed research that has indicated that around three-quarters of the areas that cannot currently receive the minimum standards of superfast broadband could be quickly and adequately provisioned by the technology.
4G EE Home, EE's FWA solution, was unveiled in late-2017 (BTwatch, #289).