Fully cloud-native core a step closer with new partnership with open-source developer.
Canonical wins deal after initially being categorised as a dark horse.
McRae frames deal as foundational for converged networks, supporting multiple platforms over the next decade.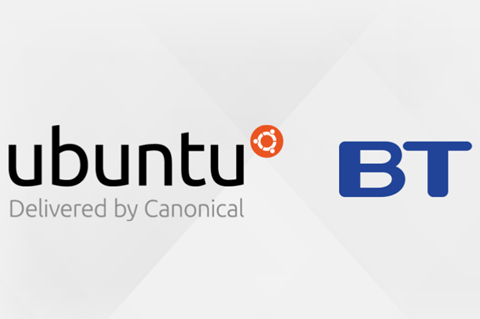 BT augmented its open source and network virtualisation strategy by selecting Canonical as a key partner for the deployment of its next-generation 5G core.
BT said Canonical's Charmed OpenStack on Ubuntu will form a key component of its next-generation 5G core after the software developer emerged as a winner in the telco's search for cloud-native support. Charmed refers to the delivery and operation of OpenStack open-source software on the Linux-based Ubuntu operating system built by the UK-based software specialist.
In detail, Canonical is providing the open-source virtual infrastructure manager (VIM) as part of BT's network functions virtualisation (NFV) programme, ultimately supporting the transition to a cloud-native 5G core network by 2022.
In order to deploy the VIM, BT is adopting Canonical's Juju and Charms tools to onboard virtual network functions (VNFs), while the developer's Metal-as-a-Service (MAAS) tool, which provides a layer that effectively commoditises hardware used in the infrastructure, will be used for cloud provisioning. The 5G core will be backed by Ubuntu Advantage for Infrastructure for the ongoing management and support of operations. Canonical the latter security and support bundle for the operating system in April 2019, aggregating Linux, Kubernetes, Docker, OpenStack, KVM, Ceph, and SWIFT security update and support offerings into a single package.
Powering Network Cloud
The Canonical Linux and OpenStack products will contribute towards BT Group's Network Cloud initiative, which aims to better support new services, including 5G applications, through the creation of a programmable, automated network and enable BT to further evolve its ambition to provide converged wireline and wireless services (see separate report).
The use of OpenStack software will enable BT to separate network hardware from software, turning core network components into applications that can be developed and upgraded more quickly.
Juniper Networks also recently revealed that it will play a significant role in the Network Cloud initiative (BTwatch, #304 and #305).
"[Canonical] is providing us with the 'cloud-native' foundation that enables us to create a smart and fully converged network. Utilising open-source and best-of-breed technologies will ensure we can deliver on our convergence vision, and enable a world-leading 5G and FTTP [fibre-to-the-premises] experience for our customers."

– Neil McRae, Chief Architect at BT Group.
Mark Shuttleworth, Chief Executive of Canonical, outlined the benefits to BT of moving towards an OpenStack-based virtualised core.
"Things like 5G and IoT are challenging the telcos to build an entirely new class of infrastructure, with very large amounts of compute, network and storage. They are also challenged to do that very competitively, because the sorts of business models that they are going to run using this new infrastructure have to be able to support millions and millions of very cheap things.

By moving to general-purpose equipment and software-defined infrastructure, they gain agility, but they also gain the ability to buy in bulk and operate in a very automated fashion, because they are not trying to integrate network appliances from lots of different manufacturers."

– Shuttleworth, speaking to The Register.
McRae maintains his edge
In typically frank manner, McRae discussed the new contract with a number of media outlets, and the reasoning behind the decision to collaborate with a company that was at the back of the pack at the beginning of the tendering process.
"I'll be honest with you, when we started looking, I had already ruled these guys out to some extent, because we had never really heard of them. Yeah, I'd heard of Ubuntu, but not much beyond that. But in the trial and RFP [request for proposal] phase, it was clear that they had some very strong capabilities and smart people, and shared our mindset."

– McRae, speaking to ZDNet.
McRae told Light Reading that the project goes beyond NFV, noting that Canonical will help the telco to "get to cloud-native across the network, leveraging OpenStack, leveraging Kubernetes, leveraging Linux, in a way that few others can do". Indeed, McRae appears to be no fan of NFV, adding: "The way I look at VNFs – and probably many of my colleagues won't agree with me, but I don't really care – I don't think it's the future".
In McRae's view, true scalability is possible only with cloud-native services providing a pipeline for future developments and potential expansion to meet the rising demands placed on networks. Embracing the cloud is also providing a clear path for upgrades of features and functionality that does not require a network shutdown, accelerating the timeframe for updates to days rather than months. The potential benefits of going cloud-native are also expected to be felt widely across BT's networks and services beyond 5G.
"This is ultimately going to be one of the foundations which underpins our network for the next five to ten years. The platform we are constructing will enable us to roll out our 5G core network, and then we'll think about our TV platform, pretty much all DNS and Radius network management functionalities, and voice and video conferencing services.

This will be a core part of managing and developing applications, giving our developers the freedom and scope to create cutting-edge apps which will support both consumers and industries, particularly from an automation standpoint.

Virtual reality, AR, industrial automation, transportation – doing these things far away from the object you're trying to support with the network is difficult. But we see a future of deploying this in to a factory and controlling their devices and managing sensors, tackling supply chain issues all on-premises is our vision for Network Cloud and Network Edge."

– McRae.
BT has already extolled the benefits of a cloud-native 5G core with virtualised functions deployed across the network, particularly at the edge (i.e. nearest to end-users) and was said to be working with Nokia and Mavenir on edge trials. Initially, however, 5G services were to be launched using a more mainstream virtualised platform, primarily founded on VMware services. It seems that this set-up could ultimately be replaced by the cloud-native project (BTwatch, #303).
The core of the matter
BT and EE have already switched on the Group's 5G network in Belfast, Birmingham, Cardiff, Edinburgh, London, and Manchester, and outlined a 5G roadmap encompassing three main phases (BTwatch, #305).
The first phase, from May 2019 to 2022, is focusing on the provision of high-speed mobile broadband services and is based on the 5G New Radio non-standalone (5G NR NSA) specifications. BT/EE will then move to a full 5G core, based on 5G NR standalone specifications, in 2022, enabling Ultra-Reliable and Low-Latency Communications (URLLC – BTwatch, #296), network slicing, and multi-gigabit-per-second speeds from 2023.
BT said the latter phases of its 5G rollout will enable new critical applications, such as real-time management of autonomous vehicle fleets, massive sensor networks across the country, and 'tactile internet' capabilities.
BT is said to have been in core network trials with Cisco, Ericsson, and Nokia. The telco has already said it will not use equipment from Huawei Technologies in its future core network, and is in the process of removing that vendor's equipment from networks acquired through EE (BTwatch, #302, passim).
Big deal for Canonical
Canonical's BT win is regarded as a major coup for the software provider, whose top-ten rivals are said to include : IBM-owned Red Hat; Germany-based open-source software provider SUSE; Mirantis; Dell Technologies-controlled VMware, which is already a BT partner; TIBCO; Caicloud; Puppet; Platform9; and Rancher. According to community-based competitive insights platform Owler, Canonical is ranked seventh in terms of revenue among its top-ten competitors.
CEO Shuttleworth told Light Reading that this is "the first time in a while that a significant European telco has come to market looking for a next-generation infrastructure". He said Canonical has a "strong track record in telcos", with deployments at AT&T, Deutsche Telekom, NTT, and Telefónica.
Canonical has been aggressively targeting telcos for several years, and this major win will wrongfoot much larger rivals, notably IBM (following its $34bn punt on Red Hat) and VMware (staking its future in part on success in telco cloud). Despite McRae's declared lack of awareness of Canonical's capabilities, its relationship with the Group stretches back some years. In 2016, for example, EE signed a partnership agreement with Canonical and UK-based Lime Microsystems to use Lime Micro's LimeSDR "network in a box" solution to create a fully-programmable network capability. EE has also backed Canonical and Lime Micro crowdfunding efforts (BTwatch, #276 and #285). Furthermore, EE is said to have deployed the CrowdCell 4G small cell, which is based on Ubuntu Core software, to extend rural connectivity. CrowdCell falls under the aegis of the Telecom Infra Project (TIP) and was developed by Alpha Networks and Lime Micro. Project champions are BT, Intel, and Vodafone (BTwatch, #300).