Enterprise is edging customers towards its new portfolio of digital services as it declares its support for 'UK PLC'.
Upfront investment in upgrades for both fibre and Ethernet connections expected to create a smooth path for upselling.
Security services to be weaved throughout the Enterprise portfolio in pursuit of added-value gains.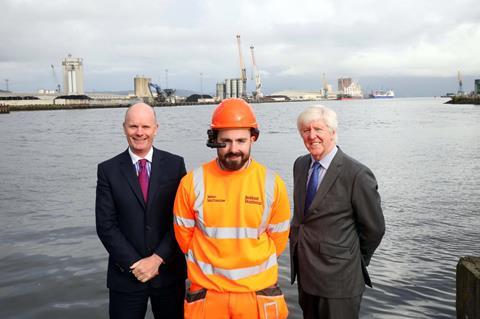 Although not front and centre for the showy events and big budget advertising efforts, BT Enterprise is to be a solid and significant contributor to the BT Beyond Limits initiative underway in the UK (see separate report). The division will maintain the strategy recently laid out by management (BTwatch, #304), while the effort to position the Group as a key partner for UK society is expected to see BT Enterprise prove its worth as a major service provider for the business sector.
BT Enterprise Chief Executive Gerry McQuade stepped up for his stint at the Beyond Limits presentation to declare an ambition to be seen as "a major enabler of UK PLC, and the critical national infrastructure that underpins the country".
Focusing mainly on small- and medium-size enterprises (SMEs), McQuade recognised that current business struggles with political and economic uncertainty and noted comparatively poor productivity figures when the UK is measured against other countries in the G7 group. He went on to suggest that there is a crisis of confidence behind a reluctance to invest in new technology for business and, echoing one of the principal messages of the Beyond Limits launch, said Enterprise can play a key role in "making the complex seem simple".
Reflecting the plans announced by Consumer, the division is aiming to fulfil these commitments through a copper-to-fibre upgrade programme, updates to its product portfolio, and a digital education programme.
The Halo effect
Enterprise is to launch BT Halo for Business services for SMEs, as the next evolution of the 4G Assure service, which is the division's equivalent to Consumer's BT Plus (BTwatch, #296). The decision to embrace the same branding as the Consumer division is expected to enable the pair to share a sheen of a premium product reputation.
BT highlighted the forthcoming offering's bundling of superfast broadband Digital Voice, 5G connectivity where available, and cybersecurity services — alongside the apparent potential for cloud‑based PBX as already seen in BT OnePhone offerings (BTwatch, #258, passim).
As with the new consumer converged offer, Halo for Business will come with access to Tech Experts who can visit customers at their premises to help with set‑up and provide around‑the‑clock online support. BT is to offer support to SMEs via its BT/EE stores, which is a first for the company.
BT also stressed that existing customers will get the same or better prices as new customers, and these will be fixed for the term of the contract.
Ethernet upgrade path for digital services
Enterprise is planning to drive uptake of its Ethernet services, and create a more effective upgrade path for customers, by providing more future‑proofed equipment installations when services are first ordered.
It was noted that businesses often start with a lower-speed Ethernet connection, for example around 100Mbps. Should they then upgrade to a 500Mbps-plus service, the change requires the initial service be 'stopped' and for new sockets to be installed reflecting the higher-capability connection. BT Enterprise is now planning to install 1Gbps‑ready Ethernet connections for all customers ordering 100Mbps links for no additional charge, which will mean future upgrades become more a matter of BT 'turning up the dial' on capability intrinsic in the connection.
Again, like Consumer, Enterprise is taking steps to upgrade customers currently on copper‑based broadband services to fibre-to-the-cabinet (FTTC) superfast alternatives for no additional charge and will no longer sell ADSL‑based services where FTTC is available. McQuade said that "tens of thousands" of lines would be improved by the upgrade programme.
The number of copper lines that Enterprise is planning to upgrade appears relatively low, considering that the division manages approximately 1.5 million external broadband connections and superfast penetration within its customer base is currently below 50% (substantially lower than the Consumer equivalent). The division has, though, previously indicated that the location of many offices and businesses away from residential areas means that commercial premises often inhabit areas where superfast services are yet to reach (BTwatch, #306).
Digital training to close the productivity gap
McQuade weighed in on the need for digital skills training in business, claiming that there is a rather hefty sounding "£85bn productivity gap" in the UK that is attributable to lack of knowledge and capability within the SME sector.
Here, BT is committing to provide digital skills training for one million small businesses and their employees by 2025, bringing the Enterprise contribution to Group digital skills training goals. The division is partnering with Google Digital Garage, LinkedIn and others to deliver workshops, online tools, and management support for cities across the country. More details were promised "soon".
During the press Beyond Limits conference, McQuade was asked about the rationale of providing free training in an area where small business has demonstrated willingness to pay for training and support. He indicated that paid‑for concierge support would be part of Enterprise's portfolio of services, but that free upskilling would provide its own benefits as "the more customers are comfortable with these services, they more they will buy and fully utilise the capability we are selling".
Bigger business not in the spotlight, but not entirely forgotten
There was little mention of BT's plans for larger business, beyond the fact that it is "transforming its support for multinational customers from physical infrastructure to cloud services" with an emphasis placed on virtualised services such as software‑defined wide area networks (SD‑WAN).
BT Global is not entirely outside the remit of Beyond Limits, and may see closer alignment with the programme in the future. For now, Global involvement has seen Chief Executive Bas Burger promoting the programme on social media and attending events, with the division providing video-vignettes outlining its contributions to technology and social projects that can have an impact on a domestic and international basis.
Security the key for under‑threat margins
Speaking on the industry analyst call for Beyond Limits, Group Chief Executive Philip Jansen recognised the attritional impact on revenue and margins that Enterprise's adoption of virtualised services may bring. The Enterprise strategy to address this gap is through provision of additional services enabled by the new technology. Security is to be the main driver, and will be bundled throughout the Enterprise portfolio.
While talking-up BT's cybersecurity capabilities, Jansen indicated that the company would not be shouting its prowess from the rooftops. A lower-profile reputation on strong security is apparently desirable in order to minimise the potential for drawing unwanted attention from cybercriminals.