BT is highlighting the use of a live commercial network in its trials to underline the potential of delivering new services over 5G.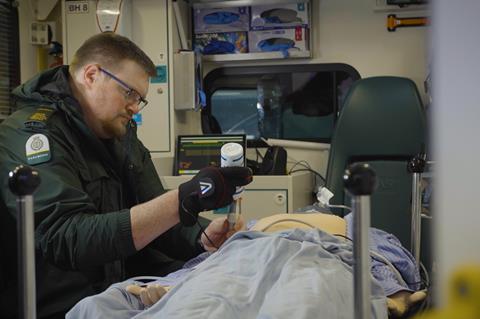 BT Enterprise organised another showcase of the potential for using a 5G network to enable remote medical procedures. Working once again with University Hospital Birmingham (UHB), the demonstration focused on the use of virtual and augmented reality (VR and AR) to enable a clinician to remotely assess and diagnose a patient and view medical records. The event used BT's live 5G network in Birmingham, and as such was described as a UK‑first.
The demonstration was hosted by the Medical Devices Testing and Evaluation Centre (MD‑TEC) at UHB, and depicted a paramedic working from an ambulance in the Edgbaston area of Birmingham and linked over the 5G network to a doctor at MD‑TEC. The clinician used a specially equipped VR headset to visualise what the paramedic saw in the ambulance, while the paramedic wore a haptic glove, which was able to receive control signals from the clinician, who then used a joystick to direct the paramedic's hand to move the ultrasound sensor. A camera in the ambulance transmitted a high‑definition view of the ambulance interior, paramedic, and patient.
The event builds on the demonstration of a remote‑controlled ultrasound in June 2019 (BTwatch, #305), and forms part of a series of trials due to take place over the next three years. The June 2019 event referenced involvement of WM5G, a new organisation set up to deliver the UK's first region‑wide 5G testbed in the West Midlands region, although WM5G was not specifically cited in the November 2019 release.
Fotis Karonis, Chief Technology and Information Officer at BT Enterprise, has been guiding the telco's efforts in the provision of such services. He also highlighted the involvement of research partners, including Ericsson, King's College London, and Sweden‑based live video solutions specialist Voysys, in demonstrations of 5G support for critically important services and real‑time collaboration.