BT was the second operator to be identified as a major customer for Nokia's 100G service router.
Nokia kit said to have been designed with the BT detailed specifications in mind.
McRae's fulsome praise sees Nokia in a gaggle with other publicly-praised partners.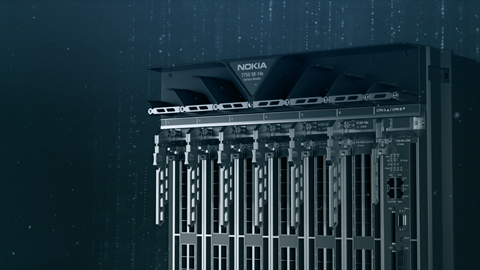 BT Group is deploying Nokia's 7750 Service Router (SR) to boost backbone capacity ahead of the expected boom in traffic from accelerating fibre-to-the-premise (FTTP) rollout and the arrival of 5G.
The router is built around what Nokia's IP/Optical Networks Group claims is the first multi-terabit network processor silicon, FP4. The vendor says it provides the highest 100 Gigabit Ethernet density available on an IP router, and this is the first to deliver terabit IP flows across backbone and peering points.
In heralding the BT deal, Nokia emphasised that the partnership between the two companies is "exclusive", although the nature of this exclusivity was not expounded upon. The deal was not the first deployment of the 7750 SR technology by a fixed-line incumbent announced by the vendor – a rollout with Belgium's Proximus, reportedly boosting the operator's network capacity by a factor of ten, was publicised a day ahead of the BT deal.
In the second week of April 2019, Openreach passed its millionth FTTP-capable site, and BT is planning to roll out 5G to 16 of the UK's busiest cities later this year. Already, BT's traffic is growing by 40% year on year, largely driven by video-streaming and gaming over fixed and mobile broadband.
Early in 2018, BT/EE was the first of a group of 30 network operators named by Nokia as planning to deploy Nokia's new ReefShark antenna-based chipset to improve mobile network performance for 5G (BTwatch, #293).
McRae sings Nokia's praises – and of BT's developmental role
In an interview with BTwatch, Neil McRae, Chief Architect, BT Group, spoke in glowing terms about Nokia, reflecting previous enthusiasm expressed by Group Chief Technology and Information Officer, Howard Watson (BTwatch, #294 and passim).
Nokia is one of BT's biggest network partners, in a relationship that has been going on for "10-to-15 years [presumably encompassing Alcatel-Lucent]", according to McRae, and its position may have been strengthened by BT's anticipated removal of Huawei kit from the EE core network (BTwatch, #300 and see below). Concerning the 7750 SR, McRae said that BT had worked with Nokia's IP/Optical Networks unit, "starting three to four years ago", in developing the router so that it matched BT's needs closely – so much so that McRae would almost feel justified in "sticking a BT badge on the box".
"In effect, what Nokia allowed us to do was build the platform we wanted to build without having to build ourselves. So, in many respects, I would stick a BT badge on the box because it's kind of been built to the spec we really wanted. 

We worked with Nokia to get a shape for what we're seeing on the network and what we believe the network will need to be able to do. And we kind of pushed that into Nokia so that the silicon development was covering all the core needs that we had."

– McRae.
Among the declared merits of the new kit, McRae highlighted greater energy efficiency, a smaller form factor, and advances in analytics data.
"This is a really great approach to how to expand and grow our network, and use the latest technology. Then, as a plus point, we get a lot more bandwidth, although it uses a lot less space [than the older 7950 Extensible Routing Systems], uses a lot less power [about 30%-less], and we get a much greater insight into what traffic we're carrying on the network, which allows us to improve the experience for customers."

– McRae.
At the moment, the platform is deployed in a few of BT's nodes – it went live the week after Mobile World Congress 2019, which McRae said "was very deliberate". He stated that it is working well, without any glitches, which he credited as a benefit of working with Nokia. BT is now deploying the router across key locations in the network and expected the rollout to be complete within the next twelve months. Many units of the older generations of the router will be relocated to less busy locations in the network.
"So for us, this [is year-one] in a ten-year cycle that really sets our core proposition for all the other products that we want to be able to deploy… The other thing I would say is, the way that Nokia has built this platform makes it really easy for us to move from the old platform to the new platform. Before, you'd have to do these big forklift upgrades; with this, it's much more incremental for us, which helps us with the migration, helps us with the affordability of this, and it helps us with the deployment and testing."

– McRae.
McRae said that, despite having a multi-vendor strategy, the company is working to simplify its network where it can without impacting performance.
"Having a simpler platform allows us to do more, get more out of the networks, save cash, and, rather than test something two or three times, we can take less time, and get the platform live much, much quicker, and [it's an] easier deployment for us."

– McRae.
McRae's enthusiasm for fellow travellers
While in the core network, McRae has been effusive on the merits of Nokia, he has spoken more favourably of Huawei in the context of 5G development, most recently describing the Chinese vendor as the "only one true 5G supplier".
He praised Juniper, at a joint development day with the vendor intended to keep the partners on track together (BTwatch, #300), and has talked-up vendors supporting BT's pursuit of greater automation, with ADVA and Cisco name-checked alongside Huawei, Juniper and Nokia.
A notable absentee from McRae's publicly-favoured partners – at least to BTwatch's knowledge – is Ericsson. While the Swedish vendor has a sronghold at EE, and has participated in significant 5G development work alongside BT and is a significant supplier to the Group with recent successes around mobile (BTwatch, #296, #298, #300), it does not appear to have prompted the passionate Group Chief Architect to sing out on its merits.