Vendor parades BT as a valuable sell-through partner for new Cisco Designed for Business product portfolio.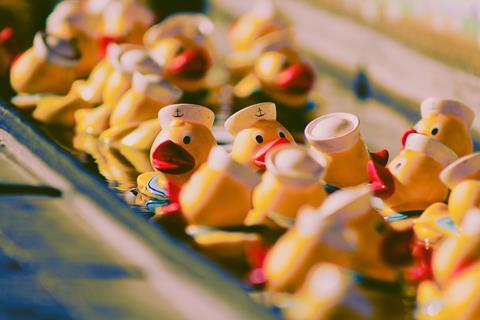 Richard Oliver, Senior Manager of IT, SDN and Cloud at BT Enterprise, featured in a TV studio discussion with figures from Cisco Systems at the vendor's Cisco Live event, held in Barcelona during January 2020.
During a rather staged interaction, which at one point saw those on stage hooking rubber ducks from a pond with various "common myths" about Cisco printed on their bases, Oliver was able to identify several areas where the vendor is supporting the recovery of the BT division as it tackles market digitalisation and combats legacy decline among small‑ and medium‑size enterprises (SME).
Traditionally, BT and Cisco have formed a sizeable channel partnership, and one of the most significant recent developments has seen Cisco positioned as a key partner in BT Global's SD‑WAN‑based Dynamic Network Services drive (BTwatch, #290 and #306). Meanwhile, in 2018, Cisco Meraki was identified as a key partner for the Public Sector business within BT Enterprise, and under a year later was flagged as a partner in targeting SMEs (BTwatch, #296 and #304).
Cisco promising more to partners in SME hunt
Oliver's stint on the main stage saw him accompanied by Hema Marshall, Director of Small Business for UK & Ireland (UK&I) at Cisco.
Marshall leads a UK&I business line at Cisco said to generate $320m (£250m) a year from products and services, having recorded a 19% revenue rise in 2019.
Marshall acknowledged that the small business sector has been an area in which the vendor has struggled, but where it is now aiming to make inroads. This goal is being pursued through delivery of a new product portfolio, Cisco Designed for Business, which incorporates simplified access and networking offerings intended to enable smaller businesses to securely meet customer demand for cloud‑ and web‑based applications over a reliable network.
Alongside the new products, unveiled in late‑2019, the vendor has declared a renewed enthusiasm for allies that can help it reach the SME customer base, and said it is both increasing investment in partnerships and taking steps to improve their profitability to encourage ongoing collaboration.
Service providers such as BT were particularly identified as the kind of partners that SMEs are inclined to tap when looking for a supplier in this field. This represents a clear opportunity for the SME‑focused elements of BT Enterprise, which is attempting to replace shrinking legacy business with IP‑based communications services.
In underlining the shared vision of BT and Cisco, Oliver reflected the attitudes expressed by Cisco's Marshall, who said the vendor has moved towards a "much more… holistic view of our customers — small, medium, and large". He said BT is aiming to draw lessons and insight from more cutting‑edge networking deployments with larger entities, where networked IT service delivery is already well established, and "really package that in a way that small customers who haven't got the direct skills themselves [can use]".
Local business for local people
The presence of local account management teams was flagged as an important aspect of SME strategy by Cisco, and in backing this approach Oliver referenced BT's existing Local Business franchise network, which entails small regional solutions providers reselling BT packaged products.
Oliver also made a passing reference to BT having a presence on the High Street. He may have been emphasising the extensive reach of BT Local Business, but it could also be seen as providing some support for the recent return of the BT brand to the retail sector as part of BT Consumer's new strategy.
When co‑branded BT and EE shops were announced, the operator also indicated that it had aspirations to serve the small business community through its High Street presence (BTwatch, #307).
Who ya gonna call..?
Through the medium of fishing for rubber ducks in a tank in the Cisco studio, Marshall and Oliver also "busted myths" that might suggest that the vendor is too big, too complicated, and too expensive for SMEs to work with.
Marshall quickly tackled the size worries by suggesting "big is good" and that a huge corporation offers a safety net in terms of being able to develop innovative secure solutions beyond the capabilities of small business.
Meanwhile, Oliver again reinforced Marshall's claims of the efforts made by Cisco to simplify its portfolio for smaller business deployment, and both partners underlined the importance of simplicity in this portfolio for SMEs — which may not have the resources to oversee major IT projects. Oliver spotlighted the Cisco acquisition of cloud‑based networking solutions provider Meraki as an important enabler of this drive, saying the merger "enabled us to move away from integrating technology. Cisco and Meraki have really got that simplifying technology, bringing it together, focusing on the customer experience".
An apparent consequence of the simplification of deploying Cisco Meraki solutions has been a greater openness to upselling efforts from BT Enterprise.
We've seen huge growth in customers taking not just one product, and then having the job of bringing it together. [Instead] they're saying, 'well, look, how do we start taking more of these products?' So we're selling networks, plus security, plus LAN, plus Wi‑Fi. These things were really complicated for us and customers in the past. "

— Oliver.
Oliver was also bullish on overcoming the initial obstacles of introducing Cisco solutions, which on face value may appear expensive for smaller business. He insisted that, through the use of combined monthly billing and a clear presentation of the perceived benefits of the products, BT Enterprise could persuade smaller businesses to sign up for new services. Marshall was also quick to point out that, for solutions that involve significant upfront costs, small businesses are able to use Cisco financing options, spreading interest-free payments over three years in a way that he described as "very similar to when you buy a sofa or a car".
We are taking Cisco technology and we build it in, so it's a monthly bill… It's how [customers] can understand the way that they're consuming — the number of people they've got, the number of sites that they've got, the types of infrastructure that they're using. So actually, expense [as an obstacle] in my mind means that you haven't really understood the problem that the customer is trying to solve and you haven't been able to present the value of [the solution] back to them basically. "

— Oliver.
Cisco bolstering its number-one status with Enterprise
At its 2019 Business Briefing, BT Enterprise had highlighted Cisco as a leading partner for the division, supporting delivery of unified communications offerings, networking services, and cybersecurity across the division (BTwatch, #304).
The jovial double act of Marshall and Oliver, together emphasising the importance of longer term relationships with channel partners and end users, also feeds into Enterprise's stated goal of managing relationships more effectively with suppliers and customers, to both save money and improve in‑life performance on contracts.