Jansen optimistic on prospect of digital solutions reviving BT fortunes with the NHS.
BT recruiting to support its NHS win back activity, as hundreds of millions of pounds are made available for health service IT upgrades, with increased focus on security.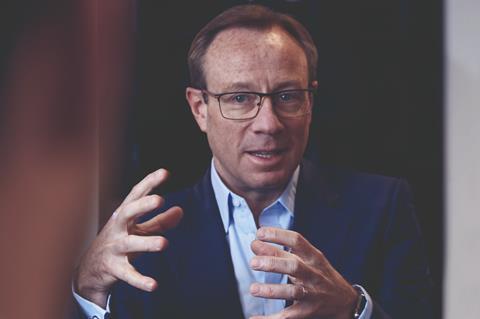 Seemingly unscarred by BT's previous bad experiences in delivering digital transformation projects for the UK's National Health Service, Philip Jansen continues to highlight the health sector as a key area where BT is aiming to develop growing revenue streams.
In an interview with the Mail on Sunday, Jansen was in full cheerleader mode for the Group, downplaying the prospect of redundancies and industrial unrest among the workforce and talking up digital opportunities that will accompany the fibre infrastructure rollout the Group is undertaking.
When called upon to envisage a future BT, the CEO often points to an area or two of opportunity for the operator while declaring a bright future. Drone technology often appears to be at the top of his mind as an example of applications for IoT technology and 5G networks, with several recent references.
Now, digital health is also regularly at the forefront of his transformation pitch, and appears to be an area on which he is pinning hopes of a robust recovery at BT Enterprise.
In his interview, Jansen focused on new tools that could be delivered by BT and applied in an NHS environment. He flagged the prospect of using Internet of Things solutions for tagging both equipment and people in hospital settings, as a means of reducing the cost of missed appointments. For example, where a patient might be unable to make a scheduled appointment in one part of the hospital because they are waiting for a test in another department, clinicians involved would be notified and given the opportunity to reorganise their schedule accordingly. The operator is already piloting similar technology in conjunction with IoT startup Microshare at the Royal Hospital for Neuro-Disability in Putney (BTwatch, #316).
Trials of in-home health monitoring systems are also underway, and 5G connectivity for remote support of ambulance crews is being tested by BT and several NHS trusts.
Recruitment revving up for sales drive
Beyond the emerging sector of ground-breaking digital health solutions, BT also appears to be aiming to grow its business as a critical support partner for more prosaic, but nevertheless essential NHS systems.
Recent recruitment ads for sales leaders working in the Corporate & Public Sector unit of BT Enterprise have highlighted an ambition within the unit to triple NHS contract value in the near-term, with a focus on win-back activity for IT and technology contracts that might have been lost previously.
As well as boosting regional teams for work with NHS trusts, Enterprise's Major Government unit is bringing together sales and accounts teams across the key sectors of defence, policing, centralised health, and central government as it prepares for the development of the Government as a Platform model for major public sector contracts.
With the government aiming to commoditise the delivery of services that feature across multiple sectors, Enterprise is apparently targeting opportunities to deliver major (up-to-£100m) managed service contracts supporting health services.
BT well-placed for tech boom…
A recent report from public spending research consultancy Tussell noted that NHS spending on telecoms has been flat for the past three years, but spending on technology has been steadily rising, up 38% since 2017.
Beyond core communications business, BT appears among the beneficiaries of this increase in tech spending. In estimates of combined technology and telecoms contract awards for the NHS covering the 2017-2019 period, BT was the second largest supplier. The operator won health service contracts valued at £222m, behind outsourcer Capita Business Solutions (£297m), and ahead of Nasdaq-listed technology company Insight Direct (£213m).
Its position may be slipping, however, as in 2019 BT was identified as the fourth biggest winner of new IT and telecoms contracts with the NHS, securing deals worth £73m, behind Capita (£90m), Insight Direct with £86m, and IT service provider SoftCat with £85m.
Nevertheless, opportunities abound, with tender documents related to contracts valued at more than £750m issued in the first seven months of 2020, with modest opportunities in areas such as data analytics and artificial intelligence joining bigger proposals for hardware and services, and provision of electronic patient records. Across the public sector more generally, Tussell researchers also noted that a growing number of UK contracting authorities, including those in the health sector, are tendering cybersecurity contracts, and BT is already within the top ten suppliers for security services across the public sector.
… but pursuing NHS growth presents risk of getting lost in a labyrinth
The NHS has been on a renewed drive towards digitisation since the 2018 publication of its Vision for digital, data and technology report, which was confirmed in the 2019 Long Term Plan. This provides a clear opportunity for BT, and other players in the sector. However, a 2020 National Audit Office (NAO) report warned that the NHS may not yet be prepared for the complexity of the task it is taking on, and sufficient funding may not have been allocated by both central government and the localised health authorities.
The NAO was scathing on the apparent lack of detailed plans for execution in the Long Term Plan, bemoaning an absence of "clear detail" on how the ambitious goals of digitalisation will be achieved, and its programmes for change implemented. Governance of national implementation programmes was also described as confusing, with no clear chain of accountability for oversight at either local or national level.
A new entity, NHSX, has been created to support the transformation effort, and is hoping to achieve the unfulfilled national objectives first outlined in 2002 for the National Programme for IT, but with a greater degree of autonomy and flexibility afforded at local level. However the NAO, reviewing the current and past NHS plans, has warned that there are multiple risks and problems that could be encountered on the path ahead. NHSX is also said to be understaffed (the lack of digital-savvy employees in the NHS is said to be a wider problem), and its decision-making authority is not clearly defined.
The legacy of previous digitalisation programmes at both local and national level, as well as IT systems that may have been in place for decades, are expected to present considerable obstacles for the NHS as it looks to adopt new systems, with the cost of replacement, or tailoring to work with new solutions potentially prohibitive. The terms of existing long-term contracts with suppliers may also prove to be a problem as the health service looks at how it will spend its transformation budget.
A history of changing priorities and strategies, ping-ponging between close central management and 'hands-off' autonomy for local bodies is also said to have contributed to a tangle of multiple legacy systems that will need to be navigated.
Shaky platform and doubled standards
Data and IT system interoperability is an objective for NHS systems, but may not be achievable by the overstretched programme, despite the critical importance of seamless data sharing.
Standardisation of systems is progressing slowly, and while NHSX has since its formation committed to achieving interoperability, it has not been able to provide a timeframe for achieving it.
Standardisation is not only considered complicated and behind schedule, but it is also being complicated by earlier efforts to introduce IT standards in the health service, creating scenarios where multiple sets of standards already exist for some processes, with no consensus on which to use.
The pursuit of interoperability is also in conflict with the goal of diversifying the supply chain for the NHS, according to the NAO report, with more suppliers requiring more system-to-system integration work.
To help combat this, the health service is said to be looking at the creation of a data layer across all systems that will smooth interoperability, based on the adoption of application programming interfaces (API). Based on the experience of API adoption in other government departments, the NAO is sceptical of the ability of the NHS to adopt this approach.
However, BT may be able to provide help and experience through its involvement in programmes such as the TM Forum's Open Digital Architecture initiative. This is promoting adoption of open APIs in IT architecture as it transitions towards the cloud, and is backed by a wide range of operators, support system developers, and IT giants such as Oracle (BTwatch, #314 and passim).
Money to be spent, but is it enough?
After the high-profile failure of the £9bn+ NHS Programme for IT, which ran from 2002 and 2011 (described by the NAO as "expensive and largely unsuccessful"), the UK government shied away from grandiose national upgrade plans. However, the more modest piecemeal programmes that filled the space do not appear to have seen more successful outcomes, and the NAO strongly doubted that the £4.7bn committed for upgrades between 2016 and 2021 had been spent any better.
Projected spending plans in the period to 2024 also look fragile, with the official estimates that £8.1bn will be needed across the health service to deliver planned technology upgrades based on insufficient data, according to the review. The NAO also questioned whether trusts would be successful in ringfencing the £3bn they are expected to contribute to the total spend.
It also appears that NHS recommendations that 5% of health trust funding be committed to technology by 2022 are still being disregarded, with less than 2% currently attributed to the area.
In for a penny, in for a pound
The government strategy for NHS digitalisation also calls for contracts to be broken down to a more granular level, with contract lengths shortened to reduce lock-in. The NAO notes, though, that this may result in inefficiency as the process of creating and negotiating contracts is already drawn-out and a burden on local trusts, and there are indications that suppliers are reluctant to engage in such a piecemeal approach. This may mean that the return of more substantive contracts are back on the horizon.
While the challenges that the NAO have laid out paint a perilous picture for any supplier hoping to engage with NHS transformation, and may prompt seasoned BT executives to experience nasty flashbacks, the complexity may also provide opportunity.
As BT attempts to build its reputation as a managed services supplier, and builds a business model for large scale corporate and public sector work based on technology aggregation, it may once again be able to pick up major contracts with the promise of solving many of the problems identified in the NHS ambition. Ensuring that the risk of ill-defined targets and vague expectations do not result in endless projects and damagingly unprofitable contracts would be a key consideration ahead of any re-engagement at scale.

Neal Doran is a Senior Analyst for TelcoTitans. Neal's industry knowledge and experience as a telecoms analyst and writer spans three decades, and he has been a key part of TelcoTitan's Editorial team since 2001.