Latest Business Briefing sees Allera stamp his style on Consumer division, striving to bring a premium sheen to a venerable brand.
Multi-play out of fashion and cross-selling in as BT and EE set to play to strengths.
New marketing chief Thrane buying in to Group transformation philosophy.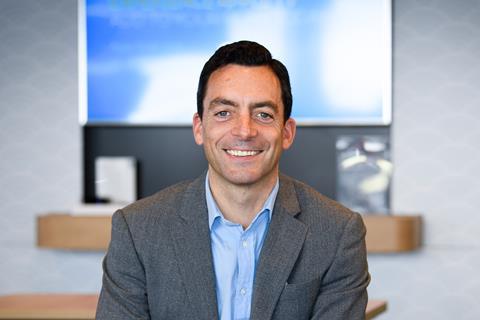 In October 2020, BT Consumer held its latest Business Briefing event, outlining the division's progress as an integrated fixed and mobile retailer. Coming more than two years since the last strategy update, the presentation saw Marc Allera, now firmly established at the head of the combined BT and EE entity, joined by Christian Thrane, Managing Director of Marketing, and his longstanding numbers man CFO Stephen Harris. Like a lockdown Premier League fixture on BT Sport, the key players were operating in an empty arena, with the executives presenting to camera without an audience until ethereal (and often echoey) voices of analysts filled the air.
Leading the event, Allera was blunt on the past performance of Consumer in the days prior to its integration with his EE business, providing the kind of honesty that can perhaps only be provided in hindsight, and by an executive who was not around at the time to be accountable for decisions. The strategy overseen by his predecessor John Petter, and former Group Chief Executive Gavin Patterson (who was also previously Consumer chief) was dismissed by Allera as degenerative and unsustainable in areas including pricing and customer service. In addition to the operational steps needed to bring together the Consumer and EE divisions into one entity accountable for almost half of Group revenue (but less than one-third of Group profit) Allera said that when it came to the fixed-line business "this was a turnaround job".
Allera twice stated that the BT side of Consumer had had "the lowest customer satisfaction, highest churn and highest complaints in the industry" around the time he took the reins, and described a vicious cycle of price rises prompting pressure on contact centres, exacerbating customer losses, and seemingly creating a need for additional price increases to maintain revenue. The CEO was, though, full of praise for the collective effort from the Consumer team over the past two years to support his turnaround plan, and stressed the progress that had been made while laying out hopes of continued transformation for the expanded and revived division. He claimed that while the three Consumer brands had separate teams for all functions, from sales and marketing to finance and legal, that they now have integrated teams across all departments.
Team effort from the top down
As well as an emphasis on the wider Consumer workforce as a focused team, the senior management on the auditorium stage gave the impression of a front three working in harmony.
Looking every inch the marketing guru, dressed in all black with ice-white trainers, BT newbie Thrane was given the task of highlighting the strengths of all the Consumer brands. Having arrived at the division just over six months ago from Telenor Sweden, where he held a similar role, he appeared unencumbered by Group history, which matched his enthusiasm for more agile processes.
During his time with the Swedish operator, Thrane embraced the more flexible digital approaches now in vogue at BT, and during his tenure drew attention to the need to link-up marketing with IT to help Telenor's consumer business unlock the benefits of digital transformation and provide the customer experience that is essential to being considered a premium digital brand.
Thrane has also previously talked of 'late-mover advantage' in transformation through leveraging knowledge and experience of others. Now at BT, he is keen to stress the Consumer division has finally developed the "capabilities to execute" a more ambitious commercial plan, through its systems, use of data, channel, and digital transformation progress (although there is evidently more to be done here, with Consumer teams separately acknowledging the challenges ahead as well as those overcome — BTwatch, #317).
Thrane particularly highlighted the benefits of the Simplify programme, emerging from Chief Strategy and Transformation Officer Michael Sherman's unit. This is instigating digital transformation projects across the Group with a focus on automation and data analytics. The associated changes also coming through within BT's procurement function under Cyril Pourrat are seen having benefits for Consumer too (BTwatch, #318, passim).
The voice of experience
Meanwhile Harris, the accountant between two marketers, presented a message of calmness and experience, highlighting that over the past decade he and Allera had overseen a series of major integration projects, from the merger of Orange UK and T-Mobile UK onwards. With a background focused on top level strategy, he noted that he and Allera had consistently managed to simultaneously deliver cost savings and revenue growth.
Current circumstances may make that winning streak difficult to maintain, but management was adamant that they have stabilised the business and the focus now will be on aggressively tackling its competitors.
Five key elements of the big picture
The presentation from Consumer was extensive, with more openness on metrics than observers may have been accustomed to, particularly in relation to showing historic weaknesses.
This slightly uncharacteristic frankness did come with a degree of obfuscation around the edges. Although the EE acquisition was completed in 2016, Allera considers the Group is only two years into its integration story, with the creation of a united BT and EE consumer unit as 'year zero'. However, some markers of progress reflected change from 2015 or 2016, while in other areas a narrower perspective was picked out.
Picking through the slides, speeches, and analysts' Q&A, BTwatch's five key takeaways from the event are set out below.
1. Brand divergence the key to more convergence
The principal strategy change signalled by Consumer at the Business Briefing was a recognition that brand-based convergence is being abandoned in favour of a renewed focus on BT and EE playing to their core strengths.
In 2018, the stated goal had been to build converged bundles that played to the customer profile of each brand. BT was the safe (arguably staid) family brand that was working from the home out, while EE was expected to build from mobile up, maintaining a mobile-centric approach but with opportunities to add in content and find a way into households (BTwatch, #296).
This approach had little success (see below), and it appears that Consumer after many years of hoping for different outcomes, has finally recognised that there is no hidden reservoir of pent-up demand for brand-based bundling in the UK sector. Instead, BT and EE will play to their individual strengths, and not strive to be something they are not.
This is not Consumer abandoning bundling however, it is just moving it behind the scenes. Cross-selling is replacing multi-play and now, for example, BT sales teams will not be focused on convincing broadband customers that a switch to BT Mobile is worthwhile, but instead will be able to pitch EE contracts and the glitzier benefits and reputation the mobile brand has fostered. Similarly, EE will not attempt to convince customers its home broadband is as good as the more established BT offering: it can just sell BT.
Operationally all Consumer executives are now said to have a multi-brand responsibility (as evidenced by the steady revision of job titles reported in BTwatch's People Moves updates — passim). Back office systems have been brought together to enable sales teams to manage sales of both BT and EE products, reducing the need to pass calls between representatives and making it easier to bundle products across brands (see below). Bundling discounts can now be applied across BT and EE bills, and accounts are linked for customer service purposes.
Consumer stressed it does not want to chase convergence and destroy value. This willingness to cross-sell is reflected in the use of the "Best of both" tag that management is pushing.
In the division's metrics, the convergence of products behind the scenes could also be seen in key performance indicators, with the division stripping out the impact of customers moving between BT Mobile and EE from its mobile churn figures, claiming that this reflects the importance of keeping the customer with the Group, and not focusing on the finer details of what element of the business serves them.
As usual, the Plusnet brand did not get much of a look in at the strategy event, and continues to sit as a defensive play that does not fit with the mood of grand ambition at such occasions.
2. When it comes to brand, EE is the favoured child
Allera and Thrane were effusive in praise of the EE brand throughout the Business Briefing. The mobile marque is considered stronger than its fixed-line peer, bringing a wider range of products into play and delivering "richness" not seen with BT.
On the BT side, Halo was seen as a success, and the next iteration of the offering Halo 3 is promised soon. However, the underwhelming merits of the 4G fixed-wireless back-up for outages still appears to be the key selling point for the premium offering. For now, the best that could apparently be said for the BT brand is familiarity, and an improving reputation on customer experience.
Management notably did not rule out moving to a single brand in the future, which could sound perhaps like a distant death knell for BT in the UK residential market. Consumer recognised that a single brand is arguably simpler to manage, but the benefits beyond that are less clear-cut, and outcomes could be better with two focused brands rather than one broader one.
With Consumer aiming to create a bigger digital marketplace, the value of the EE brand to its plans can be clearly seen (see below). In the nearer term, though, the recognition and reliability linked to BT is considered to still deliver a competitive advantage as growing and dominating the full fibre market becomes a top priority for the division.
3. Moving the market is proving a challenge
Every time over the past four and a half years that the potential for cross-selling or bundling across the consumer sector has been raised by BT Consumer, a similar outline of the potential opportunity has been provided. Each time, the opportunity for the BT division to gain share and break barriers has been highlighted as huge. However, it appears that progress has not been significant enough to move the dial.
Variations on the same slide have been presented by Petter in 2016, Allera in 2018, and Thrane in 2020 and, while some numbers may have moved around the edges, BT's position and share seems unchanged. Around eleven million households have links to a single BT brand (including Plusnet), 13 million households have no relationship at all, and only three million have services from both BT and EE. The division will be hoping that the new cross-selling strategy finally makes an impact.
Consumer claimed that the base of customers taking both broadband and mobile had increased from 15% to 21% between 2016 and 2020, although the numbers provided by the division do not appear to reflect that change.
Relationship status still complicated: change in BT/EE place in market 2016 to 2020

Notes: * Estimated figures provided during Capital Markets Day based on BT broadband and EE contract mobile (BTwatch, #276). ** One million Plusnet customers counted separately. *** BT Consumer, excluding EE. **** In 2020, Consumer presented BT/EE fixed-only and BT/EE mobile only households, rather than dividing by brand, although BTwatch estimates that the base of BT Mobile customers without a fixed-line connection or EE Broadband customers without a mobile account are likely negligible. ***** Revenue generating units per address, including BT Sport.

Source: BT, BTwatch.

May 2016*

May 2018

October 2020

BT relationship / No EE relationship

4 million households

5 million households

6 million households****

EE relationship / No BT relationship

6 million households

5 million households

5 million households****

Both BT and EE relationship

3 million households

3 million households

3 million households

Neither BT nor EE relationship

14 million households

13 million households**

13 million households**

Revenue generating units per customer

1.91***

2.03***

2.42*****
4. Adoption of digital channels crucial to market evolution
Allera predicted that by 2025, the digital channel will be Consumer's primary source of sales. The pandemic and lockdown have already boosted the use of digital channels, and the division appears hopeful that momentum can be maintained.
Physical stores are still important to the division, and management appeared pleased with the progress made in bringing both brands to the High Street as part of plans unveiled in 2018. Direct sales, whether digital or physical, are a clear focus, said to provide much greater return on investment, more sales, and a greater convergence opportunity, while they are also said to reduce churn and improve loyalty.
With Consumer aspiring to create a marketplace platform with its brands, Allera noted that third-party transactions occurring via Consumer billing had risen by 60% in the past two years.
This follows a concerted pursuit of partnering with leading retail brands, and can perhaps best be seen with Apple, where EE promotes the Full Works for iPhone package that incorporates a range of Apple over-the-top offerings (BTwatch, #318). EE was described as the "number one" partner for both Apple and Samsung (although little context for the claim was provided), and beyond the two mobile device giants, a developing relationship with PC maker Lenovo was also referenced.
The development of partnerships and digital channels was one of the few areas where BT TV got a look in, with a claim that Consumer has relationships with the major streamers and broadcasters (although Disney+ remains a notable absentee).
The use of digital channels is also said to have a financial benefit, with £100m-£200m in cost savings identified, although Allera was keen to stress that this was a secondary benefit compared to the opportunities for revenue growth it generates.
5. While aiming high, Consumer still ready to compete on price
Allera said with pricing he had steadied the ship, and was now able to implement clear predictable increases that will benefit the division, and prove less unsettling for customers. He also displayed confidence that Consumer could develop the BT brand to justify a premium in the market and play at the top end of the market.
Consumer has introduced RPI+3.9% annual price rises across all brands from September 2020 (BTwatch, #316). The strategy behind this decision was explained in some detail, with a key element being a focus on providing clarity and transparency in charges that were previously absent. The approach also helps BT meet its commitments to Ofcom on fairer pricing and minimise the negative publicity associated with steep out-of-contract price increases.
The business model for broadband across the wider market was called out as challenging, and possibly unsustainable. Allera noted that for other utility-type services, such as electricity or gas, the customer does not expect to play a flat rate regardless of how much of the commodity they use, which is currently the case with data.
Despite these challenges, and echoing sentiments previously expressed by Group CEO Philip Jansen, Allera said Consumer would no longer tolerate losing market share. Although out-of-contract price increases are being minimised as much as possible, Consumer does look set to continue to use strategic offers to compete in the market, within set parameters. Allera said BT is implementing a degree of flexibility in its pricing with a pricing band of between £27-per-month and £32-per-month for entry level services, and variable speeds between 36Mbps and 676Mbps, with the division willing to flex price down or speeds up to match demands of the market at any given time.
The need for the reasonably significant annual increase to meet investment demands was also emphasised. Fixed data cost-per-customer, including capital expenditure, is expected to see a 5% compound annual growth between now and FY24–25, underlining the need for the 3.9% above inflation annual increases across the BT base.
Further points of note
Consumer claims eight million broadband customers, and 14 million mobile customers. A precise figure was not provided for either pay-TV or BT Sport customers, although the BT Sport base has apparently halved from the levels seen in FY16–17 as free subscriptions have been withdrawn, dropping from a level of around 3.5 million and landing just below two million according to BT slides. Confusingly, the division was claiming "five million-plus" BT Sport subscribers in summer 2016 (BTwatch, #278) suggesting either a dramatic reduction in the final months of the financial year, or inflated reported numbers under Petter. BT Sport revenue was said to have increased by 65% since FY15–16 (which coincides with its securing of UEFA tournament broadcasting rights).
A financial summary for the Group could not ignore the consequence of the global pandemic, and attributed a £200m hit to both revenue and EBITDA from the crisis in the final months of FY19–20. This saw annual revenue and EBITDA figures for the division fall to £10.4bn and £2.4bn respectively from £10.6bn and £2.6bn a year earlier. Although the division would have seen a steady performance without the impact of COVID-19 (and regulation), a flat FY19–20 would have followed three years of reasonable growth for Consumer.
Net Promoter Scores (NPS) are regularly flagged by BT at results presentations. Or rather, improvements in NPS are flagged, very often without any kind of base figure with which to compare. However, Allera highlighted an improvement in the EE brand NPS from '-1' in August 2016, to '+20' by August 2020. BT's brand reputation is also improving, from '-8' at the end of FY15–16, up to around '+1' by the end of FY19–20, marking the first time a positive score has been recorded by the unit.
The progress of fibre-to-the-premises and 5G coverage and adoption are included in Consumer key metrics now, demonstrating the commitment to rolling out next-generation networks, and establishing a strong market presence in relation to them. Ongoing coverage of progress will feature in future BTwatch management updates for the division.
Home convergence lingers as a BT hope, with gaming and smart home technology joining mobile device connectivity and TV as a potential bundle element.

Neal Doran is a Senior Analyst for TelcoTitans. Neal's industry knowledge and experience as a telecoms analyst and writer spans three decades, and he has been a key part of TelcoTitan's Editorial team since 2001.