TIP Project Groups include partnerships between Vodafone, Telefónica, Orange, Deutsche Telekom, and BT.
Suppliers and vendors join projects, with ADVA, Infinera, and Mavenir among the headlines.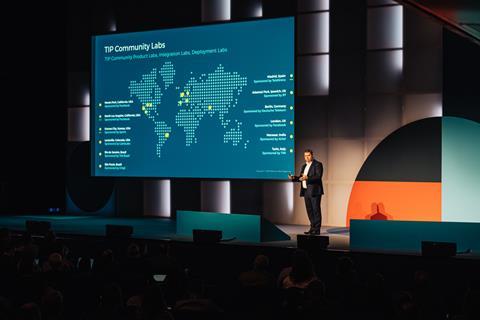 2019 TIP highlights
Disaggregation and open networks continued as TIP's hot topics in 2019, with most major telco participants turning attention to OpenRAN projects. Below is a rundown of notable TIP developments since January 2019:
Vodafone and Telefónica further committed to TIP's OpenRAN Project Group, seeking to upend traditional supply chains through open-source engineering (Vodafonewatch, #173, and Telefónicawatch, #138). This project reached a level of maturity when real‑world trials commenced in Turkey (with Vodafone), and in Latin America (courtesy of Telefónica). It has also seen collaboration with suppliers and vendors across the TIP membership, notably Altiostar and Mavenir. By the end of 2019, the OpenRAN project was further spreading its wings with Vodafone notably advancing independently, albeit with tier‑two partnerships in tow (Vodafonewatch, #180). Although not a part of TIP's OpenRAN group, BT's efforts in the field have seen support from TIP partnerships with Mavenir, which operates from facilities at Adastral Park in close proximity to BT's TEAC and in partnership with strategic supplier ADVA, a runner‑up at TEAC UK's Wave 3.
Vodafone has invested in Open Optical Packet Transport (OOPT) research alongside challenger vendors, among which are Altiostar, Parallel Wireless, Radisys, and Mavenir (Vodafonewatch, #173). Under the OOPT umbrella, Telefónica and Japanese operator NTT Docomo launched the sub‑group Converged Architecture for Network Disaggregation and Integration (CANDI) in October 2018 and have since seen others join the project, including suppliers ADVA, Edgecore Networks, and Infinera, as well as Orange (Telefónicawatch, #138).
Deutsche Telekom co‑chairs the new Wi-Fi Project group alongside Facebook. Although distinct, it may see interaction with the Wi-Fi Alliance sub‑group, set up by members of the mmWave Project (Deutsche Telekomwatch, #81).
2020 TIP expectations
Building on the above, expectations are high for 2020 across a number of TIP Project groups:
The Non-Terrestrial Connectivity Solutions project group (NTCS) will fully launch in 2020 as another collaboration between Vodafone and Telefónica.
The Open Box Microwave project is expected to ramp up in 2020, combining microwave and router functionality to create a unified transport solution. Partners include vendor CommScope, Deutsche Telekom, Telefónica, and African mobile group MTN.
OpenCellular will see a large‑scale network deployed in Africa, touted to bring connectivity to hundreds of thousands of people in hard‑to‑reach communities. Key partners include Californian semiconductor supplier Cavium, Canadian RAN provider Nuran Wireless and Vodafone (its Ghana arm will operate the network).
The new OOPT Open Source Network Operating System (OOPT-NOS) is launching with the codename Goldstone. Edgecore, NTT Electronics, and Wistron are key partners for the sub‑group.