CTO said 1,000 people are involved in the four-market integration programme.
Vodafone TV figures dipped in Germany because of COVID-19.
Velocix is supporting GigaTV in Germany.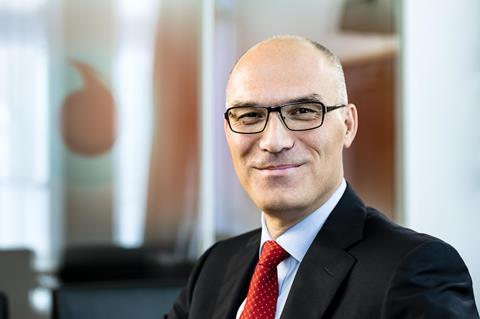 Johan Wibergh, Chief Technology Officer at Vodafone Group, took to LinkedIn to trumpet the fact that Vodafone is making more rapid progress than anticipated with the integration of the former Liberty Global operations it acquired in 2019 (Vodafonewatch, #178).
"We are one year ahead of schedule in completing our largest integration programme ever. This involves the integration of fixed operations in Germany, the Czech Republic, Hungary, and Romania", Wibergh said.
Wibergh provided some insights into the scale of the task, noting that around 1,000 people have been working together on more than 200 projects. "These include moving IT, operating systems, and TV platforms over to Vodafone, as well as network integration", he said.
He added: "With more than 70% of these projects completed on time or ahead of schedule, we will enter 2022 in great shape. It means we can provide a great TV experience based on our latest generation Vodafone TV platform and gigabit connectivity to around 13 million customers".
In the presentation of its first-half results to the end of September 2021 (H1 FY21–22), Vodafone had already indicated that it was continuing to make good progress on integrating the former Liberty Global assets, and said "we remain on track to deliver our targeted synergies".
Intelligent TV
Vodafone acquired Unitymedia in Germany and UPC cable units in Czech Republic, Hungary, and Romania — a transaction that Vodafone CEO Nick Read said at the time had "reshaped our business" and made Vodafone the "owner of the largest Gigabit-capable next-generation network infrastructure in the region".
At the end of September 2021, Vodafone said it had 22.2 million TV customers (including those of Dutch joint venture VodafoneZiggo, which totalled 3.75 million at the end of September). The figure was slightly down from the 22.3 million reported a year previously. In Germany, Vodafone blamed the loss of 101,000 TV subscribers on reduced retail activity because of the COVID-19 pandemic.
The Group also reported 22.3 million fixed broadband customers in Europe by the end of September, plus 3.33 million in the Netherlands. In addition, it said 8.3 million customers had subscribed to bundles that are variously made up of fixed, mobile, and TV products.
Wibergh, who provided a link to Vodafone TV, pointed to the fact that Vodafone is "integrating the IT and support platforms with our latest, digital converged platforms and using [artificial intelligence] to significantly improve the experience for our customers".
Available in all the telco's main TV markets, Vodafone TV is based on Kaltura's Cloud TV solution and runs on Amazon Web Services' public cloud (Vodafonewatch, #158, #168, #180, and #195).
Vodafone is working with Kaltura on using AI and machine learning to deliver better TV services and improve its own operational efficiency. Based on what Kaltura calls "cognitive TV", data, AI, and ML are combined to manage content catalogues, provide better content recommendations, upsell tailored services, and pre-empt service issues.
One of Kaltura's partners is JUMP Data-Driven Intelligence, a Spanish startup founded in 2016 that has developed a cloud-based business intelligence platform that provides data analytics for pay-TV operators. The platform is said to generate insights that help operators better understand customer behaviour. The company lists Vodafone as one of its customers.
Vodafone has also been melding reporting capabilities through international rollout of a Celfocus-supported Vodafone TV Analytics platform, again based on AWS (Vodafonewatch, #174).
In Germany, video streaming and advertising technology supplier Velocix recently revealed that it has been supporting the expansion of Vodafone Deutschland's GigaTV service as part of a multi-year agreement for its open audio-video (AV) pipeline software.
In its H1 FY21–22 results, Vodafone indicated that Germany presented the "most significant converged connectivity opportunity of our larger markets", with only 18% of mobile customers also subscribing to a fixed connectivity product, compared with 54% in Spain. In addition, only 14% of fixed connectivity customers in Germany take a mobile connectivity product, compared with 90% in Spain.
Vodafone TV and fixed broadband subscribers in five main TV markets
Country
31 December 2020
30 September 2021
Source: Vodafone.

TV

Broadband

TV

Broadband

Germany

13.4 million

10.91 million

13.38 million

10.96

Italy

302,000

2.96 million

299,000

3 million

Spain

1.6 million

3.2 million

1.56 million

3.11million

Portugal

735,000

799,000

780,000

847,000

Netherlands (VodafoneZiggo)

3.83 million

3.36 million

3.75 million

3.33 million

Other Europe

2.4 million

n/a

2.42 million

n/a