Germanisation of Vodafone continues with choice of Düsseldorf for TowerCo HQ.
CEO continues to push for improved asset utilisation in mobile networks, plus sales opportunities.
Sharing developments in Germany, India, Italy, Portugal, and UK.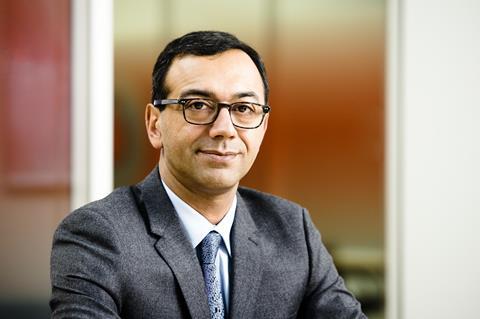 Nick Read, Chief Executive (CEO) of Vodafone, highlighted once more his desire to streamline operations and reduce Group debt by unlocking more shareholder value from tower assets.
Speaking during the Group's earnings conference call for the quarter to 31 December 2019 (Q3 FY19–20), the CEO spoke enthusiastically of improving asset utilisation through national mast-sharing arrangements beyond Italy, Spain, and the UK (where extensive deals are already in place). "Improving returns on capital through network sharing remains a key priority", he said. Read flagged network-sharing talks in Portugal and a provisional collaboration deal with Deutsche Telekom (DT) in Germany as important developments.
In parallel, Read continued to contemplate various monetisation possibilities associated with TowerCo, a separate holding company for Group tower assets in Europe, to be located in Germany (Vodafonewatch, #168, #178, and passim). He reiterated that an initial public offering (IPO) of the new business is one of the cash‑in options and could come sometime in early‑2021, "if market conditions allow". He added the tower spin‑out remained "fully on track" to become operational in May 2020. More senior management posts have now been filled (see below).
TowerCo goes to Düsseldorf after DT rejects Vodafone's JV overture
Regarding the decision to locate the TowerCo in Germany, Read's comments insinuated that Vodafone might have taken a different route had it been able to get DT to agree to a formal joint venture (JV) — rather than the looser, reciprocal sharing arrangement that the two operators have ended up forming. The exact reasoning was unclear, but it is tempting to wonder whether there was a "we'll stay off your patch" offer contained within Vodafone's JV pitch to DT.
During their negotiations, Read had been talking up DT as an "automatic partner of choice" for Vodafone Germany (VfD) on towers (Vodafonewatch, #178 and #181), but its rival has been in much less of a hurry to jump into a major ownership rejig of its infrastructure assets, and the two operators have instead signed a Letter of Intent to piggyback on each other's sites in 4,000 "selected", rural 'grey spots' — areas where only one of them has coverage. The two competitors are now running the deal by Germany's Bundeskartellamt (Federal Cartel Office) and Bundesnetzagentur (Federal Networks Agency).
The agreement is another show of the appetite among Germany's mobile network operators, and regulators, for resource pooling on network expansion — but while also demonstrating their differing incentives. Following the country's runaway 5G auction in 2019, the mobile network operators feel they are saddled with onerous 5G coverage obligations, including delivery of: 98% household coverage with 100Mbps by December 2022; 100% highway coverage in the same timeframe; and remaining road and rail coverage by December 2024. To help meet this, a 6,000‑site, 'white spot'-focused agreement was formed between DT, VfD, and Telefónica Deutschland in 2019.
At the same time, Read acknowledged the deal with DT was "more modest" than agreements Vodafone has formed elsewhere in Europe. He pointed out that synergies available from passive sharing on rooftops were lower in Germany than in other markets, mainly because "rooftop EMF [electromagnetic field] constraints are greater, and also because landlords in Germany typically agree rooftop leases on a per‑operator basis rather than a per‑site basis". He added that "one potential solution to this problem was to agree an active-sharing deal… however, DT was not open to this", and noted that, although number-three player Telefónica "was keen to share, we could only come up with solutions that would have compromised the market's two‑tier structure". In its latest results presentation, DT batted off insinuations that it could have been more open on the network-sharing front. Hannes Wittig, Senior Vice-President of Investor Relations, said that by rejecting a move into active-sharing, "we found the right balance… [between] network leadership and efficiency considerations".
Had DT gone for a more ambitious, JV‑based model, mirroring Vodafone UK (VfUK) and Telefónica UK's Cornerstone Telecommunications Infrastructure (CTIL) business and Vodafone Italy's (VfIt) pending tower combination with Infrastrutture Wireless Italiane (INWIT), the tower arm of Telecom Italia, it appears Vodafone may have chosen to site the TowerCo in a country where it retains greater control of its infrastructure — or perhaps an 'independent' territory, like Luxembourg. "The clarity on our network-sharing approach in Germany allows us to confirm that our TowerCo will be incorporated in Germany and headquartered in Düsseldorf", said Read. He added that it had been "natural" to incorporate the TowerCo in Düsseldorf, "given our towers in the UK and Italy are held within joint ventures".
There was no mention of whether the UK's exit from the European Union (EU) had been another factor — but the decision will no doubt have been noted by the British government, especially with Brexit having already raised questions over Vodafone's links to the UK, and with the Group becoming ever more Germany-centred. With its recent expansion through M&A, and decline in other markets, VfD produced 60% of Vodafone's Europe Region operating free cash flow in the first half of FY19–20 (Vodafonewatch, #181).
Alongside confirmation of the TowerCo's German roots, more senior management positions have been filled at the new business. Following on from the November 2019 appointment of Vivek Badrinath as CEO, effective 1 April 2020, Thomas Reisten was named as Chief Financial Officer, and Sonia Hernandez becomes Chief Commercial Officer. Badrinath was formerly CEO of Vodafone's Rest of the World Region (whose central organisation is now being disbanded — Vodafonewatch, #181), while Reisten's CV includes a stint as CFO at the same Region (when called the AMAP Region), as well as Vodafone India. Hernandez leaves her CEO role at Vodafone Malta, which is in the process of being sold (Vodafonewatch, #180). A priority for TowerCo's top brass is to generate operational efficiencies and increase tenancy ratios across its tower portfolio, as well as improve master services agreement terms among the tower businesses and sharing arrangements in national markets. The separate company will boast Europe's largest towers portfolio (unless DT hives off more of its towers too). Nearly 62,000 towers are due to fall under its wing, spread across ten markets, with some 75% of the sites supplied by Vodafone's biggest four territories (Germany, Italy, Spain, and the UK).
In-market movements; sale speculation in Italy and UK
Vodafone established a new infrastructure business in Ireland, as part of the ongoing effort to extract cash from its European tower assets, and cut debt. Vodafone Towers Ireland was incorporated in early-February 2020 after an application by the Group in mid-January, according to filings with Ireland's Companies Registration Office. The new entity is registered at the address of Dublin law firm McCann FitzGerald and has no Vodafone Ireland executives as directors, indicating divergence from the OpCo's main structure. The business — which mirrors similar tower entities created by Vodafone in Germany and Spain — begins life with share capital of €10m. The Group has around 1,300 sites in Ireland and the move is actually Vodafone's second attempt to siphon off these assets from VfIr, to drive savings and new growth opportunities. The OpCo teamed with rival Three Ireland on an infrastructure joint venture called Netshare Ireland back in 2012, but the initiative was ultimately short lived. Three exited the business in 2014, after opting for an infrastructure partnership with incumbent Eircom, rather than VfIr, after its takeover of Telefónica Ireland (Vodafonewatch, #127).
In Italy, the pending VfIt–INWIT tower merger looks to be facing considerable scrutiny from competition bodies (Vodafonewatch. #178 and passim). The tie‑up is currently under review by European antitrust authorities, and with Benedetto Levi, CEO of rival Iliad Italia, recently expressing opposition to network-sharing partnerships between mobile operators, pressure appears to be rising. Reuters reported in February 2020 that VfIT and INWIT were set to offer rivals access to some of their infrastructure, in an apparent attempt to appease EU concerns. On 19 December 2019, INWIT's shareholders approved the planned combination, which led Vodafone in mid‑January 2020 to notify the EU Competition Commission about the potential combination. Read remained hopeful that the Commission would give a favourable decision by the end of February 2020, and that the transaction could be completed during the first half of 2020. If the deal goes through, Vodafone will receive a cash consideration of €2.14bn (£1.78bn) and a 37.5% holding in the new combined entity, matching TI's stake. The rest of INWIT's shares will remain listed on the Milan Stock Exchange. Vodafone and TI intend to retain joint control of INWIT, but have said they will consider jointly reducing their respective ownership levels from 37.5% to 25%. A consortium led by French private equity group Ardian was said by Reuters to be the frontrunner to buy the 25% stake being jettisoned.
Vodafone Portugal (VfP) signed a Letter of Intent with integrated rival NOS, with a view to striking a nationwide agreement to share mobile network infrastructure. The aim of the "exclusive" talks, according to the official announcement, is to "develop a sustainable investment model", thus paving the way for "greater and faster coverage" in the country. The proposed arrangement looks restricted to passive infrastructure, with no spectrum sharing appearing to be involved, and each partner is assured strategic control of their own networks — something not possible if 'active' kit, such as antennas, is shared. VfP and NOS, which already share fibre infrastructure (Vodafonewatch, #159 and passim), were said to be aiming to seal the deal by June 2020. Portugal's long‑awaited auction of 5G‑friendly airwaves is slated for completion in a similar timeframe (see separate report).
Vodafone Spain (VfS) and rivals Orange Spain and Telefónica España were reported to be locked in difficult discussions over a proposed three-way network-sharing arrangement, building on an existing deal between Orange and VfS, agreed in 2019. Telefónica reportedly expressed an interest in joining the agreement in September 2019 but, according to business daily Expansión, the discussions have now run into difficulties over financial and technical issues, and may end up being more limited in scope than originally anticipated. Orange and VfS' arrangement is an active network-sharing deal, including both towers and radio equipment for 2G–4G (and subsequently 5G) networks in towns and municipalities with populations of between 1,000 and 175,000 people. The agreement was expected to cover roughly two-thirds of the country, and was an extension of a deal signed between the two operators in 2006 and renewed in 2016, involving the sharing of 14,800 radio sites (Vodafonewatch, #174).
In the UK, there was increased speculation around "monetisation" of CTIL as Vodafone and Telefónica look to a part-private sale or flotation of the JV. Another report in Expansión suggested infrastructure investment group Digital Colony is interested in buying into CTIL, with the purchase of a 49%-stake mooted. Ángel Vilá Boix, Chief Operating Officer of Telefónica, stressed that CTIL was a "very attractive asset". Like Vodafone, the Spanish operator has been stepping up tower asset restructuring and monetisation plans with the creation of Telefónica Infra, a division dedicated to managing the Group's physical infrastructure.
Outside the TowerCo's European realm, fresh doubts appeared over the proposed merger between Bharti Infratel and its JV with Vodafone, Indus Towers. The country's Department of Telecommunications finally gave approval to the coming together of the two companies — agreed back in April 2018 (Vodafonewatch, #165), and initially tabled for completion in March 2019. However, an announcement by Infratel's management that it was again extending the deadline for completion of the deal, to 24 April 2020, saw further questions being raised in the Indian media over the merger's future. "The final decision to implement the scheme will be taken by the board keeping in mind the best interest of the company and its stakeholders, including the assessment of the current crisis facing the telecom industry and the extent of its impact on the company's major customers", said Infratel in a statement.