UK OpCo publishes report outlining economic benefits of cellular-connected drone deployments.
RPS positioned as being able to meet public demand for tougher security and closer monitoring.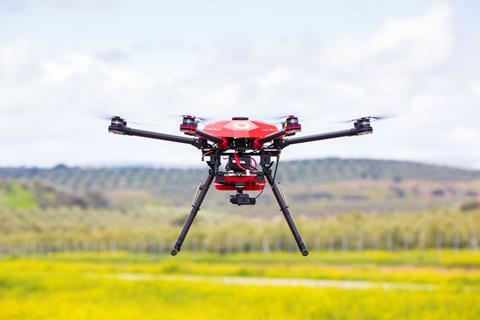 Vodafone UK (VfUK) urged lawmakers to toughen up national drone regulation, as part of its broader security and safety pitch around cellular-connected vehicles.
To underline its case for more stringent drone regulation, VfUK drew attention to a commissioned report put together by WPI Economics, a public policy and economics consultancy, which neatly linked together greater public support for secure drone deployments with knock‑on benefits to the UK economy.
According to a survey wheeled out in the report, tellingly entitled Cellular-connected drones: the benefits to society of regulated drone use, 80% of the British public would support the widespread adoption of drones if better safety, security, and monitoring measures were put into place. The report made several policy recommendations, including:
Establishing a "blue light" drones fund for emergency services.
Developing an Unmanned Traffic Management system to coordinate drone flights with other airspace users.
Promoting 5G connectivity to support management of many drones at the same time and reduce delays in sending commands and information.
For good measure, the report also flagged tantalising economic estimates from PricewaterhouseCoopers. In a staggering forecast, the consultancy believes drones will contribute a £42bn (€46bn) increase in UK gross domestic product by 2030, and drum up £16bn in annual cost savings.
This is your problem, and here's our solution…
Working with various partners, Vodafone is pitching its Radio Positioning System (RPS) — apparently developed in‑house — as something that can tick all the necessary boxes of a tougher regulatory regime for drones (Vodafonewatch, #152 and passim).
One major RPS plus point, asserts Vodafone, is that it provides highly accurate 'beyond visual line of sight' (BVLOS) oversight of drones that are fitted with SIM cards. Another touted RPS benefit is that it is more secure than the satellite-based General Positioning System (GPS). According to Vodafone, RPS is much harder to spoof or hack than GPS.
Alongside Spain and Germany, the UK is a stomping ground for drone trials and initiatives in Europe (see table). A UK regulatory push on closer monitoring of unmanned aerial vehicles (UAV) is something the Group no doubt wants to see mirrored in other European markets, giving it more opportunities to play into its network strengths.
Selected Vodafone drone trials and initiatives in Europe

Lead unit

Partners

Details

Source: Vodafone.

Group Technology

Air Traffic Laboratory for Advanced Unmanned Systems (ATLAS)

In June 2019, Vodafone trialled dynamic no‑fly zones for drones at the ATLAS facility, which is in Jaén, Spain and a dedicated test flight facility for UAVs. Use‑cases include supporting emergency services and other authorities that need to establish temporary (dynamic) no‑fly zones, for example, to ensure only police drones can fly around a major crime scene.

Using Vodafone's RPS, in which drones are connected to the mobile network by a SIM card embedded in custom-built user equipment modems, the idea is to create geo‑fences. A team of Vodafone engineers based in London were apparently able to create a geo‑fence in Spain and could interact with any number of drones flying within the area.

Many drones, said Vodafone, have 'memory' of no‑fly zones, but this is typically drawn from offline static databases. "With temporary geo‑fences, an offline database is simply not good enough", said Vodafone. Authorities also need the ability to tell in‑flight drones when they must divert their course. All this can evidently be achieved through cellular communications.

Barcelona Drone Centre

Using Vodafone's RPS, engineers from the Technology Networks Centre of Excellence started work on compiling a map in Catalonia, Spain in January 2019. The map shows mobile coverage that drones can receive at different altitudes.

EASA

Trialling of a drone-tracking system for air traffic control operators was announced in February 2018.

Vodafone envisaged at the time that RPS could monitor drones to within 50 metres of accuracy. EASA said it was developing new pan‑European rules to regulate the operation of drones. The agency set out an initiative called U‑space, focused on "safe commercial drone operations".

TM Forum

In October 2016, Vodafone took lead on a TM Forum (TMF) Catalyst project for delivering "drones‑as-a‑service", marking the Group's first major foray into the then nascent drone market.

Vodafone said it was working on a '5G slicing' proof of concept for IoT applications, which involves the drone service. In an app dubbed "precision farming", TMF said high-quality video shot by a drone could show farmers how crops or livestock are doing at a given point in time.

Vodafone Germany

Airbus

VfD announced a partnership with aerospace manufacturer Airbus in September 2019.

They demonstrated ALtAIR, a 5G-equipped UAV at the Internationale Automobil Ausstellung show in Frankfurt. ALtAIR was controlled from Frankfurt while flying above VfD's 5G Mobility Lab in Aldenhoven more than 250km away. VfD sought to emphasise use of network slicing technology.

VfD envisaged various use‑cases for the system, including: the creation of high-precision 3D maps; remote sensing of crisis areas; live transmission of sport events; and assistance for emergency services.

Relevant regional aviation authorities in Germany

Vodafone announced in November 2018 that it had successfully demonstrated how mobile networks could support the European Commission's (EC) vision of safe long‑distance drone flights. Using BVLOS control capabilities and enforcement of no‑fly zones around sensitive buildings, such as chemical plants, government buildings, hospitals, prisons, and schools, Vodafone showcased the trial (again, involving RPS) at its test facility in Aldenhoven.

Vodafone was at pains to stress the trial had demonstrated that existing 4G networks, which are optimised for ground-based users, could simultaneously be used to monitor drone flights at up to 120 metres above ground level. This, it said, confirmed that RPS could be used as a backup to GPS.

Representatives of the European Aviation Safety Agency (EASA) and the EC were on hand to observe the trial.

Vodafone UK

Blue Bear Research Systems

Cranfield University

Thales

In March 2019, VfUK and Thales joined the National Beyond visual line of sight Experimentation Corridor (NBEC) partnership. Founding NBEC members are Blue Bear Research Systems, a maritime and aerospace tech specialist, and Cranfield University.

The project is closely aligned to the Aerospace Sector Deal, a UK government initiative to drive industry collaboration on aircraft innovations and airspace management.

The NBEC flight corridor, working with the Civil Aviation Authority's Regulatory Sandbox, uses 4G and 5G connectivity. The aim, when VfUK joined the project, was to see the corridor stretch across Bedfordshire from Blue Bear's headquarters in Oakley to Cranfield University's airport.
Vodafone prepping "global" drone offering for take-off
Coming alongside the report's publication, Vodafone added a page to its Group website indicating it is set to step up go‑to-market activity around drone use‑cases. The page flags Vodafone is "preparing to welcome connected drones to its global network", and points readers towards collateral on connected‑drone development work and other papers and articles on their potential.