Visions of tumbleweed continued to pervade around Vodafone's rudderless venture capital unit, as its portfolio of past "strategic" investments was allowed to erode further.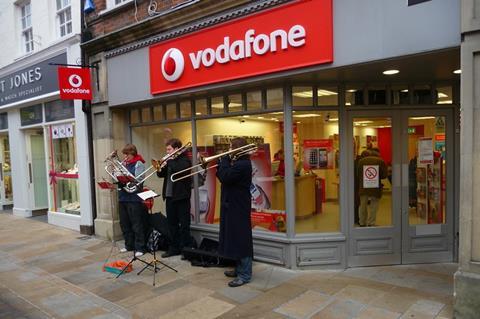 Group investment unit Vodafone Ventures (VfV) emphasised its near-dormant status by sitting on its hands during transactions by two existing players in its stable: British mobile voice recording technology player Cognia and Canadian enterprise marketing specialist Flybits.
Cognia – which received a series of investments from VfV during 2011, after striking a deal to support Vodafone Global Enterprise's Mobile Recording solution for banks and other large businesses (Vodafonewatch, 2010.04 and passim) – is to be taken over by Smarsh, a US vendor that sells information archiving solutions into financial service providers, helped by partnerships with American telecoms providers AT&T and Verizon Communications. Smarsh said the deal will enable it to expand within Europe, and "leverage Cognia's intellectual property and development resources to offer its global customer base enhanced capabilities around mobile and fixed-line voice communication". Terms of the acquisition were not disclosed, so it is not yet clear how much VfV will receive for its stake in Cognia (thought to have stood at around 12.2% as of 31 March 2016).
Previously, Flybits – another VfV investment, and also partner of Vodafone on analytics-led corporate customer engagement projects – announced a $6.5m (£5m/€5.5m) Series-B funding round, but did not name VfV as one of the participating investors. It remains unclear what dilution effect the round will have on VfV's position in the business, pegged at just under 9% as of 31 March 2016. Dr. Hossein Rahnama, founder and Chief Executive of Flybits, said the injection will enable the vendor to "ramp up our sales efforts in the United States and Europe, reinforce our existing global presence, and expand our product and engineering teams to strengthen Flybits' unique machine learning capabilities".
Out of office
While VfV's level and range of activity has fluctuated wildly since its inception during the dotcom boom in 2000, and Vodafone continues to insist VfV remains active, the last three years or more have seen the unit become increasingly sedentary, selling off several assets (stakes in Expertmaker, Jibe Mobile, MobileIron, Perfecto Mobile, Pontis, and Yelp) and impairing others (including the Cognia holding, which was partially written down following an "investment impairment review" in 2016 – Vodafonewatch, #148).
Although some existing investments have been provided with further funds, it appears no new startups have been brought into the VfV portfolio since its tie-up with Flybits during 2014 (Vodafonewatch, #132). With Cognia's sale, Vodafonewatch's research indicates VfV now has only 14 providers in its portfolio, compared with in excess of 20 as recently as 2015. Further, while VfV was talked up at launch as having a £100m (€109m), "global" funding pot, its assets' net book value stood at just £26m at 31 March 2016 (down from £29m in the previous year), with only five countries represented (see table).
At the same time as VfV's activity levels have fallen away, there have been a series of recent OpCo and Group function-level investments that, in the past, might have fallen under its mandate. These include Vodafone Germany's takeover of network analysis specialist Radio Opt, Vodafone Spain's lending to virtual network enabler Pareteum Corporation, and Group Enterprise backing of cloud service provider Outsourcery, prior to its sale to GCI (Vodafonewatch, #145, #152 and passim). Even Vodafone Procurement Company has been getting in on the startup support game with its new, Luxembourg-based Tomorrow Street Global Innovation Centre (Vodafonewatch, #154).
Another aspect that remains unclear is which Group departments are actually driving VfV's approach, with management having been perpetually batted back and forth between Group Commercial, Global Technology, and other divisions throughout the unit's history (Vodafonewatch, passim). Currently, Navneet Vasishth, Director of Group Strategy & Commercial Programmes, and Pierre Klatt, Head of Group M&A, are VfV's directors, suggesting split oversight between Group Commercial and Group Finance (but with neither department providing obvious enthusiasm or impetus).
The dwindling of Vodafone's startup investment portfolio is yet another signal of the risk-averse nature of the Group as a whole, and continues to contrast markedly with that of rivals such as Deutsche Telekom and Telefónica, which are using the carrot of financing to fuel a wide range of partnerships in strategic growth areas, such as the Internet of Things and security, and to encourage internal innovation.