NatCo claims move will accelerate UK FTTP growth.
Backs new FTTP trial with Openreach in Salisbury.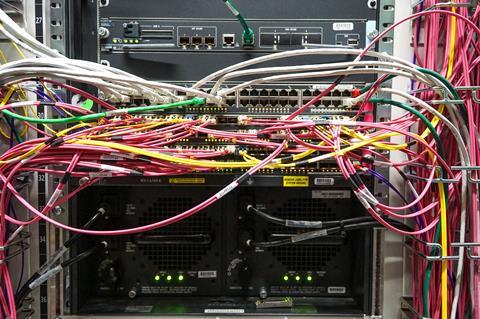 Vodafone UK (VfUK) agreed a recalibration of its wholesale arrangement with fibre‑to-the‑premise (FTTP) infrastructure provider CityFibre. The upshot is that CityFibre will be able to pitch other broadband players for wholesale business much sooner than the old contract allowed.
In November 2017, when the ten‑year 'full‑fibre' wholesale deal was signed, CityFibre granted VfUK a temporary period of exclusive rights during the buildout phase of each city network (Vodafonewatch, #160). Only when FTTP rollout was complete in a city would other broadband players be allowed to enter the FTTP market there using CityFibre capacity. In exchange for this exclusivity, VfUK made a minimum volume‑based commitment of signing up 20% of homes and businesses passed by CityFibre.
Under the new agreement with CityFibre, VfUK will offer Vodafone Gigafast Broadband on a rolling, twelve‑month exclusive basis as homes become available for service in each of the twelve towns and cities covered in phase one of FTTP deployment. The amended commercial terms also apply to additional locations.
Vodafonewatch is not clear on whether the 20% purchase commitment remains in place.
Greater good
VfUK partly pitched the new deal as a sort of self-sacrifice, done in order to accelerate FTTP rollout in the UK. By allowing CityFibre a quicker route to adding more anchor tenants, the thinking is that it should be in a financially stronger position to challenge Openreach, the infrastructure arm of incumbent BT Group, and Liberty Global-owned cableco Virgin Media. "We are enabling CityFibre to expand", said Nick Jeffery, Chief Executive (CEO) of VfUK. The OpCo lamented that full-fibre broadband was still only available to around 11% of UK premises.
VfUK will also benefit, however. Greater wholesale fibre competition will exert more downward pressure on tariffs. When news surfaced that CityFibre was agitating for a new relationship with VfUK, there were reports that the NatCo was in line for improved commercial wholesale rates if the old contract was ripped up (Vodafonewatch, #181).
CityFibre unchained
In parallel with the re-jigged contract, CityFibre announced the £200m (€237m) takeover of FibreNation, a unit of TalkTalk, a rival broadband player to VfUK. FibreNation operates full-fibre networks in York and has a presence in nearby Dewsbury and Harrogate. It also signed a wholesale agreement to become a CityFibre anchor tenant.
The FibreNation acquisition means CityFibre's rollout target has risen from five million to eight million premises. Backed by Goldman Sachs and private equity firm Antin, which took over CityFibre in April 2018, CityFibre has created an "investment programme" of up-to-£4bn (€4.7bn) to meet the revised eight-million premises target, and reckons it will create up-to-7000 new construction jobs in the process. Sky Broadband is another potential customer, according to some reports. Greg Mesch, CEO of CityFibre, said the FibreNation add-on firmly established the provider as the UK's "third national digital infrastructure platform".
Prior to the TalkTalk agreement, discussions about the FibreNation acquisition had reportedly been put on hold until after the UK's General Election, held 12 December 2019. There was some anxiety in the broadband sector that Labour Party policies, including free broadband for all, and part nationalisation of BT, might wreak havoc if implemented. A resounding election victory for the Conservative Party laid those fears to rest.
Open for business with Openreach
In the same press release about the re‑jigged CityFibre contract, VfUK said it was backing a new trial in Salisbury, under which Openreach will replace every copper-based telephone line in its catchment area with "superior and more reliable optical fibre cables". Starting spring 2020, VfUK will migrate customers onto Vodafone Gigafast Broadband without charging an upfront connection fee.
The Salisbury trial builds on closer full fibre relations with Openreach. In December 2019, perhaps sensing growing competition in the wholesale space, Openreach made an audacious bid to expand its FTTP network through a mixture of generous discounts on connection and rental fees, alongside an insistence that its communications provider customers — if they are to take advantage of lower prices — undertake marketing legwork to promote higher speed connections (Vodafonewatch, #181).
VfUK was quick to bite. Only days after Openreach announced its price discounts, which come into effect on 1 January 2020 and end on 30 September 2022, VfUK struck a wholesale agreement with the provider. Under the arrangement, VfUK intends to extend its full‑fibre broadband network by up to 500,000 residential and business premises across three cities: Birmingham, Bristol, and Liverpool (cities outside the planned CityFibre footprint).