Vodafone Automotive and Geotab club together to create Vodafone Business Fleet Analytics.
New telematics and analytics platform initially available in France, Germany, Italy, Portugal, Spain, and UK.
Vodafone extends partnership with Trinsic to woo automakers with branded connected-car solutions spread across multiple markets.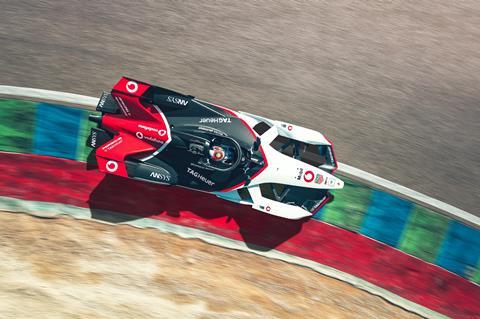 Vodafone tapped into the enterprise Internet of Things (IoT) expertise of Canada-based Geotab, UK-headquartered Trinsic, and German startup EMIL.
Through separate partnerships, Vodafone aims to develop fleet management services (with Geotab), enable branded connected-car solutions for car manufacturers (Trinsic), and expand its usage-based insurance presence (EMIL).
All the parties sought to accentuate the extensive IoT coverage of Vodafone Business, which claims to have more than 85 million connected devices worldwide under its wing, as an attraction of tying with Vodafone.
Geotab's fleeting contribution
Through a "strategic collaboration", Vodafone Automotive, the business inherited through the Group's 2014 buyout of Italian connected-car player Cobra Automotive (Vodafonewatch, #124), and Geotab created Vodafone Business Fleet Analytics. A new fleet management tool, it is pitched as combining Vodafone Automotive's connectivity and service delivery capabilities, along with know-how in vehicle safety and security, and Geotab's "advanced, open fleet telematics platform".
The idea is that enterprise customers can access vehicle data and gain "actionable insights" from data analysis to monitor and enhance the safety, performance, and security of their drivers. Vodafone Automotive also flagged the fleet management trend of "shared mobility", where enterprises share their fleet as rentals to the public or other businesses when vehicles are not in use. Through Vodafone Business Fleet Analytics, the unit thinks it can open up new revenue streams for fleet managers as shared mobility becomes more widespread.
Vodafone Business Fleet Analytics will launch in all European markets currently served by Vodafone Automotive, starting with France, Germany, Italy, Portugal, Spain, and the UK.
Trinsic value
Vodafone Business signed a five-year international agreement with Trinsic to offer and support what they call Internet in the Car solutions. Trinsic is already an IoT supplier to Vodafone, and the arrangement with Vodafone Business apparently draws on this existing relationship (Vodafonewatch, #172 and see table).
The first project to launch under the new Trinsic Connected Car programme is with Volvo Car UK. All new MY20 Volvo cars sold in the UK now come with a Vodafone SIM card that is preloaded with 100GB of data. On top of Volvo's "real-time" connected-car services, the SIM card purportedly enables "uninterrupted roaming access" across 44 countries. The Trinsic Connected Car programme also provides Volvo with a customer portal, enabling top-up tariffs, payment facilities, and customer support services.
With the help of Vodafone's IoT network, Trinsic says it can help car manufacturers create an own-branded solution that is regulatory compliant in more than 22 markets, and backed up by portal-based billing and local language support.
Vodafone IoT Partner Network by speciality, October 2019

DISTRIBUTION

Tech Data Corporation
(also PS, H/S, SP)

Wireless Logic
(also H/S, PS)

HARDWARE / SOFTWARE

(H/S)

Accent Systems (also NB‑IoT)

Accenture (also PS, NB‑IoT)

Future Networks (also SP)

Locatel Fleets Solutions (also SP, PS)

SIMCom Wireless Solutions

Speed Telematics (also SP)

Tech Mahindra

(also PS, NB‑IoT,

SP)

NB‑IoT

Intelkia Technology Solutions

OYSTA TECHNOLOGY (also SP)

Quectel Wireless Solutions

Surface Technology International

PROFESSIONAL SERVICES

(PS)

Assimilated Communications

Baobab Technologies (also SP)

Pareteum Corporation (also SP, SI)

XLink Communications (also SP)

SOLUTION PROVISION

(SP)

Embedded Works Corporation

Sensor Monitoring & Remote Tech.

SYSTEMS INTEGRATION

(SI)
EMIL has it covered
Vodafone Automotive extended usage-based insurance services to Germany following a tie-up with Vodafone Germany and EMIL, said to be Germany's first provider of pay-per-mile car insurance services.
Gion Baker, Chief Executive of Vodafone Automotive, announced the partnership at the Frankfurt Motor Show in September 2019 and said a pilot phase will start in October 2019, although the aim is to forge a long-term partnership.
The first product of the collaboration will be a "try-before-you-buy" insurance model, where the Vodafone App assesses risk and premium levels based on various factors including driving style over 14 days (or at least 250km). Drivers can gain a discount of up to 20% on their insurance premium if their driving style is deemed to be safe – and if they refrain from using a mobile phone when driving. Once the contract is signed, only the number of kilometres driven, not driving behaviour, plays a role in setting EMIL premiums. The risk carrier is Gothaer Allgemeine Versicherung.
Vodafone has previously claimed to be the second-largest European provider of usage-based insurance services, primarily through the 2014 acquisition of Cobra Automotive. It has previously flagged partnerships or trials with Admiral, AIG, Generali Spain, Nationale-Nederlanden, and Towers Watson.
Group seeks V by Vodafone connections
As well as continuing to steadily expand its IoT partner ecosystem in general, Vodafone is understood to be in recruitment mode for large European automotive and other consumer brands that could help extend its reach in the space.
The Group is developing a partnership programme to extend go-to-market for its consumer IoT range – which is currently sold directly by nine Group OpCos under the "V by Vodafone" marque (Vodafonewatch, #178 and passim). The push appears to be seeking to work Vodafone Business's multinational corporate relationships to give its consumer IoT presence a commercial boost. It is thought to be particularly targeting the Group's four largest markets – Germany, Italy, Spain, and the UK – and have a focus on both automotive players and large brands in other verticals, including banking, healthcare, insurance, and retail. In a signal of the new push, Vodafone Spain recently tied with insurer MAPFRE to bring a joint motorbike protection and coverage offering to market (Vodafonewatch, #174).
Vodafone remains noticeably quiet regarding traction for V by Vodafone, which was launched in 2016 as a pet initiative by former Group Chief Executive Vittorio Colao. The product family includes a range of predominantly personal security-leaning (and not obviously differentiated) device and service packages, such as: V-Auto, V-Kids Watch, V-Multi Tracker, V-Pet Tracker, and V-SOS Band, with connectivity enabled by the Group's V-SIM. Current platform and device partners include Kippy, NETGEAR, Samsung Electronics, TCL Corporation, and Zipato.