Radical new corporate set‑up for CEO Berroeta.
Teoh (and son Shane) join the board.
Mobile and fixed network "synergies" a priority.
Multi‑brand strategy sees Vodafone sit alongside slew of TPG sub‑brands.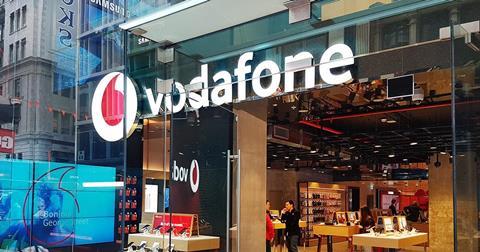 Vodafone Hutchison Australia (VHA), after a lengthy period of legal wrangling, officially merged with rival‑cum-partner TPG Telecom (Vodafonewatch, #168 and passim).
Vodafone — as a standalone company name, — is erased from the Australian telecoms landscape, and will operate alongside sub‑brands including: AAPT (TPG's wholesale carrier division); iiNet ("premium" fixed‑line customer services); Internode (internet service provider); Lebara (TPG's prepaid mobile offering via VHA's network); and TPG (fixed‑line business services).
Through a "scheme of arrangement", effective two weeks before the merger in mid‑July 2020, TPG Telecom changed its name to TPG Corporation Limited, allowing the merged entity to take the TPG Telecom marque. It now trades under the "TGP" ticker on the Australian Stock Exchange (ASX).
Vodafone and Hutchison Telecommunications (Australia) Limited (HTAL) each own an "economic interest" of 25.05% in the merged entity, with TPG shareholders holding the remaining 49.9% (see table).
TPG Telecom's interests in Singapore are not included in the VHA tie‑up. They have been demerged and listed separately as Tuas Limited ('Tuas') on the ASX.
Ownership breakdown based on shareholdings in VHA and TPG (May 2020)*
Notes: * Remainder held by TPG shareholders. ** Company incorporated in the UK as 50:50 joint venture (JV) between the two wholly owned subsidiaries of Vodafone and HTAL.
Source: TPG Scheme Booklet.

David Teoh and associates (TPG)

12.12%

Washington H Soul Pattinson and Company Limited (TPG)

12.61%

Entities associated with Vodafone and HTAL

50.10%

Vodafone Ocean Limited, a wholly owned subsidiary of Vodafone: at least 5.55%.

H3GAH, a wholly owned subsidiary of HTAL: at least 5.55%.

JVCo **: no more than 39%.
Boardroom shuffle
As expected, Iñaki Berroeta keeps his VHA position as Chief Executive (CEO) in the new‑look TPG (see table). Alongside him on the board are David Teoh (Chairman) and Shane, his son, as Non-Executive Director.
The "merger of equals", as TPG Telecom likes to describe it, represents a remarkable rise for industry maverick and billionaire recluse David Teoh, who started TPG in 1992 selling computer parts. His desire for market growth, through aggressive pricing and acquisitions, may be a source of tension among Vodafone old hands.
The merger is also something of a comedown for Vodafone's JV in Australia, which has often struggled to make its mark. Perhaps no surprise then was Berroeta's eagerness to press the reset button.
"We look forward to delivering the competitive benefits of the merger to consumers… by bringing VHA and TPG together we will have the ability to drive stronger competition, increase network investment and innovation, and will be better placed to deliver greater returns to all our shareholders."

— Berroeta.
All on board. New‑look TPG boardroom
Source: TPG Scheme Booklet.

David Teoh

Chairman

Founder and Managing Director of TPG Group

Iñaki Berroeta

Managing Director and CEO

Former VHA CEO

Canning Fok

Non‑Executive Director

Director of HTAL and VHA Director

Pierre Klotz

Non‑Executive Director

Vodafone Group Corporate Finance Director

Diego Massidda

Non‑Executive Director

Vodafone Partner Markets CEO and a Director of Vodafone Sales & Services Limited

Robert Millner

Non‑Executive Director

Former TPG Director

Dr Helen Nugent

Non‑Executive Director

Independent

Arlene Tansey

Non‑Executive Director

Independent

Shane Teoh

Non‑Executive Director

Former TPG board member; has of other business interests including Managing Director of Total Forms, a developer of accounting and taxation software in Australia.
VHA takes quantity on executive board; TPG quality
Executives of the former VHA are prominent in the newly minted Executive Board of TPG Telecom, although TPG staffers have taken the key chief financial officer (CFO) and chief operating officer (COO) slots, working under Berroeta.
Former VHA retained by Berroeta in top positions include:
Ana Bordeianu, who remains Chief Customer Officer for the Vodafone and Lebara brands;
Former VHA General Counsel Trent Czinner, who is now Group Executive, Legal and External Affairs at TPG;
Vanessa Hicks, Human Resources Director at VHA, who is now TPG's Group Executive, People Experience.
Robert James, former Chief Information Officer at VHA, who has been appointed Group Chief Digital & Information Officer at TPG;
Barry Kezik, previously VHA's General Manager (GM), Engineering & Planning, who has been appointed Executive GM, Mobile & Fixed Networks;
In terms of TPG executives:
Stephen Banfield has retained his role as Group CFO;
Craig Levy remains COO;
Reggie Naik has been appointed Executive GM, Fibre Operations & Access Network Deployment.
Bigger and better together (they hope)
The aim of TPG Mark II, in the words of Berroeta, is to "become a leading integrated mobile and fixed provider" that can better compete with main rivals Telstra and Optus.
Bigger together: market share and customer base of merged entity *
Note: Based on VHA subscriber numbers as at 31 December 2019 and TPG subscriber numbers as at 31 January 2020.
Source: TPG Scheme Booklet.

Mobile market share

~17%

Mobile subscribers

~5.8 million

Fixed-line broadband market share

~25%

Fixed-line broadband subscribers

~2.1 million
Integration and "synergies" are always easier said than done, of course, and Berroeta and his team will have their work cut out to achieve them (see table).
Ambitious plans: potential merger synergies
Source: TPG Scheme Booklet.

Infrastructure, network, and transmission savings

Spectrum efficiency

TPG's 2×10MHz concession of 700MHz spectrum, along with the 2×5MHz concession secured by VHA in the same 2017 auction (Vodafonewatch, #154), "could" be leveraged alongside TPG's share of 3.6GHz spectrum acquired by Mobile JV Pty Limited (an incorporated 50:50 joint venture between VHA and TPG — Vodafonewatch, #171) to improve 5G capacity and coverage on VHA's network.

It added that complementary 1800MHz spectrum holdings in different regions "may facilitate greater capacity in regional areas".

Transmission savings

TPG currently provides dark fibre and fixed‑line backhaul to 2,743 of VHA's 5,630 mobile base stations. Future deployment of transmission to the VHA mobile network "may be more efficient" in the merged group, as existing TPG fibre may be utilised.

Fixed‑line National Broadband Network (NBN)

VHA will have the ability to access TPG's experience and network infrastructure (including NBN points of interconnect, domestic, and international transmission) to "rationalise" VHA's duplicative fixed‑line network spend, as well as "minimise" VHA's investment required for Vodafone-branded NBN products.

Mobile virtual network operator (MVNO) savings

TPG will be able to utilise VHA's mobile network, saving on the payment of variable access charges it currently incurs as an MVNO.

Consolidation of overlapping functions

Cost-rationalisation opportunity by reducing duplicated back‑office functions and consolidating spend on marketing and branding.

Economies of scale

Aim of reducing overall corporate, including procurement, costs, by leveraging "multiple options" for procurement ("under global shareholder agreements and local options").

Additional economies of scale are expected in relation to other external procurement such as marketing, both traditional and digital.

Cross‑sell opportunities

Plan to cross sell products to both TPG and VHA's combined corporate and consumer customer bases. Merged entity aims to leverage TPG's corporate distribution channels to sell mobile and bundled services, and leverage VHA's existing retail footprint and distribution capability to sell a wider range of Vodafone and TPG/iiNet branded products.

Customer acquisition costs "may" be reduced, and economies of scale and scope realised.
The merged company's implementation plan for the "coming months" includes:
Integration of TPG spectrum and small‑cell assets into VHA's mobile network.
Connecting TPG's fibre network to VHA mobile sites.
A programme to integrate teams across the TPG and VHA businesses.
The integration of TPG spectrum and small cells into VHA's mobile network began in mid‑July 2020 on the merger's announcement, resulting in an immediate 20% uplift in capacity in Canberra with the roll out of 1800MHz spectrum to 99 sites, and further deployments planned for "other areas over coming weeks".
Berroeta acknowledged that the two businesses will "largely continue running side by side", with teams to integrate "over time".