Spanish OpCo said to have made 53 people redundant.
34 retail stores now being operated by external partners.
Telefónica signals maximum jobs affected by early-retirement plan is now 2,753.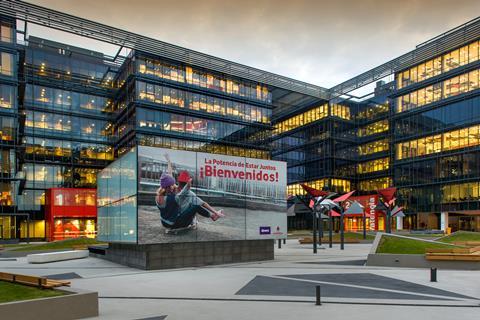 Vodafone Spain is reported to have made further concessions in its latest downsizing plan, announced in mid-September 2021 (Vodafonewatch, #199).
A Reuters report suggests that the new Expediente de Regulación de Empleo (ERE), or employment regulation file thrashed out by the OpCo and worker reps at the Comisiones Obreras (CCOO) and Unión General de Trabajadores (UGT), will now see 409 people lose their jobs or transfer to a retail partner of the operator, with 53 compulsory redundancies.
This is down from the 442 losses agreed in October and well below the 515 figure originally proposed by Vodafone Spain, taking the cuts to just below 10% of its workforce (4,257 at 31 March 2021, according to Group figures). Quoting UGT officials, Reuters said an additional 33 people have now been relocated to other parts of the OpCo.
The 409 losses are said to include at least 224 employees from the OpCo's own stores, which are now being operated by a provider under franchise arrangements — details of which do not appear to be readily available. Around 75 of the departures are attributed to early retirement. A total of about 230 people have already left the OpCo, with the remaining exits to be completed before 31 January.
The new ERE is said to cover the terms of who qualifies for voluntary exits, what levels of compensation they receive, and what obligations they are under after they depart, such as non-compete commitments.
New skills
Vodafone has made numerous attempts to recalibrate its troubled Spanish business over the years, and the latest plan, announced by Group leadership in 2019, saw it put the OpCo at the forefront of its shift to a "Digital First" marketing and sales strategy across Europe.
One mid-term aim is to generate more than 45% of customer acquisitions via virtual channels, rather than shops (Vodafonewatch, #171 and passim). Over a longer timeframe, Vodafone Spain is said to have farmed out most of its real estate to third-party distributors, giving it an indirect footprint of about 600 stores.
The OpCo's new Chief Executive Colman Deegan recently expanded on the changes being made to "our organisation, our structure, and our direction of travel" during the TM Forum's Digital Transformation World Series. He echoed the themes outlined in the Group's Tech 2025 programme, which focuses on platforms, software, and "cultural transformation" (Vodafonewatch, #198).
He said Vodafone Spain is also changing how it works. "Three or four years ago, if you had mentioned words like tribes, squads, or agile, you [would] have had a lot of confused faces around the table. Now it's fundamental", he said.
While the Spanish OpCo has been cutting back on stuff, Vodafone has begun the recruitment process for a new, Group-level research and development facility in Málaga in Andalucía. Jobs at the new centre, branded the Málaga Skills Hub, have been advertised since mid-October, according to the LinkedIn jobsite. Vodafone is seeking a wide and varied mix of highly skilled personnel, including: cybersecurity specialists; DevOps engineers; digital media staff; cloud, IoT, IP, and software engineers; software developers; and more.
As Vodafone Spain comes to the end of its latest downsizing plan, Telefónica remains locked in negotiations over an incentivised early-retirement plan for its Spanish employees, with latest union reports suggesting that the maximum number of people who can leave voluntarily is now 2,753. The UGT has issued a number of updates in recent days as Telefónica continues to tweak its offer. The operator is said to have increased to 75% the percentage of staff that is eligible to take up the offer in areas with surplus personnel — up from an original offer of 60%. However, eligibility is limited to 20% in more "critical" areas.

Anne Morris is a freelance journalist, editor and translator. She has been working as a reporter and news analyst for TelcoTitans since 2016.