Portuguese OpCo indicates legal battle over auction rules is ongoing.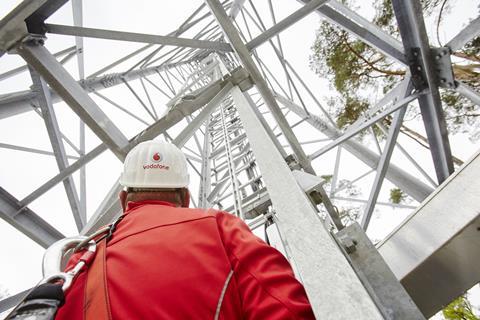 Vodafone Portugal (VfP) filed an application to take part in the country's upcoming 5G‑enabling spectrum rights sale, after previously signalling considerable discontent over the terms of the auction.
According to Reuters, VfP, as well as incumbent rivals MEO (owned by Altice Portugal) and NOS, submitted applications by the deadline of 27 November 2020. Local news outlet Observador said Dense Air Portugal also registered interest, although it is not clear whether Nowo, the Portuguese cable company owned by MÁSMÓVIL, still intends to take part.
ANACOM animosity
Portugal plans to auction rights in the 700MHz, 900MHz, 1800MHz, 2.1GHz, 2.6GHz, and 3.6GHz spectrum bands in January–February 2021, with a total reserve price of €237.9m (£215m), after the process was halted owing to the COVID‑19 pandemic.
VfP had threatened to sit out the 5G auction if regulator Autoridade Nacional de Comunicações (ANACOM) did not change the proposed auction rules (Vodafonewatch, #190–#191). The OpCo also warned that it was reconsidering plans for a pan‑European research and development centre in the country. Its main complaint is that it believes the regulator is not only insisting on introducing a new player but also giving the new entrant overly favourable terms in the auction (Vodafonewatch, #189).
ANACOM has subsequently made some adjustments, including dropping its proposed 25% discount for new entrants, and introducing more flexible payment terms for winning bidders — with an option to defer payment by up to five years.
However, it still looks set to reserve a swathe of spectrum in the 900MHz and 1800MHz bands for new players and grant them nationwide roaming access for a period of ten years (albeit with coverage obligations of 25% after three years and 50% within six years, reaching speeds of at least 30Mbps, across the country).The regulator also confirmed coverage obligations for new entrants acquiring spectrum in the 700MHz band, with a requirement to reach 25% coverage of major road and rail routes by the end of 2025.
VfP and its two existing rivals have so far filed various precautionary measures and injunctions in a Lisbon court against the terms of the auction, and sent complaints to the European Commission. They are also said to have stepped up legal action over the 15‑year licence held by "neutral host" wireless network player Dense Air Portugal in the 3.4GHz–3.8GHz range since 2010 (Vodafonewatch, #181 and #184).
A report from the Lusa news agency indicated that the European Union's (EU) Directorate‑General for Communications Networks, Content and Technology had in October 2020 requested clarification from ANACOM about the rules relating to new entrants and national roaming requirements, and, "in particular… would like to know how you justify the scope of the domestic roaming obligation in terms of its duration and possible extension in the light of the principle of proportionality".
According to Reuters, the three established mobile network operators (MNO) have indicated that the submission of applications does not necessarily mean they will ultimately take part in the auction. A VfP spokesperson told the news agency that "we maintain the hope that some of the lawsuits can still be decided in time".
The Associação Portuguesa para o Desenvolvimento das Comunicações (Portuguese Association for the Development of Communications), Comunicação e Electrónica (National Portuguese ICT Cluster/TICE.PT), business association COTEC Portugal, and Pólo das Tecnologias de Informação have all expressed concern about the controversy raging over the 5G auction rules and potential impact on future 5G investments.
VfP recently struck a "nationwide" network‑sharing deal with NOS. The two operators signed a Letter of Intent to pool their mobile network infrastructure resources in February 2020, as a way to "develop a sustainable investment model" (Vodafonewatch, #183 and #191).
Creating a smoke screen?
ANACOM further upset the three MNOs by accusing them of increasing prices while reducing the quality of their services. NOS told Jornal Economico that the regulator was trying to create a "false narrative" to distract attention from the 5G auction dispute.
The regulator said the MNOs had increased the price of basic triple‑play bundles — which "already compare unfavourably with the international average … higher than the EU average [by] between 2% and 12.7%" — for fixed and mobile services by 3.3% between October and November 2020, and reduced download speeds from 100Mbps to 30Mbps.
In an interview with Jornal de Negócios during November 2020, Mário Vaz, Chief Executive of VfP, lamented how the telecoms sector is being "criticised every day by the regulator", and accused the President of ANACOM, João Cadete de Matos, of making "populist" speeches.