Operator flags potential threat from fewer people living and working in cities.
Population changes affect network planning and investment returns.
Analysts say Vodafone not alone in thinking about potential impact.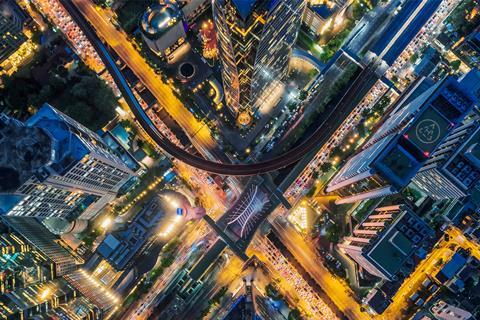 Vodafone flagged "depopulation of city centres" as a new emerging risk, signalling that it is evaluating the possible business impact from changes in urban population density.
This potential threat was added in Vodafone's 2021 Annual Report without further details, suggesting the operator is in the early stages of identifying the nature of the risk and analysing the effect on its business. The term "depopulation" presumably includes people moving out from city centres to live in more suburban or rural areas, as well as the ongoing work-from-home trend, that has left offices and business districts emptier than before the coronavirus pandemic.
Significant changes in where consumer and business customers are located can affect network operators in many ways, including capacity planning, capex allocation, return on investments, retail footprint decisions, and smart city strategies.
Capacity in the wrong places
Karen Egan, Senior Telecoms Analyst at Enders Analysis, said the risk for Vodafone and all telcos is that they find their network equipment is in the wrong places. She said this is a "fairly immediate issue" that is impacting the current cycle of network planning.
"They've invested a huge amount to get as much capacity as they can into city centres, especially with 5G. They may now find that they didn't need to invest so much there, and that they'll come up against capacity issues in suburbs and rural areas to a much greater extent than expected, requiring additional investment", she noted.
The lockdowns during 2020 significantly reduced mobility and "those mobility patterns haven't fully reversed and probably won't", she added.
Enders Analysis research on UK mobility trends over the last 18 months shows that "mobility has remained most depressed in cities … notably central London".
Network upgrades and capacity increases are typically launched first in dense urban areas where more people are located and then rolled out to other areas. Last year's lockdown restrictions could cause operators to pause and rethink this traditional city-first approach.
If fewer workers are commuting to cities, and if city dwellers are moving to the country, then the customer demographic is fundamentally changing, explained Chris Lewis, Founding Director at Lewis Insight. "People are changing their living patterns and, therefore, mobile [operators] have got to adapt … mobile networks were architected for city centre dense traffic, with workers coming in every day regularly. Uncertainty around new working patterns means the architecting of city centres is unclear".
Lewis pointed out that some operators have adjusted cellular antennae to point at residential locations to support customers during lockdowns.
Potential wasted investment
With less network usage in city centres, operators risk potentially lower returns on those investments, whether it's for dedicated fixed lines into offices or mobile capacity in densely populated hotspots, for example.
"If you don't have the traffic, that's a complete waste of money and they're not going to get a return on that", said Matthew Howett, Principal Analyst and founder at Assembly Research.
But network planning has long-time horizons: anywhere from five to ten years for mobile networks and 20 years or more for fixed and fibre networks. Changes in the population assumptions could derail planned deployments and upend investment return expectations.
"The issue is how much they've invested in city centres in the past. If they've been out buying ten-year leases on rooftops and upgraded 5G kit in Oxford Circus, potentially they could just move it around, but it's still a pain", said Dean Bubley, founder of Disruptive Analysis.
He noted, though, that "these things move slowly" and it's difficult to predict exactly how consumer behaviour will really change in the next five years. "It depends a bit on what happens to the pandemic over the next twelve months".
Any changes to operator investment and deployment plans are likely to be "subtle tweaks" rather than a "knee-jerk" tearing up of existing plans, according to Kester Mann, Director of Consumer and Connectivity at CCS Insight, which predicted that operators would "shift their network deployment priorities away from city centres" in 2021. However, Mann said "we're not going to suddenly see a big reduction in investment in big cities. That wouldn't make sense to me".
Smart cities and buildings, anyone?
A decline in people living and working in big cities appears to be a mixed blessing for smart cities. Matt Hatton, founding partner at Transforma Insights, believes rapid urban depopulation as unlikely in the near term, but the threat of it is more likely over the next ten to 20 years.
The trend could be a trigger for more investment in smart cities because there will be "greater incentive to improve urban liveability", he said, adding that countries are likely to include "healthy chunks of spending on smart cities" in stimulus packages.
On the other hand, he said smaller urban populations would mean less need for smart city programmes that are often aimed at coping with increasing density.
The depopulation trend could also be an incentive for smart buildings, which research from Transforma Insights has found to be a "particularly hot vertical".
"This reflects growing demand to improve the work environment, both immediately to provide safe workspaces, but also because office owners and others know that they need to improve the work environment if they're going to lure people back from the convenience of working from home", said Hatton.

Michelle Donegan is an experienced telecoms writer and has been contributing as a reporter and news analyst for TelcoTitans since July 2020.