Tenorio says industry "not scratched the surface" on systems integration.
Achieving lower TCO, compared with large-scale traditional vendors, an enormous task.
O-RAN Alliance doing "great job", but smaller vendors disadvantaged.
Ambition of sub-$1000 RRH pushed back until 2021.
Tech still not ready for prime time in urban areas.
Ghana trial apparently abandoned.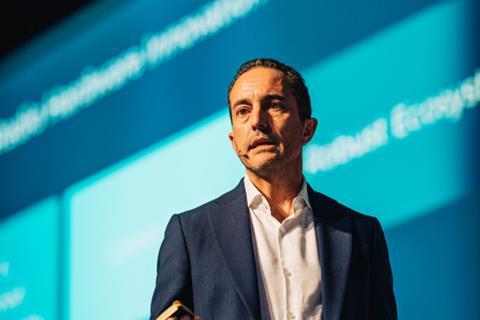 Santiago Tenorio, Vodafone Group's Head of Network Strategy & Architecture — and Chairman of Telecom Infra Project (TIP), a Facebook-led initiative that seeks to upend traditional supply chains — was in a cards-on-the-table mood in a recent webinar hosted by Light Reading.
While remaining an enthusiastic supporter of 'open' principles in radio access networks (RAN), where software is disaggregated from general purpose processing hardware, Tenorio flagged numerous industry challenges if operators are to reap the promised open RAN benefits of a "richer ecosystem" and lower total cost of ownership (TCO).
Perhaps the most alluring open RAN scenario is that operators make savings and gain flexibility by avoiding vendor lock-ins by being able to mix-and-match software and hardware suppliers as and when they please. There are no exclusive relationships in the open RAN world and suppliers, if all goes to plan, can be replaced with little extra effort. Yet Tenorio conceded that smooth 're-integration' of this sort was far from ready.
"We haven't even scratched the surface of system integration challenges."

Tenorio.
He was hopeful, however, that TIP could help steer the industry towards a more uniform approach to systems integration, thus avoiding duplication of work. He spoke of a "central hub", coordinated by TIP, which would allow both bigger and smaller operators to share experiences. "This is one of our learnings from [TIP] trials", said Tenorio.
Scale, scale, scale
Can OpenRAN (TIP nomenclature for open RAN) achieve lower TCO than RAN rollouts by traditional vendors? "Oh, absolutely", said Tenorio, "it's got great potential". But he warned against making direct comparisons with current TCO propositions from the "big monolithic vendors", and then drawing hasty and — in his view — erroneous conclusions.
The big suppliers currently have the TCO upper hand, admits Tenorio, but that is only because they sell "millions" of base stations compared with the "hundreds" of open RAN sites carrying commercial traffic . "If you're going to deploy [OpenRAN] in say, 25 sites, you may get better commercial conditions from incumbents", he said.
If OpenRAN is not yet in the same scale league as the 'big five' RAN suppliers — Ericsson, Huawei, Nokia, Samsung, and ZTE — Tenorio seemed undaunted. He puts great faith in Evenstar, a TIP project, to turn the tide.
Launched in November 2019, Evenstar is tasked with delivering a reference design for a remote radio head (RRH) — configured for the 1800MHz frequency band, 4T4R configuration, and 160W power output— costing no more than $1,000. The RRH has already been built in the lab, reports Tenorio, and will go "into the field" in September 2020.
One snag is that it costs $1,500, but "the good news is that we have developed an optimised version, below $1,000, which will leave the lab during Q1 in 2021", added Tenorio. The original aim was to have a $1,000 RRH ready sometime during 2020.
Another Evenstar objective is to develop a dual-band RRH — Tenorio indicated that 700MHz was a likely candidate to complement 1800MHz — and then to incorporate 'massive' MIMO, although he acknowledged this was "very difficult to do". Stakeholders in the Evenstar mix include AceAxis, Mavenir, MTI, and Parallel Wireless.
Tighter standards help smaller guys; monoliths in the slow lane
Tenorio praised the work of the O-RAN Alliance, which focuses on developing open standards and interfaces but he wants more. TIP entered a formal partnership with the O-RAN Alliance in February 2020 (Vodafonewatch, #184).
"O-RAN has done a fantastic job in specifying the interfaces, but there's one million different ways in which you can actually build a product that satisfy O-RAN specifications. The traditional vendors have decades of experience, have thousands of employees, and are able to decide what would work better for operators. The smaller vendors don't have [those resources], so it's absolutely fundamental we get to an agreement on what we want. We need exact configurations, so that we all use the same thing. Otherwise, a small vendor will be dragged in 1,000 different directions by 1,000 different variants of production, which means you can't reach a scale… TIP can help here in coordinating procurement."

Tenorio.
Tenorio saw no place for 3GPP in OpenRAN standards work. He said that 3GPP had done a "phenomenal job" in creating mobile architectures that interconnect and support various end-user devices, but opined that true 'openness' marked a new industry era. "Now we're targeting the opening of interfaces and, quite frankly, if you look at 3GPP, the players that have all the power there are not ones that are really incentivised or interested in opening those interfaces — otherwise it would have happened years ago", he said.
Tenorio ruefully noted that while Ericsson and Nokia are "making progress" in the O-RAN Alliance, their "target dates are about two years behind".
Urban myth
OpenRAN is still not ready for prime time in urban areas and Tenorio indicated this was because the software development phase had not advanced far enough. Fine-tuning software, to fix errors, compromises performance and capacity. This might be acceptable in suburban and rural locations, where capacity demands are lower, but is more problematic in densely-populated urban areas.
Tenorio flagged five OpenRAN trials in which Vodafone is involved (see below). A trial in Ghana, flagged at the TIP Annual Summit in November 2019, seems to have come to an end.
"While the primary focus of the trial in Turkey was just to test the system itself, we are testing the operating model in our other trials."

Tenorio.
Vodafone OpenRAN commercial field trials, July 2020
Market
Technology
Supplier
Sources: Vodafone presentations(TIP Summit 2019); various.

UK

3G, 4G

Mavenir Systems

Ireland

2G, 3G, 4G

Parallel Wireless

Turkey

2G, 3G, 4G

Parallel Wireless

Democratic Republic of Congo

2G, 3G, 4G

Parallel Wireless

Mozambique

4G

Mavenir Systems

Ken has been writing about developments in the fixed and mobile markets for over twenty years. He has been a contributor to TelcoTitans since 2015.