2014 acquisition looks to be on a bad run and struggling to meet buyout rationale.
COVID‑19 worsening situation.
VGE may be tuning up with Vodafone Automotive Deutschland addition.
A sign Vodafone had not yet solved long-running headache of how to support bought-in innovation.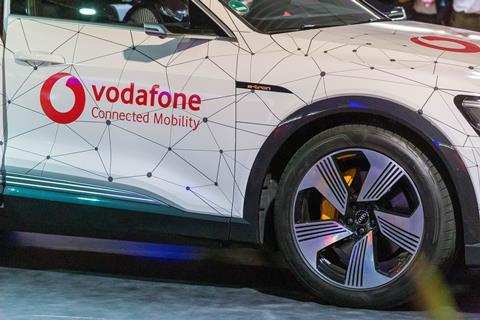 Questions arose over the health of the Group's Vodafone Automotive business unit after it was said to be facing a tough trading environment and seeing its value dwindle.
A Companies House filing by multinational corporate division Vodafone Global Enterprise (VGE), published in February 2020, said the connected-vehicle unit "continues to be subject to challenging trading and economic conditions, including as a consequence of COVID‑19". It warned that cash flow from the business could be lower than expected for the fiscal year to 31 March 2020 (FY19–20), and indicated it could see continuation of a series of goodwill impairments.
Vodafone Automotive — based on the operator's €145m (£125m) acquisition of Italian group Cobra Automotive Technologies in 2014 (Vodafonewatch, #124 and #126) — was assigned a carrying value of just €111m at the end of FY18–19, the year VGE's filing focused on. During those twelve months, Vodafone took an impairment charge on the unit of €140.6m. The two preceding years had also seen significant impairments, ostensibly totalling well over €100m.
However, VGE also appears to have quietly onboarded Vodafone Automotive Deutschland GmbH through an internal Group deal given a value of €185m. Details are scarce but this may have increased headcount by a couple of hundred, and added exposure to the Germany's premium-end connected car segment.
New car novelty wears off
Vodafone did not get back to Vodafonewatch with further comment, and the Group has said notably little regarding the unit's progress since 2015, when it indicated integration was going well and hung the "Vodafone Automotive" name over Cobra's door.
While questioned by some as potentially problematic (Vodafonewatch, #128), the takeover was billed by Vodafone at the time as a means to "move up the M2M value chain in the automotive industry", beyond connectivity, and "create a world-leading connected-car services provider".
With the deal, Vodafone expanded its reach into stolen vehicle-tracking and usage-based insurance, and gained a local services presence across around ten markets in Asia, Europe, and Latin America. It also indicated that Cobra's applications could be extended to other verticals. Industry analyst projections of 30% annual growth in automotive telematics services for the coming years were highlighted as part of the deal's rationale, and former Chief Executive Vittorio Colao subsequently claimed Vodafone had become a "reference company for everybody" in the automotive M2M space.