Share price nose-dives below £1 for first time since 1997.
Impact on financial and strategic plans yet to emerge.
OpCos focus on network resilience and employee welfare.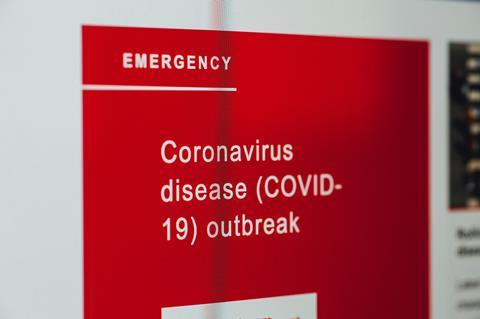 Vodafone remained largely silent, for external audiences, regarding the impact of the coronavirus pandemic on its financial and strategic position — although the growing spread of the disease throughout key European markets will no doubt dominate its upcoming results discussion for the year to 31 March 2020 (FY19–20), due for delivery on 12 May 2020.
With officially recorded cases rising to nearly 40,000 across the operator's four major Europe Region territories (as of mid-March 2020), and social-distancing measures being tightened on a daily basis, the pandemic will already have had a major impact on the Group in areas such as employee welfare, events and meetings, remote-working, and allocation of network and customer resources (Vodafonewatch, #183). Disruption will have been heightened by the unfortunate juxtaposition of key Vodafone hubs with epicentres of contagion, such as London, Madrid, and Milan.
Financially, it is not yet clear how much damage will have been wrought during the final quarter of FY19–20 or on Vodafone's results for the twelve months — which leadership had forecast would see slight growth in core earnings and a small drop-back in free cash flow (Vodafonewatch, #175 and #181). JPMorgan has predicted Eurozone GDP will drop by 1.8% in the quarter, with the trend worsening to ‑3.3% in the three months to 30 June 2020. Globally, the Institute for International Finance has warned that GDP growth could decelerate to 1% during the year to 31 December 2020, from 2.6% the previous twelve months.
Panic selling
On 16 March 2020, Vodafone's share price dropped below 100p for the first time this century. On that day, its shares stood 34%-lower than where they were at the start of 2020, against a 32%‑drop for the FTSE 100 Index of the largest UK‑listed businesses. Other telcos have also been hugely affected, including BT Group (‑42%), Deutsche Telekom (‑25%), Orange (‑29%), and Telefónica (‑42%).
Vodafone and other telcos may, however, be able to demonstrate what are classed as 'defensive' investment characteristics in that at least parts of their businesses may prove comparatively resilient at a time when workers and others are being actively encouraged if not mandated to confine themselves to homes and interact digitally.
The share price returned to above 100p in the days subsequent to 16 March 2020, as governments announced fiscal stimulus measures.
Time to revisit the PowerPoint
With supply chains being disrupted and employees avoiding travel and office-based work, the situation will also likely colour any strategic aspect to Vodafone's FY19–20 presentation, including future initiatives. The discussion had looked set to see a reveal of the Group's next medium-term plan, possibly fleshing out:
Chief Executive (CEO) Nick Read's "technology communications company" vision for the Group.
Next steps for cost-cutting, including early signals of a new, €1bn savings target.
IT and network infrastructure reshaping plans coming under Chief Technology Officer Johan Wibergh's cloud-focused Technology 2025 agenda (Vodafonewatch, #176 and #181).
As and when the dust settles, it will be interesting to see how the pandemic reshapes Vodafone thinking regarding supply chain diversity and resilience — already a hot topic with the US' attempted clampdown on Chinese supplier participation in telecoms infrastructure.
Country-level action
External communications from Vodafone have so far dealt solely with its short-term response to the pandemic.
At Group level, the operator released what it called a "five point plan", stressing focus on:
"maintaining service quality of service of networks".
"providing network capacity and services for critical government functions".
"improving dissemination of information to the public".
"facilitating working from home and helping the small and micro businesses within our supply chain".
"improving governments' insights into people's movements in affected areas".
No further detail was offered on the measures, which will remain in effect until 1 September 2020, when the operator "hopes the immediacy of the current crisis will have reduced".
Around OpCos and other functions, the focus was on a mix of ensuring employee wellbeing, preserving service continuity amid changing usage patterns (particularly increased gaming and video streaming), and providing additional support to customers, especially those organisations on the front line of the crisis. Responses were noticeably varied, however.
Safaricom waived fees on money transfers made via its M‑PESA service after a government request for banks and other providers to reduce transaction costs.
Vodacom Group said it was working to "maintain the level of service our customers expect from us", noting the twin-challenge of rising home-working and South Africa's "limited fixed-line connectivity". It has also "made available various digital offerings to assist enterprise clients", although did not go into more detail. It warned that "given the fluidity of the situation, it is not possible to quantify with certainty the future impact COVID‑19 may have on the business — both from an operational and financial perspective".
Achilleas Kanaris, CEO of Vodafone Albania (VfA), reminded employees of the importance of "staying safe", stressing they should remain at least 1.5 metres apart. The OpCo's networks were said to be "operating normally". Nick Read was still travelling internationally, as of mid-March 2020, taking a visit to meet VfA to mark the OpCo's recent acquisition of cableco Abcom.
Vodafone Czech Republic highlighted measures it was taking, alongside rivals, to ensure network resilience during the crisis, as part of the country's Asociace kritické infrastruktury (Association of Critical Infrastructure). It also flagged that it was reducing opening hours or closing some stores, and providing customers stuck in quarantine in Italy with free calls and SMS messages back home.
Vodafone Germany (VfD) flagged it was closely monitoring network usage patterns, having noted "massive gaming and streaming use" in neighbouring countries (see Spanish update, below). VfD said it had not yet seen a "significant increase" in data traffic on its networks but said it expects a jump "in the next few days and weeks". It has prepared a plan to increase capacity and tweak load distribution at nodes where it peers with "data-intensive providers such as Netflix and Amazon".
Vodafone Hutchison Australia added an extra 5GB of "maximum speed data" to the allowances of (non-unlimited) contract customers, saying the move would help them "stay as connected as possible to support their changed circumstances". It also began allowing unlimited standard national calls and free-rating access to health department websites.
With echoes of VfD's statement, Vodafone Spain joined with rivals in calling for customers to stick to "intelligent and responsible use of the network", to alleviate quality-of-service problems. The OpCo stressed that it was making concerted efforts to strengthen its network, along the lines of capacity-boosting measures implemented each summer to deal with the influx of tourists to Spain's coastal resorts. Nonetheless, it noted the challenges being presented by increased network usage, saying in "recent days", it had seen a: 40%-rise in IP traffic; 25%‑increase in mobile data traffic; 50%‑jump in mobile voice usage; and five‑fold growth in traffic from messaging apps.
Vodafone UK (VfUK) CEO Nick Jeffery (and several other senior industry and government figures) self-isolated after meeting with BT Group counterpart Philip Jansen to conclude a long-awaited deal on the country's Shared Rural Network (see separate report). Jansen was diagnosed with COVID‑19 a few days after the SRN agreement's announcement.
VfUK said it had added extra capacity to its "core fixed, broadband, and mobile networks" to prepare for the increase in traffic expected from customers that are home-working. "Particularly busy aggregation points" were a key focus. Nonetheless, on 17 March 2020, all four mobile network operators in the UK were reported to have suffered a service outage of varying seriousness, put down to interconnection problems. Elsewhere, VfUK said it had "significantly increased" support resource for "all critical infrastructure customers", including the National Health Service (whose 111 helpline is supported by VfUK). It began zero-rating mobile access to National Health Service online properties.
VodafoneZiggo sought to stress it was "taking responsibility in this exceptional situation", announcing measures including postponement of network upgrades to ensure fewer service interruptions for home-workers, and concentration of technicians' focus onto "major repairs" instead. Initially, the operator closed some stores and in others stuck tape to the floor to "keep the correct distance" between staff and clients. On 17 March 2020, it said it was closing all stores.
Vinod Kumar, CEO of Vodafone Business, stressed the importance of virtual collaboration and dialogue with partners to offset travel restrictions. VfUK, for example, is said to have asked staff to conduct external meetings remotely, end travel between different Vodafone sites, and work from home more frequently.