VfI joins ClearSky consortium to test BVLOS drone operations with Airmap, Curl Analytics, TechEagle, and Zomato.
Indian regulator targets commercialisation of drone flights with 13 POCs from cross-industry consortia.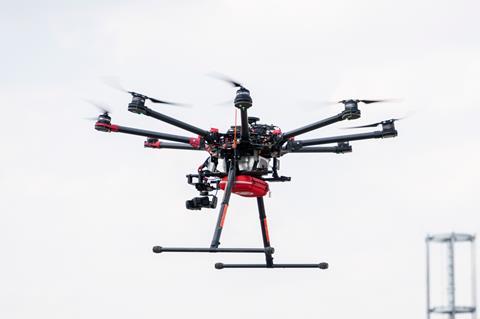 Vodafone Idea (VfI) partnered with Indian food delivery service Zomato to test beyond visual line of sight (BVLOS) drone flights. The pair will collaborate as participants in a drone testing sandbox established by the country's Directorate General of Civil Aviation.
Their ClearSky consortium is one of 13 groups to be selected for participation in the DGCA trial. Indian drone startup TechEagle Innovations will supply the drones themselves, which will be supported by VfI's LTE network. US‑based traffic management visualiser Airmap and Indian AI company Curl Analytics will also provide enablers. Zomato's involvement suggests the use‑case will be to deliver food locally. Other groups are focusing on cargo delivery, remote maintenance, and military surveillance.
The consortia taking part in BVLOS drone testing will be allowed to make drone flights without normal restrictions, such as the need for unique identification numbers and clearance for each specific flight. It effectively marks the creation of the country's first sandbox for BVLOS flights, which are otherwise prohibited. BVLOS drone operations are seen as critical to the commercialisation of unmanned delivery services, and the DGCA has previously said it will formulate "evidence‑based regulatory requirements to enable commercial BVLOS operations in the near future". Participants will submit a proof-of-concept and conduct at least 100 hours of flight time by September 2020, as the DGCA looks to provide a regulatory platform for drone delivery systems in India.
Vodafone drones in full flight
One of the first commercial deployments for Vodafone‑connected drones was in India last year, where drones were used by Mumbai Police to monitor crowds at a festival.
Earlier this year Vodafone UK called for tougher regulation to ensure the safety of drone operations as part of a broader security pitch for connected and autonomous vehicles (Vodafonewatch, #184). This include a promotion of 5G connectivity to help enable real-time monitoring, as well as the development of a UK Unmanned Traffic Management system to coordinate drone airspace. Vodafone argued that regulatory and security questions can be answered by its Radio Positioning System, which was purportedly developed in‑house and provides accurate BVLOS oversight. It is unclear whether VfI will utilise the same technology in the Indian demo.
In Spain, Vodafone successfully trialled 5G‑enabled drone flight, transporting medicine from the coast to an island 4km away. Vodafone Spain has said it aims to leverage urban drone flights for a variety of use-cases in the future (Vodafonewatch, #183).