Snag with partner PTScientists' finances.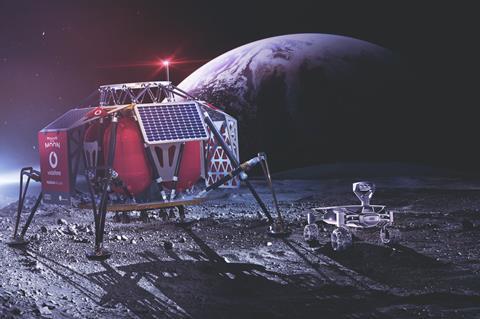 Vodafone's ambition to deploy a 4G network on the Moon suffered a setback when its technology partner in the project, Berlin-based space exploration group PTScientists, filed for preliminary insolvency proceedings.
A spokesperson for Vodafone Germany (VfD) – which has been leading Group involvement – told Vodafonewatch that the insolvency of PTScientists was "regrettable", and that it hopes the company will "find a way out of this difficult situation", but was unable to comment further on the project in view of the proceedings.
VfD has been collaborating with PTScientists since the beginning of 2017, and claims, through the initiative, to have "developed and learned a lot about how networks function under extreme conditions. This also helps on Earth". The OpCo has made much of its role in the project, saying it will involve putting the first LTE base station on the Moon. The "space-grade Ultra Compact Network" is expected to weigh less than 1kg, and allow data collected by two lunar rovers to be sent back to the Autonomous Landing and Navigation Module developed by PTScientists, and then back to Earth (Vodafonewatch, #163).
Still on a mission
PTScientists remains bullish about the project, saying it was forced to file for insolvency because of a shortage of liquidity caused by "unplanned delays" in the acquisition of further funding for the mission. Sascha Feies, Partner at law firm GÖRG, has been appointed provisional insolvency manager and will explore financing and subsidy options to ensure the continuation of the project.
Meanwhile, PTScientists intends to continue its work to "make the first European lunar mission a reality", and said it is the only company in Europe to have a lunar landing device at an advanced stage of development. The mission is now scheduled for 2021, rather than the 2019 launch originally planned.
"The petition for insolvency proceedings sets us back a little, since we first have to secure the further financing of the company together with the insolvency administrator. But due to the clear progress and success we have achieved in the last months, we have the best prerequisites to emerge stronger from the insolvency proceedings and implement our lunar mission as planned."

– Robert Boehme, Chief Executive, PTScientists.
As well as VfD and network equipment partner Nokia, PTScientists is collaborating on the project with ArianeGroup, Volkswagen Group-owned carmaker Audi, the European Space Agency (ESA), and the German Aerospace Centre. Audi has been working on the mission since 2015, and among other aspects has worked on the development of the Audi lunar quattro rovers. ArianeGroup has agreed to contribute the launch vehicle Ariane 64, while ESA is promoting the In-Situ Resource Utilisation Demonstrator mission that focuses on testing technical methods for using the Moon's resources.