Focus turns to Germany as last of Europe Region 'big four' to meet Group push for tower overhaul.
German arch-rival yet to be convinced to raise the drawbridge.
Cornerstone-style Telefónica Deutschland relationship a possible plan-b.
Equivalent plans move forward in Italy and UK.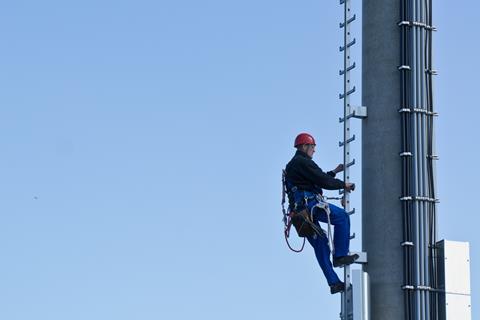 Vodafone continued its drive to squeeze "industrial savings" out of tower infrastructure, and to stem rising balance sheet pressure, by firming up alliances in Italy and the UK, and attempting to woo main rival Deutsche Telekom (DT) as an infrastructure buddy in Germany.
With Germany's 5G auction now completed (Vodafonewatch, #177), operators have been freed to negotiate new forms of network collaboration, and the Group's results slide-deck for the quarter to 30 June 2019 declared "Germany discussions underway" in its section on European tower overhaul plans.
During the presentation, Group Chief Executive (CEO) Nick Read said Vodafone was "now working very hard on Germany", in relation to partner recruitment. He described market-leader DT as Vodafone's "automatic partner of choice", but indicated number-three player Telefónica Deutschland was "also engaged with us".
DT did not get back to Vodafonewatch on a request for its response to Read's comments. Timotheus Höttges, CEO of DT, confirmed it was undertaking negotiations with a German rival (or rivals) during the operator's latest quarterly results presentation, in early-August 2019. "We are exploring currently alternative sharing solutions from a technical and from an economic perspective", he said. Christian Illek, Chief Financial Officer, said "detailed discussions" were not yet taking place with prospective infrastructure collaborators, but noted that "there is a rationale obviously to go for [the] network-sharing option".
A deal with DT would likely see some form of business combination or partnership between Vodafone Germany (VfD)'s tower operations and the German giant's Deutsche Funkturm (DFMG) infrastructure arm, which manages 29,800 sites and has been focusing on expansion, in part to support 5G service rollout. VfD has Vodafone's largest in-country tower network in Europe but comes in significantly smaller than DFMG, with 19,200 sites. It also brings fewer commercial relationships to the table, with a tenancy ratio on controlled sites of 1:1.2, against DFMG's 1:2.3 (at 30 June 2019).
Any discussions with DT could also, hypothetically, extend to the numerous other markets where the two Groups overlap. In the Netherlands, for instance, T-Mobile Infra, DFMG's Dutch equivalent, has been separated out and placed, alongside DFMG, under central management by the operator in anticipation of M&A or partnership opportunities in the tower realm (Deutsche Telekomwatch, passim). GD Towers, the DT entity that controls DFMG and T-Mobile Infra, has 33,000 sites across Germany and the Netherlands. It reported €140m in core earnings for its last quarter, to 30 June 2019, which would put the business' worth at €11bn (£10.2bn) or more, going on operators' claims of "20-times-earnings" valuations (see below).
Time of essence for Vodafone…
With Vodafone under pressure to get its tower overhaul moving, to improve cash flow, Read looked keen to avoid getting network-sharing discussions tangled up with wider industry manoeuvring.
He sought to stress that network-sharing would sit separately to other forms of infrastructure collaboration being discussed between Germany's mobile operators, in the wake of the auction. These include prospective cross-operator initiatives to improve services in rural areas, and discussions with new fourth player Drillisch on roaming. He also said VfD was "not in discussions with anyone else" regarding a Telefónica-style deal offering access to the OpCo's cable network.
Read was non-committal regarding how a tie-up with DT (or Telefónica) would be structured, but going on past form, possibilities could include channelling of DFMG and VfD's towers into a joint venture (as with the UK's Cornerstone vehicle) or folding of VfD's assets into DFMG (as seen in Italy – see below).
"Now, if there is a tower company formed, obviously then there are conditions about offering [access] to the general market, but we're a little way from actually shaping what that could look like. Clearly, we won't want to do anything that strategically undermines our strategic position in a market that's going to be 40% of free cash flow of the Group. "

– Read.
…but DT's Höttges plays hard to get
Vodafone's past network-sharing ventures with rival operators, and recent relations with DT, suggest it will not have the easiest of times securing a waltz with its German rival, or remaining in step if successful. The two operators' management have clashed repeatedly in recent years and Vodafone's moves to bulk up in Germany through M&A have been an obvious sore-point for DT's leadership (see separate report).
DT, like Vodafone, has been badly stung by the costs and conditions of Germany's 5G licences, as well as the industry's wider regional slump, and shown eagerness to reshape tower management and ownership across Europe, to shore up finances. Broadly, DT also appears well aligned with the Group when it comes to partnership 'philosophy', saying it will quarantine so-called "golden sites", seen as particularly important for competitive differentiation.
However, DT is the larger and more established tower player and will no doubt be keen to press home its resource advantage in any tie-up, and eager to avoid transferring advantage to VfD. It is also in less of a rush to push through tower asset reshaping than Vodafone, whose cash flow alarms are ringing more loudly (although consummation of the T-Mobile US-Sprint mega-merger later in 2019 might change DT's attitude).
During DT's results call, Höttges was cool on the near-term prospect of a network-sharing agreement in Germany, expressing "surprise" at the excitement among analysts and investors around Vodafone's tower plans. He reiterated that the operator was "open to collaborate in order to improve the capacity utilisation of the existing sites" and noted that "I think Vodafone also stated their willingness to collaborate", although without actually confirming any discussions with the Group.
However, Höttges appeared less focused than Read on producing an expansive, transformative (and possibly M&A-infused) deal, directing focus onto capital and operating efficiency opportunities around joint rollout in under-served areas and/or a limited, reciprocal tower-sharing arrangement elsewhere. He was also ready to highlight that DT requires an agreement that takes full account of DFMG's strengths, in terms of tower utilisation and footprint. "We are talking about reciprocity… Deutsche Telekom is coming with even more investments and amount of towers in the German landscape", he said. "It's too early to say where we are heading to", he added.
Around the markets
The rise in Group attention on Germany was inevitable, given the market's importance to Vodafone and that tower refits have already moved forward elsewhere, including the three other 'big-four' Europe Region markets of Italy, Spain, and the UK. An expanded network-sharing tie-up with Orange Spain was announced in April 2019 (Vodafonewatch, #174), and things have progressed elsewhere since:
TowerCo mission is go: With consolidation and centralisation never far away from proceedings at Vodafone, the Group firmed up a launch date – May 2020 – for creation of a regional TowerCo to drive commercial and savings opportunities for the national partnerships and joint ventures (JV) being discussed in Germany, and elsewhere. It will oversee assets across ten (currently unspecified) markets and have a "dedicated management team", but no further organisational detail was offered.
Two-way tower M&A arbitrage: Read stressed the regional tower reorganisation – one of the headline initiatives he announced when becoming CEO in 2018 (Vodafonewatch, #168, #170, and #172) – will create a "double monetisation" opportunity for the Group, reiterating that Vodafone plans to divest stakes in both country operations and the central TowerCo itself (a private or public sale of a "substantial" – but minority – holding). He was particularly keen to highlight the "significant value embedded in Vodafone's tower infrastructure", seen as not currently factored into the Group's valuation, despite its extensive network and current investor clamour for tower assets. Read even suggested the assets' enterprise value could be "north of 20 times" associated core earnings – which Vodafone has pegged at around €900m. This inferred €18bn baseline is not too far away from being half of the Group's market capitalisation (around £44bn), although would include a control premium that is unlikely to be realised, as Vodafone has said it is only seeking to sell a minority share in the TowerCo. DT's Höttges also expressed confidence in a 20-times formula for tower valuation. Read said the TowerCo itself could be acquisitive, in future. If, once it is established, its management team "decide they want to do rationalisation and it creates value for investors, of course we will consider that", he said.
More power to the centre: While Vodafone remains coy on how the TowerCo will operate, and how far its reach and influence will extend within the business, the venture could feasibly have significant impact on how the operator runs its network infrastructure and procures technology and services. It seems likely that Group Finance will have oversight of the TowerCo and seek synergies with its Vodafone Procurement Company arm in Luxembourg. It could also usher in yet more functional overhaul within Vodafone, in the name of efficiency. The Group has indicated it is centralising European network design and engineering operations, as part of its latest cost-savings drive, for example. It is also considering new wholesale models for 2G/3G network operation (see separate report).
In with INWIT in Italy: In a previously-trailered move, Vodafone Italy (VfIt) entered into an active network-sharing partnership with Telecom Italia (TI) to support 4G and 5G rollout. The deal is an extension of the operators' existing network-sharing partnership on passive infrastructure. Vodafone also agreed to merge VfIt's passive tower infrastructure with Infrastrutture Wireless Italiane (INWIT), the tower arm of TI. As part of this latter combination, Vodafone will receive a cash consideration of €2.14bn and a 37.5%-holding in the new combined entity, matching TI's stake. The rest of INWIT's shares will remain listed on the Milan Stock Exchange. The deal still needs regulatory approval, as well as the thumbs up from INWIT minority shareholders, but Vodafone expects completion before 31 June 2020. Vodafone expects to reel in net cumulative cash flow benefits of at least €800m over the next ten years from the partnership, which takes into account "modest net investment" during a two-year implementation phase. Vodafone and TI intend to retain joint control of INWIT, but over time will consider jointly reducing their respective ownership levels from 37.5% to a minimum of 25%. Rivals Fastweb and Wind Tre announced a 5G network tie-up in June 2019.
Cornerstone turned: Vodafone UK (VfUK) and Telefónica UK (O2) confirmed finalisation of an agreement to rejig and expand their long-running Cornerstone network-sharing JV, first announced in provisional form back in January 2019 (Vodafonewatch, #171). As noted previously, the new arrangement aims to provide "greater network autonomy" for each parent in areas where competition is fiercer. Sharing of 'passive' infrastructure is being expanded, but the two operators plan to install their own separate 'active' radio equipment on 2,700 sites in 23 cities outside London, following up unwinding of active sharing in the capital in 2017 (Vodafonewatch, #156 and #166). This is above the 2,500 previously suggested, and means around 25% of VfUK's sites will no longer be shared with O2. As in Italy, and elsewhere, the revamp of Cornerstone is expected to lead to "monetisation" of part of Vodafone's shares in the JV.
The long tail targeted too: Beyond the 'big-four' in Europe, Read indicated Vodafone was "working on a number of other markets – we just don't talk about these because they are smaller". As a possible guide, previous Vodafone presentations on network reshaping have included distinct tower footprint figures in Greece, Ireland, Portugal, and the Netherlands, while bundling Czech Republic, Hungary, and Romania under a "Central and Eastern Europe" banner (and omitting the two smallest territories of Albania and Malta entirely). In the Netherlands, where VodafoneZiggo does not have a major network-sharing arrangement (with KPN and Vodafone Netherlands having dropped an earlier collaboration, following tests – Vodafonewatch, #103), Vodafone's latest Annual Report contained a brief note indicating it was "assessing tower opportunities".
Indian inspiration stressed: While out of the European TowerCo's brief, Read stressed the long-pending merger of Indian JV Indus Towers and Bharti Group's Bharti Infratel operation (Vodafonewatch, #165) was progressing. He indicated regulatory approval for the deal was "imminent" (having now passed its original March 2019 deadline). He noted Indus as an inspiration for the European overhaul, emphasising he had been impressed by the JV management's "single-minded focus" on efficiencies, when sitting on its Board of Directors. It was interesting to see this claim of responsibility when there have been suggestions the European tower revamp was primarily pushed by Group investors, rather than management, and with Read having sat out on infrastructure reorganisation when he was Group Chief Financial Officer, between 2014 and 2018.
No-go for Europe fibre offload: Read ruled out following the example of another Indian cost-extraction initiative, however – separation and sale or consolidation of fibre assets at Vodafone Idea (Vodafonewatch, #171). He said, in Europe, wireline asset divestment represented a "more complex area" than towers. "Clearly it has implications for our retail position in the marketplace", he added. Nonetheless, it was noteworthy that Vodafone's leadership had at least considered the idea.