Refreshed MyVodafone app launches; 16 markets targeted.
Promises better personalisation.
Leadership takes yet another shot at reducing retail costs.
Forms part of Digital First strategy to upend retail channel model.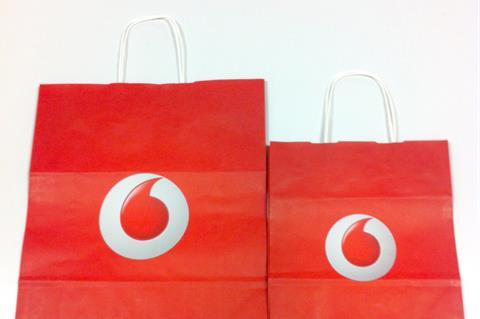 Nick Read, Chief Executive (CEO) of Vodafone, flagged the revamp of the Group's MyVodafone app as a welcome addition to its Digital First strategy.
According to Read, the new app exploits artificial intelligence (AI) and machine learning (ML) to generate closer personalisation of consumer offers, and will help upend the Group's retail channel. If all goes to plan, cost‑cutting is envisaged through a reduction of store footprints, while churn levels should be whittled down through more meaningful digital engagement with customers.
Vodafone has initially launched the updated MyVodafone app in four markets, including the UK (Vodafonewatch could not determine the other three at the time of going to press). A total of 16 markets are targeted for launch 31 March 2020.
As with all aspiring digital telcos, Vodafone's aim is to make digital the primary channel for consumer interaction. Vodafone wants to generate more than 40% of sales through digital channels by 31 March 2021 (FY20–21), up from around 20% in its last fiscal half year (H1 FY19–20).
Read did not reveal Vodafone's technical partners on the MyVodafone app upgrade.
Distinguished from the broader Digital Vodafone initiative, focused on under‑the‑hood efficiencies through automated processes (Vodafonewatch, #160 and passim), Digital First is more customer‑facing. It is ambitiously pitched as a "systematic transformation" of Vodafone's go-to-market operating model.
More than a utility
Speaking on the Group's earnings conference call for H1, Read described earlier iterations of the MyVodafone app as little more than a "utility", mainly providing information on data usage and billing. Read ruefully added that much of the old MyVodafone app was customised locally, so "limiting scale benefits".
"The new app is a key storefront for new product discovery, using personalised, highly relevant AI‑driven offers, as well as presenting attractive rewards. Importantly, the new app is far more standardised than before, allowing development costs to be shared. "

— Read.
On one of his presentation slides, the CEO showed a different consumer interaction model for the new MyVodafone app. Read anticipated that "utility" functions will only account for half of users' time when engaged with the more sophisticated, updated version. The remaining time, he suggested, will be taken up by:
Discovery and rewards (15%).
Sales and multi-product management (15%).
Help via TOBi, a chatbot supported by IBM Watson that responds to contract queries (10%).
Somewhat less defined, "everything else" (10%).
Up close and personal
The personalised, up‑selling theme of the new app fits neatly with the One More Service mission Read is said to have set Vodafone since coming in as CEO in 2018 (Vodafonewatch, #176). However, Vodafone is by no means the only telco to be seeking to improve go-to-market performance through real-time personalisation, and it remains striking how long the operator and rivals have taken to target the opportunity, considering the breadth of their customer bases and the value of data they hold on their users.
Driving the Group's push around consumer insight and personalisation has been a wider upgrade of the Group's Vodafone Digital capabilities. Here, Vodafone is making a bold move to migrate an existing big data analytics platform serving eleven countries, which is based on Hadoop technology from Caldera, onto Google Cloud Platform (Vodafonewatch, #122 and see separate report). Dubbed Neuron, the new "cloud-native analytics platform" will lean on Google's expertise in AI and ML. Johan Wibergh, Chief Technology Officer at Vodafone, said Neuron will help "optimise our networks and provide customers with more relevant offers through our MyVodafone app".
Less trouble in store
As part of its Digital First strategy, Vodafone anticipates the new MyVodafone app will help reduce consumer reliance on "standard" stores. "Overall, we aim to significantly increase the efficiency of our retail estates, changing the store format and mix to complement our digital first execution", said Read. "This will mean much greater use of fully automated express formats and kiosks", he added.
Using H1 as a base — at least as far as Vodafonewatch could make out — Read said the aim was to "transform" 40% of stores and achieve a 15% reduction in store footprint by FY22–23. The CEO reckoned this will chip away at the €800m annual cost Vodafone incurs through retail activities, but did not say by how much. "We're also working extensively on the in-store experience with an ambition to transact in eleven minutes for a new connection", said Read. He deemed this "clearly a dream for anyone that's been to a telecoms store".