Leadership reach for scalpel again; new savings plan in pipeline and asset sales remain high on agenda.
Debt increase stresses diminishing cash wiggle-room; focus remains on cash flow improvement.
Patchy Q2 trends: major OpCos spluttering, but Group inches back into growth.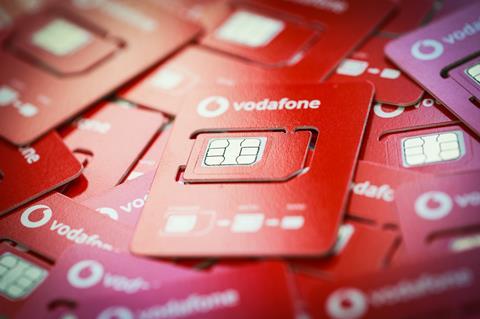 Vodafone's results presentation for the quarter to 30 September 2019 (Q2 FY19–20) saw the Group's new leadership duo confidently re‑commit to their programme of "systematic transformation", "asset utilisation improvement", and "integration… at pace", as well as various other plans spat out by the corporate business-speak generator.
With the Vodafone ship still being buffeted by squalls in major markets such as India, Italy, and Spain, Chief Executive Nick Read and Chief Financial Officer (CFO) Margherita Della Valle responded with hints that they are upping and extending the business reshaping ambitions. Through this, and an improved set of figures, they looked to regain grip of City optics after the blow of May 2019's dividend "rebasing" and the legal and regulatory setbacks seen in India in the run‑up to Q2's announcement (Vodafonewatch, #174).
Austerity isn't over
Discipline was the theme as a formidable and impressive Della Valle, dressed in black against a blacker background, laid out her vision of a new phase of cost-cutting once the operator's current strategic cycle is over. Read paid tribute to Della Valle's "relentless" focus on internal savings, and her progress is evidently helping his pitch to be a 'Colao for the digital age', with fresh commercial and operational ideas from his predecessor (Vodafonewatch, passim).
Read remained focused on efforts to make Vodafone leaner and meaner, in his case through outgoing M&A and other business restructuring plans. European tower asset sales and partnerships were again highlighted as opportunities, and Read reiterated the possibility of further in-market M&A moves as he distils focus and footprint. Beyond the pending sale of Vodafone Malta, confirmed following the Q2 presentation, Read provided only a qualified commitment to Vodafone's presence in Spain, following recent speculation, and there is a growing sense Read could be envisaging a row‑back beyond even the reduced "Europe and Africa" domain he currently states is Vodafone's core (see separate report).
Ultimately, there remains the suspicion that Read could be trying to make Vodafone a more digestible mouthful for an industry peer with complementary territory, although candidates are currently thin on the ground when most peers are also retrenching. Even if not, it remained apparent that Vodafone is entering an interesting phase, with 2020 set to see Chairman Gerard Kleisterlee depart (Vodafonewatch, #175) and Read and Della Valle put a new wave of business improvement programmes into action.