German debut suggests increasing Group enthusiasm for LTE‑M, and leadership feeling that technology's time is coming.
CTO Mack describes the tech as the "next building block in our network".
OpCo highlights LTE‑M use‑cases around voice and mobility.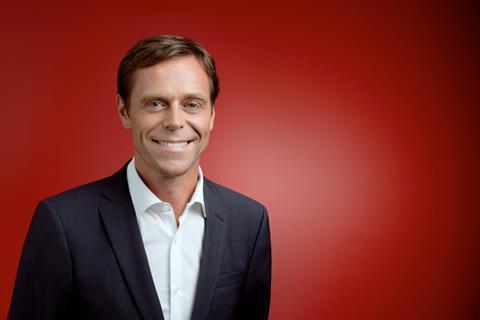 Vodafone Germany (VfD) flagged LTE for Machines (LTE‑M) availability in more than 90% of the country's territory, supported by "modernisation work" undertaken at in excess of 18,000 base stations in recent weeks.
It was a rare Group mention of the technology, with major LTE‑M rollouts appearing hitherto confined to VodafoneZiggo in the Netherlands and Vodafone New Zealand, before the sale of the OpCo (Vodafonewatch, #162 and #170).
Gerhard Mack, Chief Technology Officer (CTO) at VfD, framed LTE‑M as the "next building block in our network", and one of four network levels. The other three comprise: 5G; LTE; and Narrowband Internet of Things (NB‑IoT). NB‑IoT, deployed on the back of LTE upgrades, has seen geographical coverage reach 90% since its launch at the tail-end of 2017 (Vodafonewatch, #161).
"With LTE, we connect people with their smartphones. Narrowband IoT is our machine network for sensors. LTE‑M makes the exchange between people and machines possible. And 5G is always in use where real‑time data exchange and huge bandwidths are needed. "

— Mack.
Talking to machines
As with NB‑IoT, LTE‑M runs on VfD's licence concessions in the 800MHz frequency band. The two technologies have different characteristics, however. NB‑IoT is typically targeted at small payloads associated with sensor-style applications, while LTE‑M has the ability to send small and medium amounts of data at maximum speeds of 2Mbps, and can support voice and mobility.
VfD flagged use‑cases for LTE‑M in logistics — tracking sensors of packages in transit "all over Germany" — and manufacturing, for example by enabling factory employees to control production machines with voice instructions. For this, VfD may well have drawn on technical experts at VodafoneZiggo, which demonstrated a voice‑over‑LTE call over LTE‑M as far back as June 2018.
"With LTE‑M, we are building the mouthpiece for people and machines [with] the Internet of Things", remarked VfD Chief Executive Hannes Ametsreiter. "In the future, people and machines will not only be able to exchange data, but also make calls to each other", he added.
The OpCo announced "special business customer tariffs" for what it called the "networking of man and machine via the new LTE‑M network". In the near future, added VfD, private customers will be able to use LTE‑M for wearables and transfer data in a more energy‑efficient way.
5G momentum
Ametsreiter, in mid‑November 2020, said VfD's 5G rollout was progressing much faster than expected, and that the OpCo's footprint target for the end of 2021 was now 30 million of the country's approximate 80 million population (Vodafonewatch, #192). The previous target was 20 million. "Our technicians will activate thousands more 5G antennas in the coming weeks", said Ametsreiter at the time.