NatCo embarks on 'lease and operate' partnership.
Two parties aim to connect "entire municipalities" with fibre.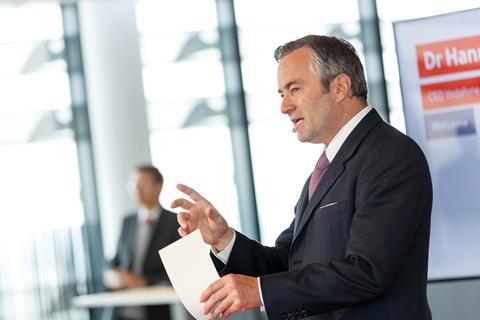 Vodafone Germany (VfD) broadened its partnership with fibre-to-the-premise and fibre-to-the-home (FTTP/FTTH) specialist Deutsche Glasfaser.
The relationship was previously restricted to fibre co‑investment in business parks in Düsseldorf, but under the new arrangement, VfD will lease and operate passive kit from Deutsche Glasfaser — and target consumers. The OpCo will supplement Deutsche Glasfaser's passive FTTH architecture — essentially cables laid to connect households — with its own active technology.
The two partners envisage engagement with municipalities in order to fast‑track FTTH deployment, which presumably involves securing the necessary rights of way. "[We are showing] that the supply of entire regions with high-performance [fibre-optic cable] can be carried out quickly and efficiently", said Hannes Ametsreiter, Chief Executive (CEO) of VfD.
The move comes amid accelerated consolidation in Germany's fibre broadband space over recent months, seen with VfD's 2019 takeover of cableco Unitymedia, and January 2020's consummation of a regional fibre wholesale joint venture between Deutsche Telekom and utility EWE, covering Bremen, Lower Saxony, and North Rhine-Westphalia (Vodafonewatch, #179 and Deutsche Telekomwatch, #90).
Hesse hustle
The first municipalities that VfD will target are in Hesse. The process of FTTH "pre-marketing" in these districts is expected to start in early‑2020. At the time the two operators made their announcement, in December 2019, talks with some Hesse municipalities had apparently started.
The VfD deal is the second 'lease and operate' FTTH partnership struck by Deutsche Glasfaser. In November 2019, the FTTH provider entered into a similar arrangement with Htp, a regional telco operating in Lower Saxony. The two providers reportedly agreed that a take-up quota of 40% was necessary before FTTH build could begin in a city or town. Although VfD's terms are not known, this could give an insight into the scale of the marketing task confronting the OpCo in Hesse and in other municipalities where it takes the lease and operate business model. Vodafone UK signed up to a 20% volume commitment when forming a region-by-region wholebuy partnership with British Gigabit upstart Cityfibre in 2017, and this included an exclusivity clause and did not involve VfUK in infrastructure deployment (Vodafonewatch, #160).
Rinse and repeat: Ametsreiter reaffirms dislike of fibre red tape
The partnership's prospects appear to rest significantly on VfD and Deutsche Glasfaser's ability to secure regional authorities' buyin.
Ametsreiter said that "together with Deutsche Glasfaser", VfD wants to "get the first municipalities off the digital hard shoulder [and] into the fast lane".
The VfD CEO complained, once again, that Gigabit network expansion and Germany's digital advancement would be a lot faster if there were fewer bureaucratic hoops to jump through. "Improvements have to be made here", he said. VfD said it and Deutsche Glasfaser have put forward a FTTH business case based on a "pioneering private operator model", and it seems likely this anticipates operational rather than financial support from regional authorities.
Uwe Nickl, CEO of Deutsche Glasfaser, took a leaf out of the Ametsreiter FTTH playbook by emphasising the wider importance of digitisation to the German economy. "[The] private sector is the decisive driver of digitisation in Germany", said Nickl. He flagged "political cooperation" as an important ingredient of national digital advancement. "Wholesale cooperation is not only resource-saving and sensible, but can also accelerate the digitisation of entire regions", added the CEO.
Deutsche Glasfaser is headquartered in Borken (North Rhine-Westphalia). The provider claims its FTTH network reaches more than 400 municipalities, passing around 630,000 consumers and over 5,000 businesses. It is majority-owned by private equity house Kohlberg Kravis Roberts (KKR). In January 2020, Deutsche Glasfaser announced an enlarged credit facility. It said it had almost fully exhausted €650m (£549m) financing agreed at the beginning of 2018, due to its faster-than-expected "accelerated growth". Its debt capital base was extended up to €1.8 billion, apparently with improved terms, as it seeks to exceed its original FTTH target of passing one million homes. A total of 16 institutions (unnamed) were behind the new funding. In August 2019, KKR was reported to be looking to exit Deutsche Glasfaser (Vodafonewatch, #179). Two years earlier, VfD was mooted as a possible buyer of the FTTH outfit (Vodafonewatch, #157).