German OpCo launches One for One initiative with e‑waste specialist.
Aims to recycle at least one million old phones a year.
GigaGreen Re‑Trade programme launched to liberate old phones from Germany's drawers.
Closing the Loop is already collaborating with VodafoneZiggo on a similar scheme.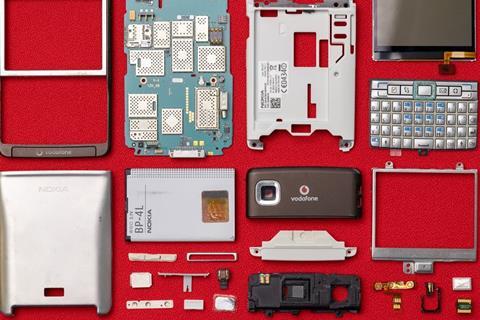 Vodafone Germany formed an alliance with Dutch e‑waste recycling specialist Closing the Loop amid broadening efforts at Group level to eliminate carbon emissions from its full value chain.
The German OpCo has adopted the One for One initiative, whereby for every new phone sold to its customers in Germany, Closing the Loop will collect an end‑of‑life device in an African country that lacks formal recycling capacity.
The aim is to recycle at least one million old mobile phones per year from 1 June 2022, using collection networks mostly based in Cameroon, Ghana, and Nigeria.
The collected devices are then professionally recycled in European factories to extract valuable raw materials such as gold, silver, copper, and cobalt that can go back into circulation. At the same time, poisonous substances such as lead, mercury, cadmium, and arsenic are prevented from ending up in landfill.
A further advertised benefit is that jobs and new sources of income are created in these regions. Closing the Loop has also committed to building local recycling facilities in the developing countries to eliminate the need to ship e‑waste and create more jobs in future.
Closing the Loop is said to be the only provider that meets the requirements as an approved collector for offsetting e‑waste within the framework of TCO Certified — a sustainability certification for IT products.
Driving Vodafone's green transition
The new initiative builds on the OpCo's existing Re‑trade, Repair, and Recycling services it already provides for old devices. Moreover, it just unveiled the new GigaGreen Re‑trade programme that aims to get the estimated 200 million old smartphones in Germany's drawers back into circulation by making it easier for people to trade them in.
The initiative also aligns with the Group's broader statement of intent on sustainability, which includes solar and wind systems for phone masts, "green" supply chains, and an "optimised circular economy". For example, Vodafone recently announced a new sustainability initiative that aims to prolong the life of mobile phones, part of a strategic partnership with second‑hand smartphone specialist Recommerce (Vodafonewatch, #191, #194, #198, and #199, and #204).
Germany has tended to lead Vodafone's green agenda. For example, the German OpCo was the first to complete the switch to renewable energy for its network in October 2020.
However, Vodafone Germany is not the first Group business to collaborate with Closing the Loop: the e‑waste specialist has already joined forces with VodafoneZiggo in its domestic market, although on a much smaller scale. For example, the Dutch joint venture plans to recycle at least 15,000 phone over the next two years under a similar arrangement to its German counterpart.
In 2018, Closing the Loop also worked with T‑Mobile Netherlands and Samsung on the operator's Recycle Deal.

Anne Morris is a freelance journalist, editor and translator. She has been working as a reporter and news analyst for TelcoTitans since 2016.