Vodafone coughs up €1.88bn on 3.6GHz and 2GHz frequencies.
VfD CEO calls on government to hand back auction proceeds.
OpCo wants joint reinvestment network programme for white spots.
Spectrum bill tops €2bn despite huge misgivings about auction rules.
Telekom complains of "bitter aftertaste" and investment "dampener".
MNO legal action against BNetzA still on cards.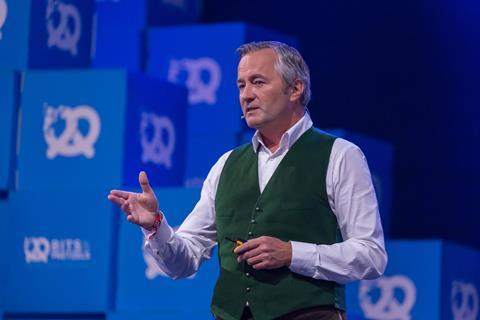 In a marathon 5G auction lasting nearly three months and involving 497 rounds of bidding, Vodafone committed €806.5m (£722.1m) to rights covering 2×20MHz of 2GHz frequencies. At 3.6GHz, the so-called 5G pioneer band, Vodafone bid €1.1bn for a 90MHz concession. The operator said it met its spectrum target in the auction.
Vodafone was not the biggest spender. Deutsche Telekom (DT) stumped up €2.17bn of the €6.55bn raised in total.
Drillisch, a mobile virtual network operator (MVNO) and subsidiary of broadband player United Internet, spent more than €1bn and will become Germany's fourth mobile network operator (MNO).
Operators in Germany now have an extra 420MHz to play with as they prepare for commercial 5G rollout. Of this, Vodafone Germany (VfD) snagged 130MHz.
The total raised far exceeded most analyst expectations, which typically hovered between €3bn and €5bn. German Minister of Finance Olaf Scholz was reportedly counting on adding between €4bn and €5bn to government coffers before the auction started.
Operator

Spectrum acquired (2GHz)

Outlay (3.6GHz)

Spectrum

acquired (3.6GHz)

Outlay (3.6GHz)

Total outlay

2GHz and 3.6GHz licence auction outcome
Source: BNetzA.

Telekom

2×20MHz

€851.5m

90MHz

€1.32bn

€2.17bn

Vodafone

2×20MHz

€806.5m

90MHz

€1.07bn

€1.88bn

Telefónica

2×10MHz

€381.1m

70MHz

€1.04bn

€1.42bn

Drillisch

2×10MHz

€335.0m

50MHz

€735m

€1.07bn

Total

120MHz

€2.37bn

300MHz

€4.18bn

€6.55bn
Beyond the 2GHz and 3.6GHz ranges, Vodafone began building its 5G spectrum portfolio back in 2015, spending just under €330m on 700MHz rights (Vodafonewatch, #135). Germany's Bundesnetzagentur (Federal Networks Agency/BNetzA) has indicated that 700MHz spectrum will be fully ready for 5G use in 2020, after clearing out legacy broadcasting services. The BNetzA has yet to confirm when licences for higher-frequency microwave frequencies will be made available, to expand operators' 5G platforms further.
Regrets, we've got a few
Operator recriminations, already brewing as the auction dragged on and bids crept upwards, started immediately after the hammer fell on the last round.
Hannes Ametsreiter, Chief Executive (CEO) of VfD, called the auction results "catastrophic". He thought Germany was "losing valuable time" in digital development, and that the country will not be among the first in Europe to launch 5G services. Ametsreiter suggested provocatively that the state should return revenue from the 5G auction, in the form of a subsidy, to help operators with 5G rollout.
It was not clear if Ametsreiter was calling for all monies raised in the auction to be funnelled back into network investment – which seems unrealistic – or a proportion to be allocated to what he called a "reinvestment programme".
"Unfortunately, as an industry, we once again had to spend a lot of money on licences, which we would rather have invested in network expansion. It is all the more important now that politics and industry jointly develop a reinvestment programme, with which the proceeds flow directly into the expansion of mobile communications. That's the only way Germany can create what is most needed for a digital future besides 5G: the closing of the last major dead spots. "

– Ametsreiter.
Ametsreiter was not the only local boss voicing disquiet. "The auction leaves a bitter aftertaste", said Dirk Wössner, CEO of Telekom Deutschland. "The result is a dampener on our network build-out. Spectrum, again, is much more expensive in Germany than elsewhere", he added.
Wössner noted dejectedly that "one could have built approximately 50,000 new mobile sites and closed many white spots" with the auction proceeds. He did add, however, that Telekom got the spectrum it wanted.
Headmaster Homann
Jochen Homann, President of BNetzA, apparently thought the auction was a resounding success. He seemed particularly pleased that an MNO newcomer, in the shape of Drillisch, had managed to acquire spectrum and "promote competition". This vindicated the controversial auction rules, he suggested. "The end of the auction fires the starting gun for 5G in Germany", he said.
Homann added in a wary tone, somewhat reminiscent of a strict headmaster suspicious about the self-discipline of his charges, that it was "now up to the companies to put the spectrum to use quickly and to fulfil their coverage obligations".
When auction bids were rising in May 2019, Homann downplayed any suggestion that network investment might be impaired in any way. He expressed the view that the operators were well aware of the auction's conditions and had positioned themselves accordingly.
Job losses
The looming arrival of Drillisch as Germany's fourth MNO prompted fears among incumbents that they will have to shed jobs to deal with what they see as the newcomer's unfair competitive advantages.
Dirk Wilharm, Works Council Director at VfD, considered that the auction rules will give Drillisch plenty of room to manoeuvre on pricing since it is not under the same network-investment pressures.
"We are in favour of competition, but it has to be a competition among investors", asserted Wilharm in an interview with the Rheinische Post. "On the other hand, if [Drillisch] hopes to invest only in the cities and rent our infrastructure at low prices in the countryside, that can cost thousands of jobs", he added. While acknowledging that customers will clearly welcome lower prices, Wilharm said BNetzA was wrong to go about encouraging cheaper rates in this way.
According to Finanz und Wirtschaft, Drillisch needs only reach 50% of German households by 2025, something which an anonymous VfD source scathingly called "regulatory privilege". The incumbent MNOs must use frequency blocks awarded in the auction to cover at least 98% of households with minimum download speeds of 100Mbps by the end of 2022.
Wilharm's concerns about job losses were echoed by his counterparts at Telekom and Telefónica Deutschland.
Josef Bednarski, Works Council Director at Telekom, went into a little bit more detail, however. He flagged concerns about what MNOs see as fuzzy rules surrounding local and national roaming (Vodafonewatch, #173). "We advocate that companies volunteer to help build the networks by, for example, sharing radio masts, but a compulsion to share the grids would border on expropriation", said a brusque Bednarski. Without a level playing field there would be lower 5G investment and less innovation, he warned.
Dun roamin'
Ambiguous conditions for local and national roaming, and the related issue of network-sharing, are a big gripe among MNOs. Although they generally see no problem in sharing passive cell-site infrastructure with a newcomer (and each other) to serve rural areas – site rental and antenna costs can be usefully divvied up – active roaming is a much thornier problem. MNOs baulk at the idea that a new entrant can take advantage of regulated wholesale-capacity pricing on their rural cell sites. If Drillisch can avoid shouldering any of the costs related to passive infrastructure, and simply buy wholesale capacity from the MNO to cater for a relatively small number of customers, MNOs claim that amortisation of rural 5G infrastructure investment will be nigh on impossible.
Muddying the waters still further is how far MNOs in Germany are legally obliged to provide national roaming for Drillisch. Christian Illek, Chief Financial Officer at DT, took some comfort that the "Head of the BNetzA himself [Jochen Hohmann] said there was no legal basis for national roaming. So, so far, we have a local roaming discussion but not a national roaming discussion in Germany". That does not necessarily mean MNOs have clarity on what the regulator has in mind. "How is [local roaming] defined? What kind of [cell] clusters are included? How do we define reciprocity in the build-out from different carriers?", asked Timotheus Höttges, CEO at DT. "All of these questions are still open".
Short sited
A growing MNO concern in the run up to the auction (and after) is the length of time it takes to acquire sites for mobile base stations: not just for LTE expansion, which is an immediate problem, but also for future 5G rollout. "Nowhere else in Europe does it take longer to build a new mobile station than in Germany", Ametsreiter told Welt am Sonntag. "From application to activation, it takes up to two years. Other countries can do it in four-to-six-months", he added.
As often noted by German operators, Ametsreiter highlighted that problems arise because building permits are decided on a municipal level.
"Often, there are citizens' initiatives that do not want mobile stations. Everyone wants a good network, but nobody wants to have a [base] station in sight. Many communities are moving to banish stations to the edge of the forest; so, far away from the inner cities, where a good network is needed."

– Ametsreiter.
Telekom's Wössner said that planning guidelines for antenna locations should be a national task. "The network operators cannot do that alone", he said.
See you in court, BNetzA
Markus Haas, CEO of Telefónica Deutschland, drew attention once again to ongoing legal action against the regulator. Like MNO rivals, Haas was unimpressed by the auction outcome. "We must learn from our mistakes, and from other top 5G nations that are a good nose-length ahead of us. We have blown this chance. The money is going to the Finance Ministry and not into building networks", he said.
VfD previously joined Telefónica and Telekom in filing an injunction – which ultimately failed – intended to slam the brakes on the 5G auction timetable (Vodafonewatch, #172-#174). Prior to that, each of the three MNOs filed separate lawsuits against BNetzA over the auction rules. Their grievances revolve around coverage obligations, roaming rules, and what they see as unfair newcomer advantages.
We need to talk about Drillisch, investment, and cell‑site acquisition

BNetzA

rules

MNO concerns*

Note: *As interpreted by Vodafonewatch.


Sources

:

Vodafonewatch

,

Deutsche

Telekom

watch

, various.

MNO coverage obligations

Obligations for 3.6GHz band holders include

98% population coverage

, with at least 100Mbps and ten

millisecond latency, by 31

December

2022.

Each existing MNO must also install 1,000 5G base stations and 500 other base stations in "defined areas" by the same date.

Further, by December

2024, 5G

coverage

must be extended

to seaports, main waterways, and all other road and rail routes in the country.

Coverage rules of this sort are not applicable to Drillisch (see below).

Ambitious coverage requirements cannot be met with short-wave frequencies available in the current auction. These are suitable only for metropolitan areas. Wide area coverage is only possible with long‑wave frequencies, which were auctioned back in 2010 and 2015. Imposing subsequent coverage requirements on spectrumthat was already purchased at a high price is wrong.

If BNetzA wants to ensure 5G blanket coverage "in every barn", a holistic approach is required. BNetzA and relevant government ministries should work together with infrastructure providers, such as railway and road authorities, as well as MNOs, and make available appropriate spectrum for wide area coverage. There should be targeted funding in rural regions where expansion is economically untenable.

Cell-site acquisition is also a problem that needs to be addressed. There is a myriad of bureaucratically construed regulations, understaffing in public administration, and citizens' initiatives that oppose the local installation of cellular antennae, which all throw a spanner into the works. To build new antennae, we need faster, streamlined procedures. Rather than posturing by the BNetzA, we need a concerted effort to get things done.

Roaming
and wholesale obligations

BNetzA

includes an obligation for spectrum

licence holders to

negotiate

with other players seeking network access.

The regulator will arbitrate in the event companies are unable to reach commercial agreements.

Roaming is fine, so long as MNOs can enter into agreements on a voluntary basis. If BNetzAcan officially intervene in roaming negotiations, and even mandate agreements granting access to existing network infrastructure, this will undermine commercial agreements and favour free riders. This is to the detriment of companies that actually invest.

Although resellers set themselves apart through their marketing, they do not make any contribution towards network expansion. As such, regulatory intervention to favour service providers is not justified. Voluntary service agreements have proved their worth in the past and should be kept in the future. Germanresellers already have the highest market share in Europe,at 23%.

Unfair newcomer advantages

Drillischneed only

provide coverage to 50% of German

households by 2025. It can also demand access to existing high-performance networks of MNOs via roaming agreements.

There are many good reasons to collaborate in network build‑out, particularly in rural areas. However, granting access, which is neither voluntary nor done on a commercial basis, unduly favours resellers(see above).
Empowered BNetzA reminds operators of coverage responsibilities
Potentially exacerbating the financial blow of the 5G auction are signs the BNetzA is stepping up pressure on Germany's mobile operators to do more on network rollout, possibly in a bid to head off moves by operators to skip on requirements to offset the high sell-off outlay. Telekom, Telefónica, and VfD executives were said to have been summoned to a meeting with the regulator to explain mobile data coverage gaps. The meeting was scheduled for 24 June 2019, according to the Rheinische Post newspaper.
A subsequent Handelsblatt report suggested the BNetzA was considering significantly increasing fines for mobile operators that miss coverage targets mandated in their licences. The move reportedly comes at the behest of the government, which is preparing to introduce legislation enabling harsher penalties to be handed out to operators.