Different data caps, not speed-tiering, guide 5G pricing.
700MHz airwaves now available to support network rollout.
Live 5G roaming in 55 European cities and towns.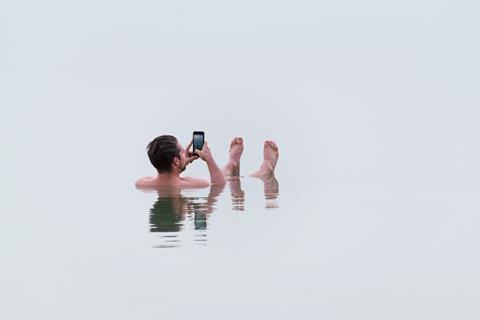 Vodafone Germany (VfD) flicked the 5G switch in parts of 20 cities, making a much bolder move on coverage than main rival Telekom Deutschland (TDE). The incumbent could only muster a six-city launch and does not expect to have 5G signals in 20 German cities until 2020.
Speeds and caps
Hannes Ametsreiter, Chief Executive at VfD, implied that the OpCo's more granular tariffs will encourage widespread 5G adoption. "We are democratising 5G", he claimed. "With us, 5G isn't just a technology only for high earners".
Unlike Vodafone UK, which offers "unlimited" data on all 5G plans but adjusts prices by throttling speeds (Vodafonewatch, #177), VfD offers data caps but no speed restrictions. The lowest promotional 5G tariff offered by VfD is a SIM-only plan at €14.99 (£13.68)-per-month, which includes a €5 add-on to the lowest 4G offer. There are a couple of snags. First, it is only eligible for customers up to the age of 28 years. Second, the associated data cap is 2GB. This could be used up in a matter of seconds by devices streaming or downloading video when connected to the much faster 5G network.
VfD tackles the 'high-earner' segment through an "unlimited" 5G data plan. Priced at €80 per month, it undercuts Telekom's "unlimited" offer by €5 (the only smartphone 5G tariff plan that the latter initially introduced).
Huawei in the game
Samsung's Galaxy S10 5G and Huawei Technologies'Mate 20 X 5G are the first two smartphones in VfD's portfolio. Another option is Gigacube 5G, a wireless router supplied by Huawei and pitched as a wireline home broadband substitution product. Gigacube 5G has an embedded SIM card. Prices start at €24.99 per month, which carries a data cap of 30GB. For €49.99 per month, VfD allows a much more generous 250GB data allowance.
More 5G tariff developments look on the way following the European Commission's decision to approve Vodafone's acquisition of Liberty Global's Unitymedia operation in Germany, plus its cable businesses in the Czech Republic, Hungary, and Romania (see separate report). From 1 September 2019, VfD intends to launch bundled tariffs comprising 5G and access to Unitymedia cable assets.
Read likes speed-tiering
While Vodafone's 4G pricing strategy revolved around data allowance tiering, there has been a clear shift with early 5G releases (albeit not so pronounced in VfD's case).
The capacity and efficiency gains offered by 5G look to have put paid to data caps as a means to differentiate and drive upselling, with "unlimited" plans finally make sense to the Group's conservative leadership. Throughput is now the main selling point.
Nick Read, Chief Executive of Vodafone, conceded that "unlimited" data will not be right for every market, but gave the distinct impression that this was his favoured 5G approach when combined with speed tiering. "We strongly believe that a speed-tiered approach is important because it preserves a valuable ladder for ARPU [average-revenue-per-user] accretion in the future", said Read on Vodafone's results conference call for the quarter to 30 June 2019.
To illustrate the point, Read flagged developments in Spain. By wooing 500,000 existing SIM cards onto unlimited 5G data offers since its launch in June 2019 (Vodafonewatch, #177), Read said it had seen a €3 ARPU accretion in the country. "We would expect all value players to go unlimited on the quality of network that they can support", he said.
One downside to speed tiering is the danger of limiting the 5G experience, if throttled too aggressively. The slowest and cheapest 5G speed that Vodafone UK (VfUK) offers is 2Mbps – hardly an advert for 5G's apparent Brave New World.
Coverage? Much obliged
One of the conditions attached to VfD's recently acquired 3.6GHz licences is that it achieves 98% population coverage, with at least 100Mbps and 10ms latency, by 31 December 2022.
5G coverage obligations are a running sore for Germany's mobile network operators (MNO), aggravated by what they see as an unfair advantage handed to Drillisch by Bundesnetzagentur (BNetzA), Germany's telecoms regulator, and higher-than-expected outlay in the auctions of both 3.6GHz and 2GHz frequencies.
Poised to become Germany's fourth MNO on the back of frequencies won in the auction, Drillisch only needs to reach 50% of German households by 2025.
Works Council Directors at TDE, Telefónica Deutschland, and VfD have each expressed concern about job losses since the auction. They fear that Drillisch will have considerable scope to undercut rivals on pricing (Vodafonewatch, #177).
The total amount raised in the auction, €6.55bn, exceeded most analyst expectations, which typically hovered between €3bn and €5bn. German Minister of Finance Olaf Scholz was reportedly counting on adding between €4bn and €5bn to government coffers before the auction started. For its part, Vodafone spent €1.88bn.
Ametsreiter called the auction results "catastrophic". He thought Germany was "losing valuable time" in digital development, and that the country will not be among the first in Europe to launch 5G services (although the subsequent VfD launch seems to belie that fear). He provocatively suggested that the state should return revenue from the 5G auction, in the form of a subsidy, to help operators meet their coverage obligations.
5G roaming up and running in Europe, and Rest of the World in sights too
In late-July 2019, Vodafone announced it had brought 5G roaming capability live in 55 European towns and cities, including London, Madrid, Munich, and Rome.
In June 2019, Vodafone Spain and Vodafone Italy released 5G with a 15-city and five-city launch, respectively, while Vodafone Romania introduced signals in "crowded areas of Bucharest" (and has since extended coverage elsewhere).
In early-July 2019, VfUK opened its 5G account with a seven-city launch, and Vodafone Ireland joined the 5G pack in mid-August 2019 with a five-city debut underpinned by Ericsson.
Beyond this grouping, Vodafone has indicated that it is planning to bring 5G live in a further seven countries "over the next few months", thereby extending beyond its twelve-market Europe Region.