Vodafone Germany ups 5G coverage targets but still lags Telekom.
Draft IT Security Act 2.0 under fire from former Head of Cybersecurity at the Ministry of the Interior.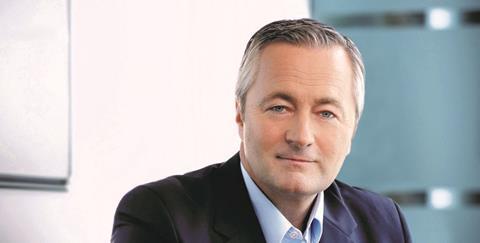 Hannes Ametsreiter, Chief Executive (CEO) of Vodafone Germany (VfD), said 5G rollout was progressing much faster than expected, and that the OpCo's footprint target for the end of 2021 was now 30 million of the country's approximate 80 million population. The previous target was 20 million.
"Our technicians will activate thousands more 5G antennas in the coming weeks", said Ametsreiter in mid-November 2020. VfD also upped its 5G coverage target for the end of 2020, from ten million to 15 million people.
The CEO announced the revised targets on the back of VfD achieving the ten million milestone ahead of schedule. From having 1,000 5G antennas up and running at more than 350 locations, as of July 2020, the mid-November 2020 audit read 3,000 5G antennas at more than 1,000 locations.
VfD is using a mix of 3.5GHz, 1800MHz, and 700MHz frequencies for 5G coverage. 1800MHz is used in "most places", particularly in cities (where 3.5GHz airwaves are also prevalent). For more remote locations, VfD relies on the 700MHz frequency band. Helping to boost the OpCo's 5G coverage is Ericsson's Dynamic Spectrum Sharing (DSS) technology. Using 700MHz, the DSS tech allocates the low‑band spectrum resource to LTE and 5G, according to demand within the cell (Vodafonewatch, #186).
Chasing Telekom's shadows
Arch-rival Telekom Deutschland is also moving faster than expected on 5G coverage. On the same day VfD launched DSS, in April 2020, Telekom set what seemed like an extraordinarily ambitious target of extending 5G signals to more than half of the German population — roughly 40 million people — by the end of 2020. That target was reached in July 2020. In December 2020, Telekom claimed a 5G reach, stretching to two-thirds of the population.
The German incumbent's 5G network also seems much denser than VfD's. According to Telekom, 45,000 antennas are "already transmitting on 5G". By the end of 2021, the operator aims to cover 80% of the population, and then increase it to 99% — as previously announced — by 2025.
Telefónica Deutschland (O2 Germany) lags behind both VfD and Telekom on 5G coverage. It was not until October 2020 that O2 Germany launched the next-gen tech, offering services initially in Berlin, Cologne, Frankfurt, Hamburg, and Munich. The operator said a population reach of around nine million was achieved using 150 base stations.
Draft IT Security Act 2.0 under fire
Upwardly revised 5G rollout targets by VfD and Telekom came against a backdrop of continued uncertainty on what role, if any, Huawei Technologies might play in supplying 5G radio access network (RAN) equipment.
As far as Martin Schallbruch is concerned, the long-gestated IT Security Act 2.0, recently presented to parliament in draft form by Germany's coalition government, only adds to the confusion (Vodafonewatch, #190).
Currently a Director at the European School of Management and Technology based in Berlin, and formerly Head of Department for Digital Society and Cybersecurity at the Ministry of the Interior, Schallbruch complained that vetting processes proposed by the draft, which anticipates creating 800 more jobs at the Federal Office for Information Security (BSI), will get bogged down in bureaucracy and muddle. "I would have liked a clear political decision as in other states", he told WirtschaftsWoche in an interview.
"The Act is based on a very simple principle: as soon as a company notices a vulnerability or an incident, it must be reported to the state and it must then decide what to do. I wonder how such a super-authority with more than 2000 posts is to succeed, especially given the complexity of the issues. You only have to look at the IT of a large corporation. It is completely impossible for the BSI to assess an IT security problem, especially since it often has to be fast. "

— Schallbruch.
According to Handelsblatt and subsequent reports, IT Security Act 2.0 introduces a two‑stage approval process for telecoms equipment. The first stage is a technical check of individual components, followed by a second political assessment phase of weighing up the supplier's "trustworthiness".
One member of the German parliament, quoted by the Financial Times, argued that the second stage will well and truly scupper Huawei's chances of survival in the country. "How can Huawei, a company with suspected links to the Chinese, pass a political trustworthiness test?", remarked the unidentified source.
How reliant VfD is on the Chinese supplier for 5G RAN is difficult to determine, but Strand Consult estimated that more than half of the OpCo's 4G RAN footprint was Huawei gear at the end of 2019 (see table). This may give a guide to the extent of 5G RAN commitment to Huawei.
Huawei 4G RAN
Non‑Huawei 4G RAN

4G RAN reliance on Huawei in Germany (December 2019)

Source: Strand Consult.
Vodafone Germany

55%

45%

Telekom Deutschland

65%

35%

Telefónica Deutschland

50%

50%
Of Germany's three established mobile network operators, TDE looks to have been the most optimistic about Huawei's chances of surviving political scrutiny, recently signing a new 5G RAN contract with the Chinese supplier (Deutsche Telekomwatch, #95)