Vodafone UK and Telefónica UK give each other freedom to "commercialise" their 50% stakes in Cornerstone JV.
Transfer of Vodafone's shareholding to Vantage Towers to take place within weeks.
Important (and long-awaited) addition to Vodafone's European TowerCo ahead of upcoming IPO.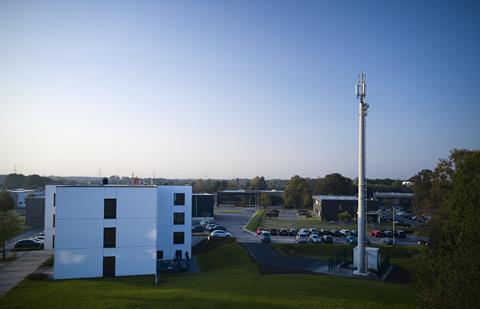 Vodafone UK and Telefónica UK announced the signing of new, long-term Master Services Agreements related to Cornerstone Telecommunications Infrastructure Limited (CTIL), their passive network-sharing joint venture (JV).
The updated arrangement gives each operator the option to "commercialise" their 50% stakes in the TowerCo as they see fit. The agreements run for an initial term of eight years, from 1 January 2021, with the option of three, eight-year renewal periods. They establish Cornerstone as a preferred supplier of new sites for both operators.
While it remains uncertain which monetisation path Telefónica Group will pursue, Vodafone intends to transfer its CTIL shareholding over to Vantage Towers by the end of January 2021. Based in Germany, Vantage Towers incorporates nearly all of the Group's tower assets in Europe (see table). The TowerCo is aiming for an initial public offering (IPO), currently slated for early-2021. There was speculation at one point that Vodafone and/or Telefónica could monetise part of their CTIL holdings, too — but in Vodafone's case, this ambition appears to have been overtaken by the complexities surrounding Vantage Towers' creation and preparation for the upcoming flotation.
The addition of CTIL's 50% stake to the Vantage Towers portfolio is one of the last pieces of Vodafone's tower-asset restructuring programme in Europe. Dutch JV VodafoneZiggo remains a notable gap, however. During 2019, the Group stated it was "exploring network-sharing/tower options" in the Netherlands, while the JV flagged it was intending to "explore potential monetisation opportunities for our mobile towers portfolio". As far as TelcoTitans can determine, neither has updated on their thinking since.
Cornerstone muscle
Vivek Badrinath, Chief Executive (CEO) of Vantage Towers, enthusiastically welcomed the addition of CTIL's 50% stake.
" Cornerstone is exactly the type of high-quality grid we like to own: a number one market position, and two strong anchor tenants with network sharing agreements in place for whom we are the preferred supplier. We look forward to working with our anchor tenants to power the UK's digital transformation, enabling the roll-out of 5G networks to benefit business and consumers and ensuring greater mobile coverage for all. "

Badrinath.
CTIL has around 14,200 macro sites in the UK with a 2.0× tenancy ratio, as well as 1,400 micro sites. In terms of macro sites, the UK JV accounts for a sizeable 17% of the Vantage Towers portfolio (82,000).
There is also a boost to Vantage Towers' pro forma FY19–20 (ended 31 March 2020) financial heft. Cornerstone racked up adjusted EBITDA after leases (AL) of £111m (€124m) over the twelve-month period, so adds €62m to Vantage Towers' pro forma aggregated adjusted EBTIDA AL (based on Vodafone's 50% shareholding in Cornerstone). According to figures provided by Vantage Towers at its Capital Markets Day in mid-November 2020, consolidated adjusted EBTIDA AL for FY19–20 — which includes its minority stake in Infrastrutture Wireless Italiane (INWIT), but not Cornerstone — was an estimated €680m. This figure was met with a lukewarm response in some quarters of the financial community, so CTIL's addition to the Vantage Towers stable will be welcomed.
UK growth is also seen as in the pipeline. "To facilitate the effective roll-out of 5G technology and meet coverage obligations", Vodafone UK and Telefónica UK said they had agreed to commit as anchor tenants on around 1,200 new macro sites to be constructed by Cornerstone by March 2024, and some 1,950 new passive tenancies on existing macro sites operated by the JV by March 2025. The upshot is an expected run-rate adjusted EBITDA AL contribution of approximately £17.5m by FY25–26.
Vantage Towers infrastructure line up, January 2021

Market

Entity (Group ownership)

Number of macro sites (tenancy ratio)*

Notes

Notes: * As of 30 September 2020. **Local entity name not yet confirmed.
Sources: Vantage Towers (Capital Markets Day), Vodafone, and Vodafonewatch.

Regional

Europe

Vantage Towers (100%)

82,000

Scheduled for initial public offering in early-2021.

National

Czech Republic

Vodafone Towers Czech Republic (100%)

3,800 (1:1.1)

–

Germany

Vodafone Towers Germany (100%)

19,100 (1:1.2)

New entity will oversee various network-sharing and coverage expansion initiatives with Vodafone Germany's rivals.

Greece

Vantage Towers Greece (62%)

4,900 (1:1.6)

Network-sharing JV with Wind Hellas controlling shareholder Crystal Almond.

Vodafone holds a call option to acquire the latter's 38% holding, expiring on 31 December 2021.

Entity excludes, ostensibly, any tower assets held by Victus Networks, a longer-running network-sharing JV with Wind Hellas, formed in 2014. The extent of these assets has not been confirmed.

Hungary

Vodafone Magyarország Toronyvállalat (100%)

1,900 (1:1.3)

–

Ireland

Vodafone Towers Ireland (100%)

1,300 (1:1.5)

–

Italy

Infrastrutture Wireless Italiane (33.2%)

22,100 (1:1.9)

Network-sharing JV, co-controlled with Telecom Italia.

Portugal

– ** (100%)

3,500 (1:1.2)

Vodafone Portugal has a network-sharing relationship with NOS.

Romania

– ** (100%)

2,200 (1:2.0)

Vodafone is yet to confirm future plans for Netgrid Telecom, a historical network-sharing JV with Orange Romania.

Spain

Vodafone Towers Spain (100%)

8,800 (1:1.6)

Vodafone has a long-running, and repeatedly rebooted, network-sharing relationship with Orange Spain.

UK

Cornerstone Telecommunications Infrastructure (50%)

14,400 (1:2.0)

Network-sharing JV with Telefónica UK.
Bullish Badrinath
In prepared remarks to set the scene for Vantage Towers' Capital Markets Day, Badrinath was in bullish mood. With the clear aim of whipping up investor enthusiasm ahead of an IPO, the CEO flagged (as of 17 November 2020) "firm commitments" from "our customers" to build 7,100 new sites.
The tenancy ratio for Vantage Towers, averaged out across its European assets, was around 1.3× as of 30 September 2020. The aim is to increase that in the "medium term" to at least 1.5×.
" With inflation-linked revenue — secured for the long term — from Europe's leading mobile operator Vodafone and other high-quality investment-grade tenants, and a strong balance sheet, we have a powerful base from which to capture exciting organic and inorganic value accretive growth opportunities. "

Badrinath.
Vantage Towers added it was "preserving the strategic flexibility to pursue additional organic and inorganic opportunities". €1bn of leverage capacity is apparently available, complemented by the issuance of equity, "to fund larger opportunities".

Ken has been writing about developments in the fixed and mobile markets for over twenty years. He has been a contributor to TelcoTitans since 2015.