Long‑awaited deal falls through, with STC apparently failing to reach an agreement with minority‑owner Telecom Egypt.
Vodafone Group CEO Nick Read remains philosophical after trekking to Egypt for talks with the President.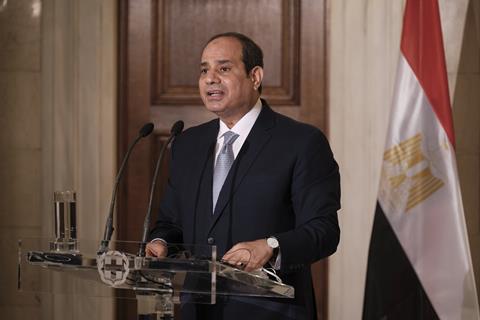 Vodafone's talks with Saudi Telecom (STC) to sell its 55% share in Vodafone Egypt were abandoned. Though reasons were not given, it appears that STC failed to reach an agreement with Vodafone Egypt minority owner Telecom Egypt (45% — TE).
Talks were terminated on 21 December 2020, just under a year after STC signed a non‑binding Memorandum of Understanding (MoU) to purchase Vodafone Group's 55% share.
The Saudi operator signed a non‑binding agreement in January 2020 to acquire the controlling stake for $2.4bn (£1.8bn/€2bn). It subsequently extended the process twice by 90 days, once in April 2020 and then again in July 2020, citing logistical challenges caused by the COVID‑19 pandemic (Vodafonewatch, #182–#183, #185, and #188–#189). STC and TE were yet to comment on the termination.
Read in Cairo to talk up commitments
Read had travelled to Egypt to meet with Egyptian President Abdel‑Fattah El‑Sisi in December 2020, with the President's spokesperson saying topics of discussion included "ways to enhance cooperation with Vodafone Group and increase its investments in the Egyptian telecommunications sector".
In a statement announcing the end of the STC talks, Read appeared to reference these discussions, saying "we believe that the Egyptian government is committed to an optimal framework for the telecoms sector". Whether Vodafone Group has reversed its decision to exit the country is yet to be seen, but for now it remains majority owner of the country's leading mobile operator.
Misalignment
The sale has faced several obstacles since the process began, but when the MoU expired in September 2020, STC pointed to "misalignment between the relevant parties" despite a dialogue remaining open (Vodafonewatch, #189).
At Vodafone Group's H1 FY20 results in November 2020, Chief Executive Nick Read gave his two cents, suggesting that although Vodafone had done what it could, a problem remained between STC and TE. "Clearly, there needs to be a shareholder agreement between the two of them", he said. "We are not really a party to that conversation; that is really between the two of them, and we will see how they progress".
By way of a retort, TE claimed it was not privy to the details of the deal and "has not received a proposal from either of the two parties involved". It also flagged its willingness to "execute a number of strategic options", but was not overtly in opposition to an STC buyout.
Both STC and TE are state‑controlled in their respective countries, meaning politics may have been a deciding factor in their failure to reach an agreement.


Joseph Purnell is a Staff Reporter for TelcoTitans, contributing telecoms news analysis since 2019 as part of the TelcoTitans and Market Mettle Editorial team.