Startup claims fears over absorption into the Vodacom super-structure have so far been unrealised.
Internet of Things player wins central place in Vodafone's private network package for mining businesses.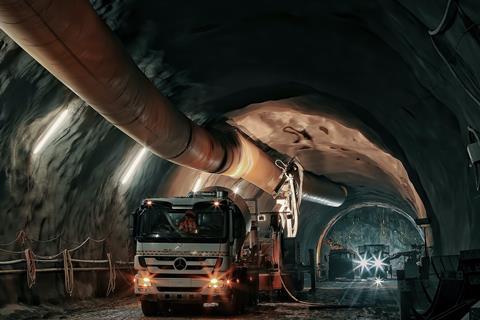 Nico Steyn, Chief Executive of Vodacom Group acquisition IoT.nxt, hinted that some big projects are imminent with both its South Africa (SA)‑based parent and the wider Vodafone group, which he described as a key partner for the Internet of Things (IoT) data specialist on the global stage.
Speaking during a podcast with TechCentral, Steyn said there are "some really exciting developments that are very close to being announced" in relation to IoT.nxt and Vodafone, although he was unable to elaborate further.
He emphasised that a key area of interest for both Vodacom and Vodafone is mobile private networks (MPN) for industries such as mining and manufacturing. Vodacom has already placed IoT.nxt's technology — which purports to enable data connectivity across disparate IoT systems — at the heart of a new MPN offering for the mining sector (Vodafonewatch, #186) and Steyn indicated this tie‑up extended more widely, saying that Vodafone has "standardised on us globally" for MPNs in the industry. "From the beginning, we believed that IoT would move into a world of distributed compute", he added. "We were intentional in terms of our strategy around building technology and intelligence around the edge", he added.
Steyn also made reference to the possibilities that are emerging from the use of artificial intelligence and machine learning to make sense of IoT data, noting that this is "bringing valuable business insights as a layer on top of the data aggregation".
Furthermore, he claimed that the COVID‑19 pandemic has actually been good for the business, because it has raised awareness of the need to adopt more digital ways of working. "It has reinforced a lot of what we have been saying over the last five years", he said. "We are talking to a lot of businesses right now and everyone's revisiting certain parts of their business", he added.
IoT.nxt is currently expanding in both Europe and Africa, where it recently signed up with Safaricom in Kenya and Vodacom Mozambique, according to Steyn. The IoT specialist is also "moving into areas like Egypt, into the Congo, Zambia, and Zimbabwe", he added. "We are doing a lot of business in Africa", he added.
Beyond those markets, Vodacom has cited China, Hong Kong, and Singapore as territories where IoT.nxt has engagements.
Sale hasn't knocked company off track
As things stand, Steyn said Vodacom's 2019 acquisition of IoT.nxt "has been really great for us", and has "actually passed some of my expectations". "I am certainly very happy with where it's gone and I think it is fulfilling a lot of the strategic intent that we had when we initially did the transaction with Vodacom", he said. "I think it's delivering on a lot of that right now", he added.
Echoing comments back when the deal was first announced, Steyn said IoT.nxt was unconvinced at first that merging with the operator's Vodacom Business unit was the right way to go. Vodacom Business CEO William Mzimba initially attended a meeting at IoT.nxt to "have a look at us", and "on that back of that", Vodacom CEO Shameel Joosub came along and "really painted a good picture in terms of how this could work".
A number of factors eventually convinced Steyn and his team to take the plunge, including Vodafone's international reach in terms of connectivity and access to customers.
Furthermore, Vodacom — which does not have an unblemished record when it comes to buying in and fostering innovators — has allowed IoT.nxt to continue to operate as an independent unit within the group. "We had been worried about losing control of the business", Steyn admitted. "Vodacom has been a great partner" from that perspective.
In its annual earnings report to 31 March 2020, Vodacom said its IoT connections increased by 17.2% to 5.3 million, with revenue growth of 38.5%, "leveraging our relationship with IoT.nxt". The operator also pointed to its partnership with Amazon Web Services, which was also formed in 2019 (Vodafonewatch, #175) and will "give us the opportunity to sell solutions to corporates and other businesses", said Vodacom.
Playing the long game
Vodacom completed the acquisition of a 51% stake in IoT.nxt on 23 August 2019 (Vodafonewatch, #174), committing to a maximum consideration of ZAR 1.028bn (£48m/€54m). Of that sum, ZAR 469m was settled in cash and the remainder is contingent on the future performance of the business.
The price Vodacom paid for the then four‑year old start‑up appears to have raised some eyebrows. In February 2020, Africa Analysts described the valuation as "surprising", noting that the "surprise element is based on the fact that the value of projects undertaken by IoT.nxt to date does not support this valuation. The purchase price must have been based to a degree on anticipated future revenue flow, given IoT market expectation".
Steyn alluded to this disconnect between current and future planning: "There were times when things were really tight for us", he said, noting the company was spending money with a return on investment of about 18 to 24 months. However, he believes that the IoT sector is "moving out of its adolescent phase right now. It has been there for some time".
For Steyn, true success will come when IoT.nxt is ranked among the top three in the world "from an IoT perspective. I believe we are making the right moves to achieve that".