SA spectrum stoppage continues to disrupt Vodacom planning.
Government digs heels in for mid-2020 decision; dreaded WOAN still alive.
VdSA response includes 2G voice network closure.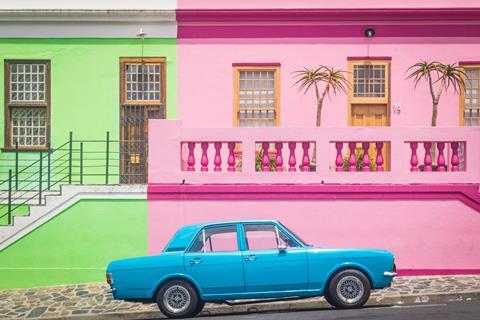 Nicholas Naidu, Managing Executive of Technology Strategy, Architecture & Innovation at Vodacom Group, reiterated calls for South Africa's (SA) government and regulators to get a move on in allocating 5G-friendly airwaves.
According to Naidu, who reports to Andries Delport, Vodacom Group's Chief Technology Officer (CTO), there was no technical reason why spectrum between 3.4GHz and 3.6GHz has not yet been assigned as the International Telecommunications Union (ITU) has already set aside these bands for 5G. Speaking at a media briefing, Naidu reportedly claimed there were "large swathes" of 3.5GHz airwaves that could be allocated immediately in SA.
Naidu was no doubt responding to recent remarks made by Stella Ndabeni-Abrahams, the new Minister of Communications, Telecommunications & Postal Services. She indicated that it was best to hold off on assigning 5G frequencies, both in sub-6GHz and millimetre (mmWave) bands, until after the ITU's World Radiocommunication Conference (WRC-19), to be held in November 2019. As the ITU has already dealt with 3.5GHz, Naidu – not unreasonably – saw no point in delaying allocation of this band until WRC-19 decisions were made on mmWave spectrum.
Ndabeni-Abrahams nonetheless seemed determined to dig in her heels, insisting on a longer timeframe to weigh up 5G spectrum options. She recently directed the Independent Communications Authority of South Africa (ICASA) to investigate and report to her on 5G requirements, but the report – no doubt to the chagrin of Naidu and Delport – is not expected to be completed until six months after the conclusion of WRC-19. This means that a government policy direction to ICASA is not likely until mid-2020, at the earliest.
At the same media event attended by Naidi, Delport was scathing about broader delays in SA's 4G and 5G spectrum liberalisation process, which has long been a problem that leadership at Vodacom and Vodafone have struggled to get a handle on (Vodafonewatch, #178 and passim). "In 4G, as a country, we missed the boat completely. I would not want that to happen with 5G", he said.
SA has not officially assigned spectrum for 4G networks, forcing Vodacom South Africa (VdSA) and other network operators to re-farm some of their 2G and 3G spectrum (at 900MHz, 1800MHz, and 2.6GHz) to roll out LTE networks.
2G voice on way out
To free up more spectrum for 4G, Delport said the South African OpCo wanted to shutter its 2G consumer voice network. This is an ambition apparently shared by rivals. One snag is that VdSA has "millions" of 2G handsets connected to the network. Around a third of all VdSA devices are still on 2G, another third on 3G, and the rest on 4G, said the CTO. "The big benefit for us to re-farm 2G is to improve 4G coverage. If we can thin out 2G, it will allow us to use 900MHz for 4G", he added.
Delport did not provide a timetable for closure, mainly because the process is not entirely in VdSA's hands. "Independent retailers sell the bulk of these 2G handsets", he noted.
A WOAN of our own
Hypothetically, another reason to hold off could be discussions with competitors over collaboration on 2G shutdown. Vodafone Chief Executive Nick Read recently mooted plans to shift legacy 2G/3G assets to a shared (or wholesaled) cross-operator platform and, with its ongoing spectrum shortages, SA could be a feasible candidate to test the new model out (Vodafonewatch, #178). Another could be India, where spectrum is also in short supply, and Vodafone has progressed infrastructure reshaping further than many other markets. Vodafone Idea has also made 2G/3G spectrum re-farming a key plank of its network-consolidation programme, potentially freeing the way for a reset of legacy service provision.
3G stays
Vodacom ruled out closure of 3G in the near term because of the large amount of data traffic that relies on the network and the narrower range of 4G coverage, especially in rural areas. Delport reported that 3G was available to more than 97% of the SA population living in rural areas, while 4G was available to 75%.
Delport claimed that VdSA will invest more than ZAR 9bn (€550m/£494m) on network enhancements during 2019, particularly in outlying areas as part of its rural coverage acceleration programme.
"Despite the lack of available spectrum, Vodacom has made substantial progress in improving network coverage in both rural and deep rural areas of South Africa. With rural land making up 98.6% of the total land area in South Africa, Vodacom has prioritised connectivity in these regions, facilitating access to the digital resources which many of us take for granted in cities." – Delport.
5G fast-track possibilities
Vodacom has long been seeking alternative means to address its SA spectrum headache – perhaps most noticeably with its blocked attempt to take over broadband player Neotel in 2014-16 (Vodafonewatch, #124 and passim).
Reports surfaced in March 2019 that VdSA was in separate discussions to lease capacity from infrastructure players Liquid Telecom and Rain in order to launch 5G-based fixed-wireless access (FWA) services (Vodafonewatch, #174). Liquid Telecom and Rain have suitable 5G spectrum to hand, giving VdSA a potentially much quicker route to wireline broadband substitution services – and possibly 5G mobility – rather than having to wait for authorities to finalise a long and often muddied process of making 5G-friendly (and 4G) airwaves available.
Newcomer Rain, which has a roaming deal in place with VdSA, claims to already provide a commercial 5G network using its own cache of 3.6GHz frequencies. Coverage includes parts of Cape Town and Guateng, and plans are in place to cover all major cities with residential and enterprise "ultra-broadband" services. Initially focused on FWA, Rain offers data-only SIM cards. A launch of 5G mobility is slated by September 2019, assuming smartphones are available.
Liquid Telecom South Africa, part of the regional Liquid Telecom Group, has 56MHz of airwaves in the 3.5GHz frequency band (inherited through its 2016 acquisition of Neotel). Liquid Telecom, Rain, and incumbent Telkom South Africa are the only network operators in the country that are sitting on 5G-ready frequencies of this sort.
Liquid Telecom has not yet embarked on 5G rollout in South Africa, but, if 5G discussions with VdSA are progressing, this may soon change. As it stands, Liquid Telecom's focus is on 4G. Using spectrum assets in the 1800MHz frequency band, it has built an LTE network for wholesale purposes only. MTN is a customer.
WOAN waiting game
There was some encouragement from SA's National Treasury that the long-mooted Wholesale Open-Access Network (WOAN) will not deprive the country's mobile network operators of large swathes of spectrum.
A good portion of a wide-ranging Treasury document entitled "Towards an economic strategy for South Africa" was devoted to the country's telecoms sector and recommended that only a "small" amount of pending spectrum assignments should be set aside for the government-controlled WOAN. Spectrum available for assignment, according to ICASA in early-2018, was as follows: 2×30MHz in the 700MHz band; 2×25MHz at 800MHz; and 2×70MHz and 1×25MHz at 2.6GHz.
There was no clear indication about what "small" might mean in practice, although local press suggested that Ndabeni-Abrahams was keen on abiding by a policy direction in a report by SA's Council for Scientific and Industrial Research (CSIR), commissioned by her predecessor Siyabonga Cwele (Vodafonewatch, #162). The CSIR recommendation was that WOAN should be granted spectrum based on a 20% market share of pending assignments. Although not ideal for VdSA and other operators, it is preferable to the National Integrated ICT Policy White Paper (2016), which stated, somewhat provocatively, that all currently unassigned high-demand spectrum should be set aside for WOAN.
According to the Treasury report, delays in releasing spectrum for mobile broadband use are largely due to difficulties in migrating TV services from analogue to digital.
"A large proportion of high-demand spectrum will only be available for use for mobile technologies – 3G, 4G, and even 5G – once the analogue signal has been switched off. To date, the digital migration process has been significantly delayed due to the challenges around set-top box procurement, which aims to provide indigent households with set-top boxes for their televisions so they can receive programming through a digital television signal."

– National Treasury.
The 4G-based WOAN idea has come under fierce criticism from operators since it was first aired. The proposed new entity would gain its own (unspecified) spectrum portfolio, diverting resource away from operators themselves. To its opponents, the scheme represents an illegal attempt by the government to meddle with the private sector, although the original plan of forcing operators to return spectrum concessions acquired through an earlier licensing process appears to have been dropped (Vodafonewatch, #158). Critics have also warned that the pooled-spectrum model is untested elsewhere. From the government's point of view, the WOAN, as part of a national integrated ICT policy, will help meet broadband targets set out in its South Africa Connect programme. One goal is to ensure nationwide broadband access for all citizens by 2020, while another is delivery of universal download speeds of 100Mbps by 2030.