Mozambique partnership to deliver network expansion, if technicalities ironed out.
First Loon tie-up within Vodafone Group.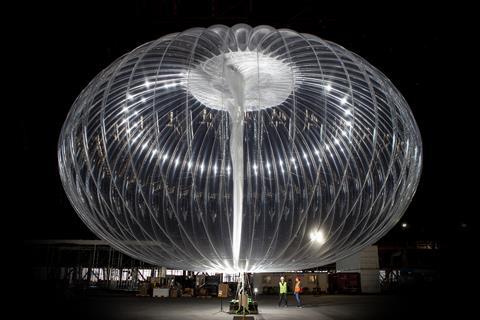 Vodacom Group and Alphabet's Loon confirmed a partnership to use high‑altitude balloons to provide 4G mobile coverage in remote areas of Mozambique. The deal has received approval from the country's communications and aviation regulators, and the system is planned to begin operating in the "coming months".
The agreement will see Vodacom Mozambique's network expanded to the under‑served northern provinces of Cabo Delgado and Niassa, and the 4G service will be available to Vodacom subscribers with a VoLTE‑enabled handset and SIM card.
Loon's solution helps provide connectivity using a network of balloons that operate 20km above sea level. They act as 'floating towers' to transmit mobile signals directly to smartphones in areas with low population density.
Vodacom and Loon will work together to install terrestrial infrastructure, which will serve as the physical connection point between Loon's balloons and Vodacom's network. As part of this, the two will conduct ongoing network integration testing. Loon will also begin flying balloons above Mozambique to learn the stratospheric wind patterns and ensure balloons remain above the service area.
Loon, which was established as a separate entity from Alphabet's main research division, moonshot technologies, in 2018, said it views the agreement with Vodacom as the "first step to a larger partnership that will allow us to serve… users throughout Africa".
The deal is not Loon's first in Africa. In July 2019, Loon heralded trials of its technology with Telekom Kenya, and recently launched a fleet of balloons towards Kenya from its launch site in Puerto Rico, following approval from the Kenyan government in March 2020 and signing of an airspace access agreement with neighbouring Uganda.
High hopes
Like many telcos, Vodafone has been showing revived interest in high‑altitude, as well as ultra‑small low‑earth orbit (LEO) satellite, communication platforms. The Group recently partnered with Rakuten Mobile and US‑based satellite venture Avellan Space Technology & Science on a 4G communications venture employing LEO satellites (Vodafonewatch, #185).
Telefónica has been utilising Google's Loon balloons to provide connectivity to remote regions in Peru since at least 2014 (Telefónicawatch, #93, #96, #117, #136, and #139). Deutsche Telekom recently invested in Stratospheric Platforms, an Isle of Man‑based high‑altitude technology venture, and is supporting the now SkyFive‑enabled European Aviation Network, alongside Inmarsat (Deutsche Telekomwatch, #88 and passim).
BT Group recently participated in Satellite and Terrestrial Network for 5G (SaT5G), a European Commission-funded Horizon 2020 5G Phase 2 Project that wrapped up in February 2020, and explored what role 'aggregators' might play when sitting between mobile and satellite network operators in 5G services (BTwatch, #312).
Competition to bring inexpensive connectivity to hard‑to‑reach geographies is heating up with the entry of non‑telco players. Most notably, Elon Musk's SpaceX venture has now launched more than 400 LEO satellites, building on the Starlink network, which aims to position in excess of 1,500 satellites in the earth's orbit to provide near‑global service by late‑2021–2022. SpaceX confirmed in April 2020 that it is targeting the launch of a private beta service in Northern America and Canada by August 2020, followed by a public beta in November 2020.
The coming proliferation of LEO satellite constellations has led to environmental concerns being raised, however, over both light pollution from working satellites and space junk from failed launches.