With access network emissions continuing to grow, subsidiary IoT.nxt's technology being expanded to most of Vodacom's SA sites.
Vodafone interested for other markets.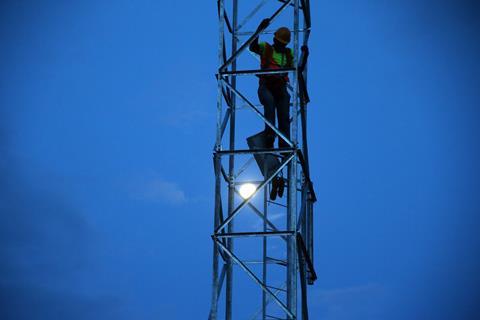 Vodacom South Africa is planning to roll out remote base station monitoring and management technology to thousands of new cell sites in the coming months, in a bid to slow emissions and theft.
The Raptor technology — developed by Internet of Things player IoT.nxt, which Vodacom bought in 2019 — will be installed on 5,000 additional base stations under the next phase of its rollout. The project will mean Raptor extends across the majority of Vodacom's 14,000 sites in SA as the system already featured at "more than 3,700" locations as of 31 March 2020, according to the operator's latest Sustainability Report, published last week.
The solution — which is also being looked at by other Vodafone OpCos and Partner Markets members — enables better gathering and exploitation of data from hardware such as air conditioning units, batteries, cabinets, and security cameras, triggering alarms when there is an issue. It purportedly helps reduce energy consumption by telling the operator when air‑con can be shut off, rather than running indefinitely. It is also said to reduce the need for call-outs and sees "maintenance alarms" triggered more quickly.
Vodacom bought 51% of IoT.nxt in August 2019 (Vodafonewatch, #174), as part of a rebooted regional B2B expansion plan that saw reshaping of its in‑country footprint and relationship with Vodafone Business, and its ventures and alliances function mandated to seek out new strategic partners and acquisitions. As well as the in‑house base station monitoring project, Vodacom is marketing IoT.nxt's solutions internationally and is using the business' products to underpin a push into mobile private network services (Vodafonewatch, #186 and passim).
Guzzly RAN needs a plan
Vodacom's Sustainability Report, for the year to 31 March 2020 (FY19–20), shows the operator's access network continuing to be the main blot on its copybook, environmentally — accounting for the vast majority of its power needs and continuing to drive growth in fossil fuel consumption, despite measures such as the Raptor roll out and gradual extension of 3G and 4G to more sites.
Other moves Vodacom says it is making, as part of an "energy management strategy", include reworked arrangements with power suppliers and the expansion of renewable/hybrid energy solutions to more of its network. However, both of these schemes have limited range, still — Power Purchase Agreements are said to cover a mere 36 base stations in SA, and only about 4% of Vodacom's sites, across all markets, are said to feature solar power (about 950 out of 22,000). Load shedding by SA's national power provider Eskom has long been flagged as exacerbating Vodacom's issues by necessitating greater reliance on diesel generators (Vodafonewatch, #186 and passim).
Geographically, Vodacom's SA operations are the main problem area — generating "approximately 92%" of the Group's emissions. This seems likely to be the reason why Vodacom's Raptor roll out has centred on its home market and the operator has not yet revealed plans to extend the system to its operations in Democratic Republic of Congo, Lesotho, Mozambique, and Tanzania. Together, these OpCos have around 8,000 base stations.
Mirroring Vodafone, Vodacom is seeking to halve its "environmental impact" by 2025, against a 2017 baseline.
Vodacom Group power consumption and emissions profile, FY19–21
FY19–20
FY20–21
Change
Note: * Includes emissions categorised as direct (sources owned or controlled by Vodacom) and indirect (purchased electricity and supply chain). The latter category drives the bulk of emissions (92%), principally via electricity usage.
Source: Vodacom Group.

Greenhouse gas emissions *

640,910 mtCO2

697,000 mtCO2

8.75%

Access network electricity

416 GWh

434 GWh

4.3%

Core network electricity

92 GWh

85 GWh

‑7.6%

Data centre electricity

57 GWh

50 GWh

‑12.3%

Building electricity

51 GWh

39 GWh

‑23.6%

Fuel consumption (diesel and petrol)

18 million litres

19 million litres

5.6%

Network equipment and handsets recycled

580 tons

977 tons

68.4%