Conversations with potential UK MVNO partners are "in the double digits".
Asda Mobile and Virgin Media deals exemplify OpCo's new approach to MVNO partnerships.
OpCo moving away from a 'computer says no' approach to MVNOs.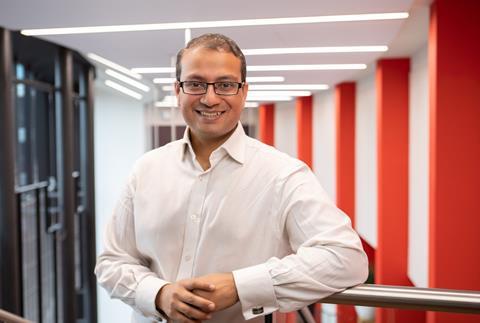 Vishal Dixit joined Vodafone Group as Head of Strategy in May 2014 after previously working at McKinsey & Company in London (Vodafonewatch, #125). He was appointed Head of Strategy and M&A in May 2016, and took on his current role as Director of Strategy & Wholesale for the UK in April 2018 (Vodafonewatch, #164). As well as MVNOs, his wholesale remit encompasses carrier services and application-to-person messaging.
A new approach
Vodafone UK now has four MVNO partners — Asda Mobile, Lebara, TalkTalk, and Virgin Media — as well as a mobile network virtual enabler (MVNE) partner, Digitalk.
Lebara is its longest-standing MVNO and focuses on low-cost call, text, and data plans. Altnet TalkTalk also has a long-running relationship with Vodafone that started in 2010. It began winding down its mobile business in 2018, but Dixit said Vodafone UK is still supporting a "remaining set of customers" until they gradually drop off its MVNO platform.
Asda Mobile, supermarket chain Asda's MVNO, and Virgin Media are more recent wins that reflect Vodafone UK's newly energised strategy. A key ambition is to offer additional services that complement the core MVNO package, as part of a wider, more nuanced and multi-layered strategy.
For example, in addition to 4G and 5G network coverage, unlimited mobile data plans, Wi-Fi calling, and other benefits such as family discounts, the OpCo is providing Asda Mobile with digital tools to give customers access to online account management functionality, as well as analytics to enable the retailer to target customers with personalised offers and incentives.
Asda Mobile is returning to Vodafone UK following its move to BT-owned EE's network in September 2013 (Vodafonewatch, #118). The MVNO began moving its existing customers over in March 2021, and all new customers will now be automatically connected to the Vodafone UK network under the new five-year deal.
More autonomy
In the past, the Group is thought to have kept MVNO relationships under a tight rein, particularly during the Colao era (Vodafonewatch, #167).
Dixit did not directly address this when asked, but said that OpCos generally have a "significant amount of autonomy and accountability… in terms of growing their business, and wholesale business in particular".
"Obviously, there are certain levels and checks for MVNOs of specific sizes, and where the agreement isn't just an MVNO agreement [but] might be a multi-faceted agreement", he said.
The Virgin Media deal is a case in point. The cableco confirmed in late-2019 that it had signed a five-year MVNO agreement with Vodafone UK, thereby ending a wholesale agreement to use the BT-owned EE network (Vodafonewatch, #181). The contract switch will see the transfer of 3.3 million Virgin Mobile customers onto Vodafone UK's network over the course of 2021–2022. However, Virgin Media has made a head start by announcing in January 2021 that it was offering 5G services in 100 towns and cities on Vodafone UK's network.
Dixit highlighted that the Virgin Media deal is very different to MVNO agreements of the past as it consists of multiple elements, and reflects the strong relationship that already exists between Vodafone Group and Virgin Media parent Liberty Global.
For instance, while Vodafone is providing wholesale mobile network services, including both voice and data, to Virgin Mobile and Virgin Media Business, a "complementary and extensive wholesale agreement" was also struck between both parties in relation to the supply of network services by Virgin Media Business to Vodafone.
As explained by Dixit, "we concurrently agreed a supply and purchase agreement for Carrier Ethernet" from Virgin Media Business. At the same time, the Vodafone Carrier Services team is able to sell off-net products to Virgin Media Business in areas outside Virgin's footprint, he added.
Virgin Media could eventually move off Vodafone UK's platform and onto the Telefónica UK network. The proposed merger with the mobile operator was given provisional clearance by UK competition authorities in April 2021.
Bringing on new partners
Dixit and his MVNO team are clearly on the lookout for more MVNO partners. Although he was unable to provide any details on current discussions, he did reveal that conversations with potential partners are "in the double digits".
"Our intent is definitely to grow, we've got a good pipeline. There will be more names in the next few months for sure."

Dixit.
Digitalk will also play a key role in bringing new MVNO partners on board.
Dixit was enthusiastic about the supplier's Mobile Cloud platform, which is designed to simplify the process of integrating new mobile customers.
"It is a brilliant platform. We've been using Digitalk for at least six or seven years … [and] through that experience we got a really strong feeling for the capabilities that Digitalk brings as a flexible, cloud-based MVNE platform", he said.
He added: "Depending on what the discussion with the prospective MVNO is, we can do billing in multiple ways. Vodafone has a specific set of billing capabilities, and we can use certain capabilities within the MVNE platform as well… there's a whole set of areas in terms of the actual network integration and network management, technology, operations, and network operations which Vodafone fully covers and manages".
The perfect MVNO?
Dixit said he looks for three things in a prospective MVNO partner: a commitment to grow and scale the MVNO business as part of a long-term partnership; some line of sight to a large number of customers; and a brand with a distinct position on the market.
He said the OpCo talks to prospective partners "from a range of sectors", and is open to supporting both light and full MVNO models depending on the "actual strategy and intent of the prospective MVNO".
Whether or not the potential partner already has experience with an MVNO business also affects how long it will take to launch a new service.
Dixit also insisted that there are no constraints as to how many MVNOs Vodafone UK could support.
"Every MVNO comes with a good business case, and we ensure that the network investments are put in place to give MVNO customers good capacity and good experience whilst not impacting Vodafone customers", he said."So there isn't a case of squeezing the network because we have more customers on it; we use the actual incremental business to invest incrementally into the network".
According to Dixit, Vodafone UK needs scale "from alternative sources, and the MVNO market therefore becomes not only a nice area of business but quite a central or long-term strategy".
"Five or six years ago there was a kind of an 'MVNO standard' approach… a 'computer says no' approach, but I think we've been quite flexible and creative… It's an area where we've been commercially inventive in recent years."

Dixit.
Complementary strategy
Dixit said MVNOs complement Vodafone's multi-brand strategy to expand its consumer market share. Talkmobile and Voxi are two sub-brands, although more marketing emphasis has been placed on the newer Voxi offering in recent years. Dixit stressed that Talkmobile has also been successful as a provider of predominantly voice services. "Not every brand is going to be marketed above the line, so it will not be visible in all channels, but they have very specific reasons and strategies", he said. When asked if Vodafone UK might consider bringing some legacy marques out of retirement, including those it gained through the 2012 Cable & Wireless Worldwide acquisition, such as Mercury and Thus, he said there is no strategy to do so at present. "It's an interesting thought", he acknowledged, although he noted that Vodafone is gaining traction as the primary brand in the enterprise segment.
Vodafone UK reported 18 million mobile customers and a 20.5% share of the UK consumer mobile market by revenue as of 31 December 2020, according to the latest Group Annual Report. This puts it in third place behind O2 UK, which said it had 36.2 million mobile customers at the end of 2020; and BT Consumer, which indicates it has over 30 million mobile customers. Three UK claims to have 9.5 million customers.

Anne Morris is a freelance journalist, editor and translator. She has been working as a reporter and news analyst for TelcoTitans since 2016.