Vodafone's European TowerCo eyes opportunities in Netherlands and UK as partners Liberty and Telefónica look to cash in on wireless infrastructure assets.
Strategic tie-up between Vantage and another MNO TowerCo also remains a possibility.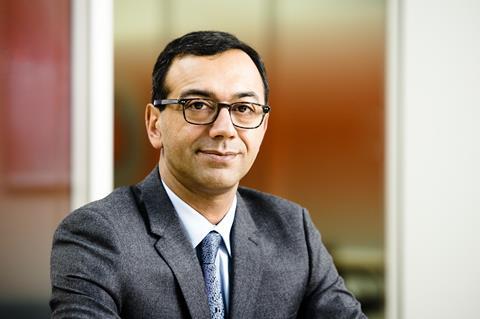 Vantage Towers confirmed interest in a takeover of UK partner Virgin Media O2's 50% stake in joint venture Cornerstone Telecommunications Infrastructure Ltd.
Vivek Badrinath, Chief Executive of the Vodafone-owned TowerCo, told analysts this morning that Vantage was "very motivated" by the prospect of expanding its ownership of CTIL, following repeated recent indications that VM O2 parents Liberty Global and Telefónica are working on an exit.
Speaking during Vantage's results presentation for the quarter to 30 September 2021, Badrinath said there was "nothing to disclose at this point" but that "I've never made a secret that we'd be interested in consolidating CTIL".
Answering a question from Morgan Stanley Senior Research Analyst Emmet Kelly, he described the JV as a "good asset … with a very good customer base". He also highlighted that CTIL — formed out of a tie-up between Telefónica UK and Vodafone UK back in 2009 — benefited from having two MNO parents in place as anchor tenants.
However, he noted that "other parameters" will come into play in any negotiations, including VM O2's asking price.
" It's … for them [VM O2] to say when they want to move and how they want to move, and we've stated our interest clearly. "

Badrinath.
Telefónica has for a long while signalled openness to selling its shares in CTIL — which manages about 14,200 macro and 1,400 micro sites in the UK. In September, the Spanish group was reported to have hired Goldman Sachs to identify potential buyers of the holding. Also in September, co-parent Liberty said it was "actively working" on a spin-off of a wider range of wireless assets, including the CTIL stake (Vodafonewatch, #196 and #199). Liberty executives have suggested that the proceeds generated through a CTIL selldown could be used to help fund a plan, announced in July, to accelerate VM O2's fibre infrastructure rollout.
Other irons in fire, too
Badrinath went on to express openness to discussions with Liberty on assets it has indicated it is putting in play in other markets, including the residual towers of VodafoneZiggo, its JV with Vodafone in the Netherlands.
" Any broader conversation with Liberty is obviously something that we'd welcome. These are people with whom transactions have happened before, so there is good, let's say, dialogue and interaction. "

Badrinath.
Vantage holds a 50% share in CTIL after taking over the stake from Vodafone UK earlier this year (Vodafonewatch, #193). It has no Dutch presence, however, as VodafoneZiggo is one of a lingering trio of Vodafone in-country businesses in Europe, alongside Vodafone Albania and Vodafone Turkey, that have not yet passed on their towers to Vantage.
Moreover, some deal-making involving Vantage's own ownership structure remains on the agenda — following Vodafone CEO Nick Read's confirmation in July that the Group was open to a follow-up transaction on Vantage, and prepared to consider "co-control scenarios with like-minded industrial players".
" You've also heard our majority shareholder Vodafone state clearly that they were supportive of us playing a role in the industry consolidation in Europe … I think they went all the way up to say that any combinations with like-minded, operator-originated TowerCos are things that they could consider, going all the way up to co-control if need be. "

" So, I'd say the optionality is definitely there. It's multifaceted. And we are, I would say, engaging or ready to engage with any opportunity that comes up in this space. I think everybody's kind of looking at their options. There's a lot of optionality in the market right now. "

Badrinath.