Vodafone-backed New Sat startup "highly focused" on funding requirements as costs rise for kit, components, services, and employees.
Roadmap tweaked again for release of closely watched direct-to-mobile offering, pushing back date of prospective Vodacom launch.
Comments come with key Bluewalker 3 testing programme imminent.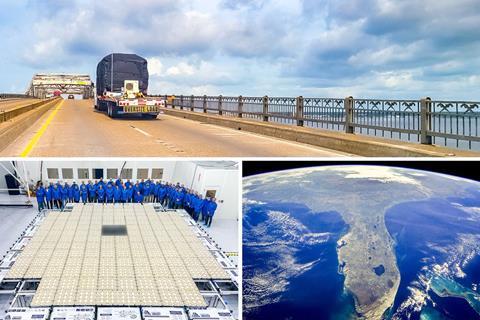 Part-Vodafone-owned satcomms upstart AST SpaceMobile indicated it was looking at a "wide range" of fresh fundraising options amid mounting costs and delays in the set up of its service.
The US-based provider blamed rises in the cost of electronic components, as well as broader inflation and supply chain disruption, as it indicated its Bluebird spacecraft will each cost $2m (£1.7m/€2.0m) more to design and deploy than anticipated.
Chief Financial Officer Sean Wallace, brought in by SpaceMobile in May, said the provider's management team was "working hard to develop other sources of cash and liquidity, to supplement our activities".
" We understand the capital intensive nature of our project, and we are highly focused on exploring a wide range of options in order to sufficiently fund our efforts. "

Wallace.
Recycling push as Bluebird costs take flight
Speaking during SpaceMobile's latest financial update, for the quarter to 30 June (Q2 FY22), Wallace estimated that the design, assembly, and launch of SpaceMobile's 'first phase' network — encompassing 20 Bluebird spacecraft — will now involve approximately $300m–$340m in capital expenditure. It previously expected a bill of $260m–$300m.
So far, SpaceMobile has directed cumulative capex of $124.3m towards the set up of its service — with the majority ($86.6m) of this investment going towards construction of Bluewalker 3, its next prototype satellite, due for launch in September. Some $9.4m of the investment total was made during Q2.
Now, Wallace indicated, the provider is increasing focus on the roll out of the first batch of commercial (Bluebird) satellites next year, and has changed its production plan significantly. Driving up costs was a decision to use more components from Bluewalker 3's design than originally planned — a move SpaceMobile indicated will speed up manufacturing, but adds to outgoings because of the higher expense of these first-generation components.
" In addition to this change in the mix of our first 20 satellites, a number of factors, including inflation, supply chain disruptions, design changes, and increases in the cost of electronic components, assembly equipment, launch costs, salaries, and other aspects of our satellite design and assembly activities, has increased the cost to design, assemble, and launch our satellites. "

Wallace.
Capital ideas
SpaceMobile first flagged in April that it was seeking to "opportunistically raise additional capital" to fund commercialisation of its service. Since then, it has already opened up a number of prospective cash sources. In May, it announced a deal to raise up to $75m over the following 24 months by issuing and selling shares to US financial services group B. Riley Principal Capital, and in June it filed to register a mixed-shelf offering, covering the potential sale of $500m of common stock. Following these up was the sale of its majority stake in Lithuanian satellite tech player NanoAvionics, announced in July (Vodafonewatch, #208). The deal is awaiting regulatory clearance but is expected to bring in $27m in net proceeds for the business. Further, Wallace indicated it was in the "advanced stages" of arranging a facility to fund the purchase of manufacturing equipment, and that other capital-raising exercises were being looked at.
Cash burn but commercial gain
SpaceMobile's Q2 update indicated that the business ploughed through more than a fifth of its cash reserves in the three months, as it ramps up its manufacturing base and launch prep for the Bluewalker 3 prototype. It ended the period with $202.4bn in cash, down from $253.7m three months earlier. Nonetheless, Wallace assured that "we believe this cash is sufficient to support our cash expenditures for more than the next twelve months".
SpaceMobile's adjusted operating expenditure came in at $31.8m during Q2, split broadly equally between R&D, general and administrative, and engineering services costs.
The provider reported $7.3m in revenue during the quarter, and flagged commercial agreements with three further mobile network operators, including a Memorandum of Understanding with Indonesia's Smartfren Telecom.
It has highlighted near to 30 MNO deals in preparation for the launch of its service, including tie-ups with Vodafone and rivals MTN Group and Orange. SpaceMobile's MNO ecosystem — which will help sell Day Passes and other packages to users that need connectivity outside of existing cell coverage — is now said to have a collective footprint of more than 1.8 billion mobile subscribers.
Debut now not expected until late-2023
As well as referencing cost pressures, SpaceMobile's Q2 results slides indicated further slippage in what has understandably been a moveable launch roadmap:
The Bluewalker 3 prototype now has a launch window of early- to mid-September, having progressively shifted from a target date of March–April over recent months (Vodafonewatch, #202 and #207). The satellite is now said to be in situ at Cape Canaveral, in readiness for launch by partner SpaceX (Vodafonewatch, #205). SpaceMobile has previously indicated that, after about two months of in-orbit validation work, the craft will underpin an integration and testing programme where MNO partners will try out its potentially ground-breaking direct-to-standard handset satellite mobile offering. Exact plans have not been announced, but SpaceMobile has indicated that the tests will involve MNOs across Africa, Asia, Europe, Japan, South America, and the USA (where it secured an experimental licence in May, covering Hawaii and Texas). Also participating will be Rakuten, a tech partner of and investor in SpaceMobile, and Nokia — which recently secured a deal to supply its Airscale solutions to the provider, to help meld its systems with MNO infrastructure.
SpaceMobile's 'first phase' commercial deployment, involving the initial fleet of 20 Bluebird satellites, is now not expected to begin until late-2023 — and this appears to relate only to the first batch of five craft. At one time, SpaceMobile had an early-2023 target for deployment of all 20, but Wallace indicated the Bluebird fleet will now be deployed in a "phased manner", limiting its initial footprint but enabling "first-to-market advantage" in certain target territories. SpaceMobile indicated the first block of five Bluebirds is now in an "initial phase of component construction", and that it has commercial agreements in place with suppliers for "most components".
Regarding the deployment roadmap for the remainder of SpaceMobile's fleet, which is expected eventually to number 168 satellites, there was no update. Previously, SpaceMobile has indicated the entire fleet would be in operation, with full 5G and MIMO capability, by September 2025.
Vodafone retains VIP pass as SpaceMobile moves towards launch
Vodafone was an early investor in SpaceMobile, and its African business Vodacom Group has priority access when it comes to adopting its system in markets such as Ethiopia, Kenya, Mozambique, and Tanzania (Vodafonewatch, #182 and passim). It has already been testing interoperability of its early prototypes with mobile handsets, and Luke Ibbetson, Head of Research & Development and Technology Strategy at Vodafone, sits on the SpaceMobile Board of Directors, in a mark of the strong interest shown by its Group Technology division's leadership in the new offering (Vodafonewatch, #204).
According to SpaceMobile documentation, the deal that saw Vodafone buy shares in the provider prevents SpaceMobile from entering into tie-ups with other operators in Vodafone's own territories or Partner Markets' footprint, prior to the execution of commercial partnerships in target markets. Those commercial tie-ups will contain a "mutual exclusivity" arrangement, conditional upon "Vodafone making the SpaceMobile service available to all of its customers and certain promotional efforts, within all Vodafone markets for five years commencing on the launch of a commercial service based on phase 3 of the SpaceMobile service; preferential commercial terms in Vodafone Partner Markets; 50:50 revenue share for the SpaceMobile service in Vodafone exclusivity markets; and the procurement, building, and operating of mobile network ground stations at a mutually agreed cost by Vodafone".